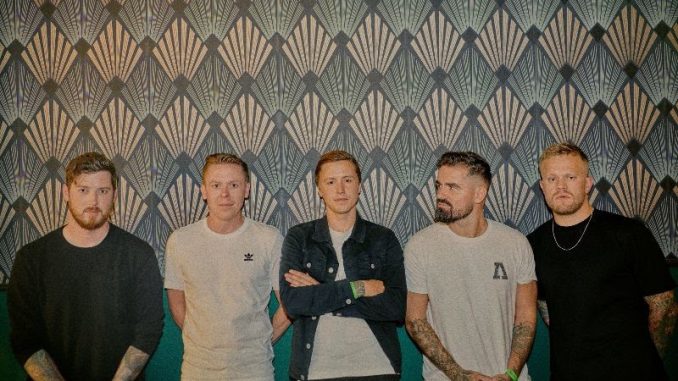 New Album 'Home' Coming December 10th
With their new album, 'Home', only a few weeks away, Copenhagen's SIAMESE have unleashed one of their most poignant songs to date. Entitled "Sloboda", the track speaks to frontman Mirza Radonjica's personal experience in the wake of seeking refuge from the Balkan War with his family.
The track is a mixture of Serbian (his mother tongue) and English lyrics, and unleashes monstrous breakdowns alongside mesmerizing vocals. A captivating single with a deeper meaning.
Radonjica elaborates on his experiences which influenced the lyrical content and themes within the song:
"I'm a Muslim refugee of the Nineties Balkan war and one of the first very dramatic things I remember is my whole village standing on the side of the road and crying as they waved us goodbye. We were supposed to go to Sweden but ended up in Denmark because, to be honest, we couldn't tell the difference." He goes on to tell us about where the title of the song came from, "I saw my Aunties and Grandmother cry, and I asked my Mum why we had to leave, she told me, "Freedom, son" (sloboda, sine). Little did I know how that freedom would be so bittersweet later on. Living in Denmark, it was difficult to adapt, and throughout my youth I saw how I was looked at differently, even if I was trying hard to be the same. Everything truly comes with a price."
SIAMESE – "Sloboda" (Official Video)
Having recently finished their UK tour with Rain City Drive (prev. Slaves USA) the band received an overwhelming response from fans across all dates. Their profile is constantly growing and they currently have over 250,000 monthly listeners worldwide on Spotify, recently racked up over 1 million streams on the platform in just 4 weeks (their biggest numbers to date).
SIAMESE's highly anticipated new album 'Home' is due for release on December 10th, 2021 via Long Branch Records, featuring hit singles "Enough Ain't Enough" (feat. Rory Rodriguez), "Can't Force The Love", "Holy", and the title track "Home" (feat. Drew York).
'Home' is due for release on December 10th, 2021 via Long Branch Records
(originally set for 22nd Oct – the date has now been pushed back due to manufacturing delays)
"Siamese have an incredible spirit and deliver a crystal-clear, anthemic sound."
Alex Baker – Kerrang Radio (UK)
"Get your ears around these guys before they take off"
Rock Sound (UK)
SIAMESE Live
10.03 DK, Copenhagen – Hotel Cecil
11.03 DK, Copenhagen – Hotel Cecil
12.03 DK, Aarhus – Train
18.03 DK, Aalborg – Streetfood
19.03 DK, Odense – Posten
25.03 DK, Sønderborg – Sønderborghus
26.03 DK, Køge – Tapperiet
15.-18.06 DK, Copenhagen – Copenhell
02.07 DE, Münster – Vainstream Rockfest
Line-Up:
Mirza Radonjica – Vocals
Andreas Kruger – Guitar
Christian Lauritzen – Guitar, Violin
Marc Nommesen – Bass
Joakim Stilling – Drums
Watch the video for "Home"
Watch the video for "Numb"
Watch the video for "Rather Be Lonely"
Watch the video for "Enough Ain't Enough" (feat. Rory Rodriguez)
Watch the video for "Can't Force The Love"
Watch the video for "Home" (feat. Drew York)