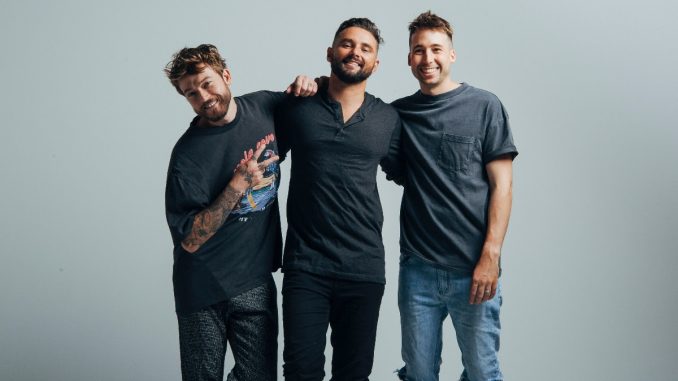 Fresh from their appearance at UNIFY over the weekend, Short Stack has lifted another taste from their upcoming album Maybe There's No Heaven in the form of a new single"Sunshine." Short, sharp, and memorable, "Sunshine" channels the best of Short Stack's rock, grunge, and pop-punk tethers into a blistering three minutes. Listen here.

"'Sunshine' is about how one person can light up your whole life," says Short Stack frontman Shaun Diviney. "We absolutely loved playing this live at UNIFY and can't wait to bring it along to more shows. The energy of the song is my favourite part and I love the drums particularly, they're awesome."

Distilling their sensational and storied career into 10 crunchy and instantly memorable bangers, Maybe There's No Heaven is Short Stack'smost honest work to date and the truest reflection of their mateship and musicianship. "There was a tension between the band that we wanted to be and the band that other people around us wanted to be," says Diviney of the band's past releases and experiences in the music industry. Drummer Bradie Webb declares that this time around feels like the group "finally have our hands on the steering wheel."

To date, the record's previously lifted singles "Burn You Down," "Live4," "Love You Like I Used To," and "Armaggedon" have collected over half-a-million streams, found a home on high-level playlists including the locker and Rock Out., and press attention from the likes of Junkee, Pilerats, Tone Deaf, The Music, Music Feeds, NME Australia, and more.

Following their first festival appearance since bringing the band back together, Short Stack will soon release a live music video for "Sunshine," shot at their set at UNIFY. Meanwhile, the band appears on the cover of Scenestr Magazine this month.
ABOUT SHORT STACK:
After beginning band practice in a central coast garage during high school, the Short Stack trio — comprising vocalist Shaun Diviney, bassist Andy Clemmensen, and drummer Bradi Webb — dropped their explosive debut album Stack Is The New Black as the group hit the ripe old age of 20. Sweeping up a #1 ARIA Chart debut, a Rolling Stone cover, Platinum recognition, and tens of thousands of tickets sold in its wake, Short Stack soared to incredible heights.
 
Over a decade on from their rise to stardom, the trio is reflecting on their fascinating journey —warts and all — on their new album Maybe There's No Heaven. For all its epic highs and crushing lows, Short Stack are looking back on their career with gratitude for every experience and unswerving fan that's led them to this moment. After all, that's been, Maybe There's No Heaven was birthed from the truest form of Short Stack there is, as Bradie concludes: "It isn't in any way what someone else told us we should be."
MAYBE THERE'S NO HEAVEN TRACK LISTING:
"Intro: Maybe There's No Heaven"
"Burn You Down"
"Armageddon"
"Dancing With The Devil"
"Sunshine"
"Love You Like I Used To"
"Live4"
"Shinigami"
"Lights Out"
"Valkyrie"
"Cut Your Teeth"