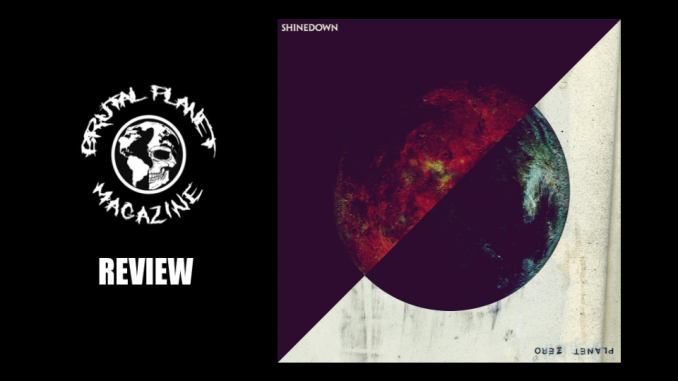 I have been listening to Shinedown for nearly twenty years now and they have yet to release an album I didn't like. Last autumn, when the band first announced that a new album would be released in early 2022, I couldn't have been more excited. I also heard that this would be something of a concept album so I did something I have never done before- I purposefully avoided listening to any of the singles released thus far until I could hear the album straight through in its entirety. Some of you might be wondering how I can be a true fan and not listen to the singles the day each of them was released. My answer would be that it's because I'm a true fan that I wanted to hear the band's latest work together in all of its glory. I want the package. I want to be brought back to the days when albums mattered. So here I am, sitting with the full album, "Planet Zero," just before its release.

The first thing I noticed was that there are twenty tracks on the album! Upon careful inspection, it looks as though there is an intro track and about half a dozen interludes. "2184," introduces listeners with a synthesizer, lasting only twenty seconds or so before the first full song, "No Sleep Tonight," hits with a pulsating bang. The band has had their share of fast-paced songs, such as "Cyanide Sweet Tooth Suicide" or "Adrenaline," but "No Sleep Tonight" is thrash-like and punky. It is short, hits hard, and doesn't let up. Next is the album's title track, "Planet Zero." As I mentioned earlier, although it was released as the album's first single nearly four months ago, I have not heard this song yet. I immediately fell in love with its heavy riffs and signature Shinedown sound.
As if to invite the listener further in, there is a short interlude, "Welcome," and the band shifts to a slower and lighter sound with "Dysfunctional You." Lyrically, Brent Smith really seems to take another bold step, covering the stigmas surrounding mental health and identity issues. I am writing this review as I listen and can already tell that "Dead Don't Die" will be one of my favorite tracks on the album. The heavy riffs are groovy and addicting. I'm starting to feel myself getting lost in the music. Zach Myers' solos are also unique and noteworthy. Another interlude, "Standardized Experiences," gives an eerie, electronic feel as another robotic voice explains further notices regarding the listener's stay on "Planet Zero." The next track, "America Burning," is a catchy song that I hope becomes a staple in the band's setlist. It experiments with a swing-like sound and in-your-face lyrics. "Pray for your family and cry yourself to sleep. Pledge your allegiance to the flag under your feet. Is this Apocalypse Now? Who let the animals out? Hip hip hooray, say something shocking. Who doesn't love a parade with gasoline and grenades? Don't be afraid it's just America Burning." Wow.

Next is the fourth interlude, "Do Not Panic," followed by a powerful ballad, "A Symptom of Being Human." This song really touched me as I have recently been reflecting on how much pressure we seem to live under nowadays. With the surge of social media over the last decade, there is constant pressure to be "perfect" and we often compare ourselves to others on social platforms. We forget we are all human. We are all on a journey to become better versions of ourselves. Smith and company do an excellent job addressing this very issue in this song. It is vulnerable and wonderfully done. The next song, "Hope," comes in with a slower, 6/8 time signature and gives the listener exactly what the song's title implies. As the chorus repeats, "Hey, have you heard? Hope's not a four-letter word." It's a good reminder for us all when it seems like everything around us is falling apart and we feel tempted to just go along with the latest trends.
The fifth interlude, "A More Utopian Future," sets the listener up with the next section of songs. "Clueless and Dramatic" is heavier and a solid hard rock track. The biggest surprise to me thus far has been "Sure Is Fun." This song kept me guessing the entire time. Please don't get me wrong- I love this song, (the only one I had to listen to twice in a row!) but its rhythm was really hard to wrap my mind around. It really is hard to describe. It's fast, slow, heavy, and soft all at the same time. The next track, "Daylight," was released as a single on June 1st. This uplifting ballad features piano, tambourine, choir, and a powerful vocal performance by Smith. Next is another Depeche Mode-like interlude, "This Is a Warning," followed by the band's very heavy promotional single, "The Saints of Violence and Innuendo." I really loved this song and particularly enjoyed Barry Kerch's fluctuating drumming patterns. "Army of the Underappreciated" is another fast-paced, hard-driving song that is sure to make you headbang- especially when Myers' fingers fly around his fretboard on the song's solo.
The album comes to a close with the last interlude, "Delete," and the final track, "What You Wanted." This closing song is quite different from anything the band has done before. It may sound weird, but it's as if "What You Wanted" marches on by in parade-like style, closing the album and making you crave another wave of entertainment. "Planet Zero" intertwines the classic Shinedown sound while experimenting with different musical concepts the band has not done in its two decades of life. The album is full of thought-provoking lyrics that call every listener to self-examine their lives and ask, "Am I conforming, or am I being individualistic and…human?" This is an excellent album that you won't simply listen to. You will feel this.