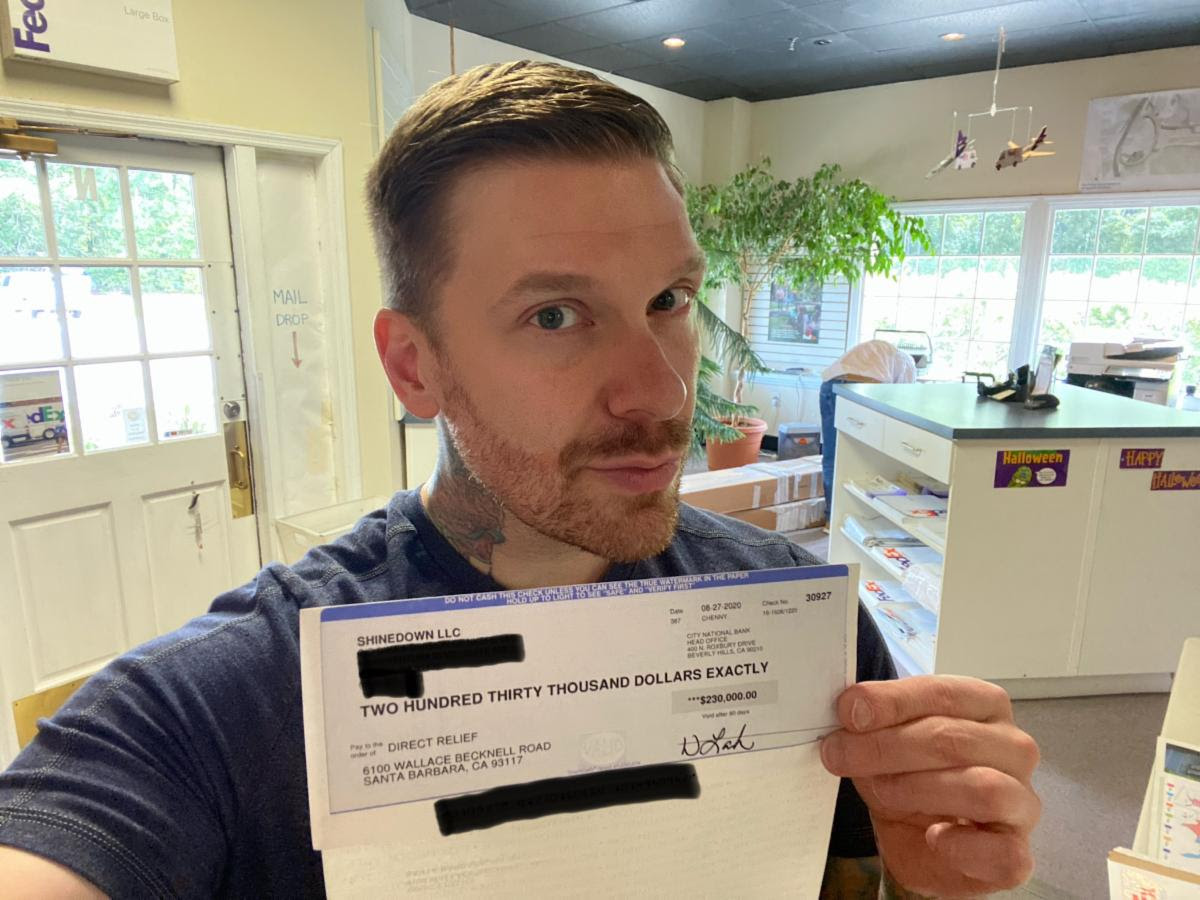 Gives A Quarter Million Dollars From The "Atlas Falls" Fundraiser To Humanitarian Aid Organization Direct Relief For Their COVID-19 Response
Presents First Installment Check of $230,000 Following $20,000 Donation From Shinedown
More Than $300,000 Raised & Counting
(Shinedown Front Man Brent Smith Presents A First Installment Check Of $230,000
to Humanitarian Aid Organization Direct Relief)
New York, NY – [October 5, 2020] – Multi-platinum band Shinedown has presented their first installment check of $230,000 from their "Atlas Falls" COVID-19 fundraiser to humanitarian aid organization
Direct Relief
, one of the largest providers of humanitarian medical resources in the world whose mission is to improve the health and lives of people affected by poverty or emergency situations by mobilizing and providing essential medical resources needed for their care. This follows the $20,000 that Shinedown donated to kick off the fundraiser in March, bringing the total delivered to Direct Relief so far to a quarter million dollars. More than $300,000 has been raised to date and counting.
Direct Relief has been working tirelessly to provide personal protective equipment to frontline health workers responding to Coronavirus (COVID-19) and essential medications and supplies for patients. This includes 10,800 shipments to more than 1,800 health care facilities across all 50 U.S. states and 62 countries, totaling more than 3.4 million masks, 2.8 million gloves, 119,000 gowns and coveralls, 600 oxygen concentrators and ventilators, as well as 40.1 million doses of medications to treat a range of chronic and acute health conditions.
Originally written in 2013, the song "Atlas Falls" was first made available from Shinedown's vault in March as part of an exclusive song and T-shirt bundle for the band's COVID-19 fundraising effort with all proceeds going to Direct Relief. Following an overwhelming response to the song, it's reassuring message of optimism and faith in humanity spread even further upon its global release in May. Drawing inspiration from the Greek myth of Titan Atlas who carries a celestial sphere on his shoulders, "Atlas Falls" offers a reminder that if Atlas falls, we will hold each other up in times of strife and stand tall together. The "Atlas Falls" t-shirt is still available with 100% of proceeds continuing to go to Direct Relief.
PRESS HERE
to purchase.
"Atlas Falls" recently gave Shinedown the record for the most #1s ever in the nearly 40-year history of the Billboard Mainstream Rock Songs Chart, scoring their 16th #1. The song also marked the band's 17th #1 on the Mediabase Active Rock Chart and their sixth consecutive #1, following "How Did You Love," "DEVIL," "GET UP," "MONSTERS" and "ATTENTION ATTENTION."
Additionally, front man Brent Smith and guitarist Zach Myers will release their forthcoming Smith & Myers albums Volume 1 on October 9th (
PRESS HERE
to pre-order) and Volume 2 on October 23rd (
PRESS HERE
to pre-order), featuring a mix of original songs and brilliantly re-imagined covers with eloquent songcraft, indelible melodies and glorious vocals created with nothing more than a microphone and an instrument or two. On Volume 1, original single
"Not Mad Enough"
was written in the immediate aftermath of George Floyd's death and addresses systemic and racial injustice while a poignant version of "Rockin' In The Free World" highlights Neil Young's timeless lyrics that are just as relevant today over lone piano –
PRESS HERE
to listen/stream. Volume 2 features original single
"Bad At Love"
, a vulnerable and personal song about the difficulties of staying in a romantic relationship when you have a gypsy heart and a grungy, re-imagined version of Billie Eilish's
"Bad Guy."
Other covers include Post Malone's "Better Now," INXS' "Never Tear Us Apart," Mark Ronson and Amy Winehouse's "Valerie," and The Righteous Brothers' "Unchained Melody" from Volume 1 and Oasis's "Don't Look Back In Anger," Peter Gabriel's "Sledgehammer," Billy Idol's "Rebel Yell," and R.E.M.'s "Losing My Religion" from Volume 2.
ABOUT SHINEDOWN
Multi-platinum, record-breaking band Shinedown – Brent Smith [vocals], Zach Myers [guitar], Eric Bass [bass, production], and Barry Kerch [drums] – have sold more than 10 million albums and 10 million singles worldwide, earned 14 platinum and gold singles, five platinum and gold albums, and amassed more than 2.7 billion total streams. Recent hits "
Atlas Falls
," "
ATTENTION ATTENTION
," "
GET UP
," "
MONSTERS
" and "
DEVIL
" bring their total to 17 No. 1s on the Mediabase Active Rock Chart and 16 No. 1s on the Billboard Mainstream Rock Songs Chart, breaking the record for the most No. 1s ever in the history of the Billboard chart. Additionally, all of Shinedown's 27 consecutive career singles have reached the Top 5 of the Billboard Mainstream Rock Songs Chart, another unparalleled achievement.
Shinedown's distinct mix of explosive rock 'n' roll spirit, thought-provoking lyrics, melodic sensibility and cinematic flourishes colors
ATTENTION ATTENTION
(Atlantic Records), which has racked up more than 355 million global streams, simultaneously hit #1 on Billboard's Alternative, Top Rock and Hard Rock Albums Charts, debuted Top 5 on the Billboard 200, and led to four iHeart Radio Music Award nominations. The album – an enduring story about the resolve of the human spirit touching on themes such as mental health, overcoming struggles, not being afraid to fail and the importance of our human connection with one another – also received major media acclaim from the likes of Huffington Post, Forbes, Salon, Billboard, Consequence of Sound, Buzzfeed, Grammy.com, Parade, and more, landed the band on Live with Kelly and Ryan and earned them an invitation to 92Y's prestigious talk series, 92Y Talks, in NYC. Hailed for their high-octane live shows, Shinedown continues to engender diehard love from millions of global fans and has racked up countless sold-out tours and headlining festival sets.