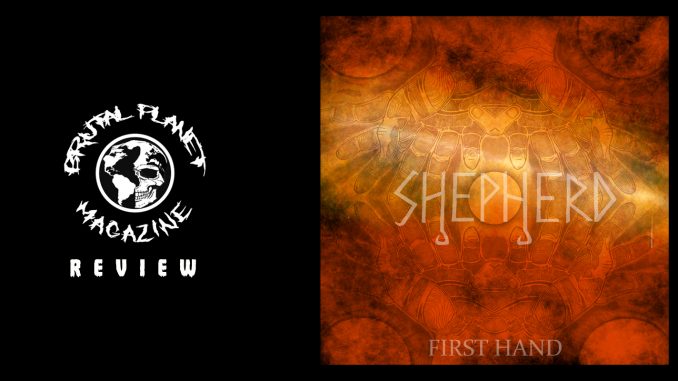 An American trio of heaviness known as Shepherd has released their debut effort titled First Hand through Destruent Records.
The band, hailing from the mile-high city, Denver, Colorado features Holden Sims (vocals/bass), Austin Garrett (guitars/backing vocal), Nathan Bilodeau (drums). The three combine hints of country outlaw, folklore chanting, and mythical tales to complement their music.
Of the six songs, two of the tracks, "Wendigo" and "Vestigial" are instrumentals. "Wendigo" possesses chants with "Vestigial" being strictly instrumental.
The term Wendigo is a mythological or evil spirit roaming the lands of the United States and Canada. The roots of the creature stem from the folklore of the First Nations Algonquin tribes. Their tribal areas consisted of forested regions of Nova Scotia and the Great Lakes regions.
Although "Vestigial" may not have the folklore inspiration as "Wendigo" but the song holds its own.
Having two instrumentals on a six-track debut that clocks in at 27.5 minutes is not a bad thing at all. The heaviness and inspiration behind them just add that hint of more mystique to the band.
The openers "Sea Cave" and "Chariot" precede the instrumentals and "Persephone" and "The West" wrap up First Hand.
Shepherd quickly sets the distorted vibe with "Sea Cave" and "Chariot" which reveals hints of Mastodon to the listener.
The band once again utilizes mythical inspiration but his time on "Persephone". Those familiar with Greek Mythology will recognize the name. Persephone is the Goddess of Vegetation and she is the wife of Hades, the ruler of the Underworld.
First Hand begs for blasting in desert regions under a blistering setting Sun. Unfortunately, that's only for the southern hemisphere at the moment. Those in the northern latitudes should reach out to Persephone. Negotiations for summer-like weather would be recommended.
If not, just wait for the Equinox for slightly warmer temperatures, but don't waste any time to get out and experience Shepherd's sonically blistering debut First Hand out now on all streaming platforms.