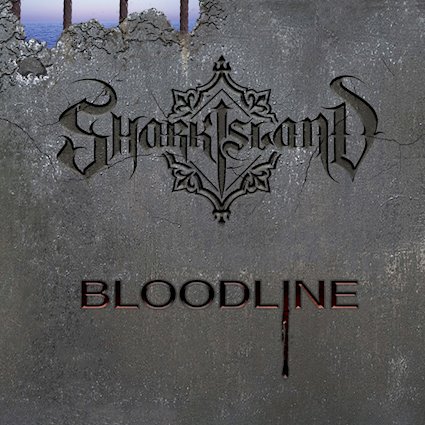 Unknown to many, Shark Island's history stretches back to 1979 when the Los Angeles based band was a familiar sight and sound on the Sunset Strip known as Sharks. By 1985, the band rebranded from Sharks to Shark Island. It was at this time Shark Island was gigging on a regular basis on the Sunset Strip. The band was taking the stage at legendary venues such as Gazarrii's, the Whisky and the Roxy Theater.
The band was compared to the likes of Aerosmith and AC/DC but eventually carved out their own unique brand of melodic hard rock.
Throughout their career, there's been accolades, bumpy roads and hiatuses. Management, major label and developmental deals came and went but the band stayed true to their rock roots. The common denominator of it all, vocalist Richard Black.
Fast forward to 2018, the year Manifest Music and Black would join forces for a second time. The unification would result in the Bloodline, the latest offering from Shark Island. Joining Black would be bassist Christian Heilmann who returns to the Shark Island roster. Add guitarists Alex Kane and Damir Simic and Alen Frjlak on drums. Credit though is due also to bassist Marko Karacie.
The 11-track Bloodline offers plenty to the listener to indulge in. Moments into track one, "Make A Move" gives the listener a straight forward hard rock piece. The track sets the cruise control of what's to come Shark Island wise. That continues with a grooving tune by the name of "Fire In The House" that was released as a single one of three singles in 2019. It's a unique trait for the album.
The other two singles, "Crazy Eight's" is another rocker with some soul in Black's vocals. Coming in on the opposite end genre wise is "Policy of Truth", a Depeche Mode cover. The inclusion of the song adds diversity and does not take away from the momentum building on Bloodline.
Late in the disc, "Rocks on the Rocks," "Butterfly" and "Law of the Order" all have that hard rock feel Shark Island delivers whereas the "When She Cries" builds throughout its six minutes fading out with a lead.
Shark Island brings things to a conclusion with "On and On," an easy going closer to Bloodline that showing a laid-back vocal side to Black. It's different and very likeable.
Shark Island goes back three plus decades with a rooted history in the LA scene. It's nice to see the band return with new music that should be looked at and listened to beginning Friday, February 14, 2019.