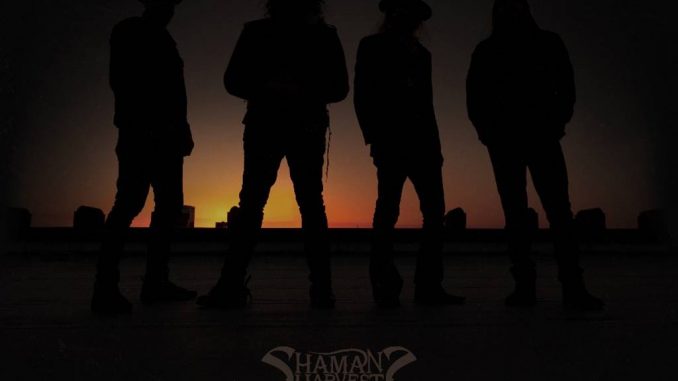 DIRECT SUPPORT FROM FEBRUARY 15 THROUGH MARCH 13
RELEASE OF NEW STUDIO ALBUM REBELATOR COMING ON MARCH 11
VIA MASCOT RECORDS / MASCOT LABEL GROUP – STRONG MOMENTUM IN
MOTION WITH 3.7 MILLION STREAMS COMBINED FOR LEAD SINGLE
"VOICES," "UNDER YOUR SKIN" AND "BIRD DOG"
Pre-Order: https://smarturl.it/ShamansHarvest
Preview "Voices": https://www.youtube.com/watch?v=NTVgAHxyeSI
Jefferson City, MO — Shaman's Harvest will tour as direct support for Theory Of A Deadman from February 15 through March 13. The band will also appear at Welcome To Rockville in Jacksonville, FL on Thursday, May 19 with KISS, Five Finger Death Punch, Papa Roach, Mammoth WVH and others. A complete itinerary follows below.
Singer Nathan Hunt shares, "Finally we can get back to doing the thing that called us to music in the first place. Connecting with lovers of music in a way you only can by playing live shows. And we get to start off the year with a group of guys we respect and dig playing with. I think if we can take all the necessary precautions and keep the tour gods on our side, we can be a part of making '22 the year we all deserve."
Mascot Records / Mascot Label Group will release of the band's new studio album titled REBELATOR on March 11, 2022. The lead single titled "Voices" is climbing the Active Rock radio charts and can be previewed here: https://www.youtube.com/watch?v=NTVgAHxyeSI. In May, the first reveal from the new recordings was "Bird Dog," which can be heard here: https://youtu.be/UV4HdAHx8go. The band and Mascot Records also presented "Under Your Skin," which can be heard here: https://www.youtube.com/watch?v=IL_s0HIDZBE. The combined streams to date for "Voices," "Bird Dog" and "Under Your Skin" have already surpassed 3.7 million plays.
Shaman's Harvest is honored to share that both "Bird Dog" and "Red Hand Black Deeds" will be featured in the upcoming feature film The Last Victim starring Ron Perlman and Ali Larter.
The band has released six albums prior, with a combined 250 million plus streams their repertoire. The majority of those are in the U.S., with 200 million plays. Europe accounts for 45 million, with other continents amassing the additional 5 million. To date, Shaman's Harvest has sold over 100,000 albums and 415,000 singles. At radio, the band's last album yielded two Top 30 Active Rock singles in "The Come Up" and "Devil In Our Wake." The prior album, and first with Mascot Label Group, Smokin' Hearts and Broken Guns enjoyed massive success at the format with four Top 40 Active Rock singles, the highest chart position being #11 with "In Chains."
They have toured with a who's who in Rock, amongst whom are Godsmack, Nickelback, AC/DC, Cheap Trick, Alice In Chains, Shinedown and Seether alongside others. They've been a consistent draw at festivals that include Rock On The Range, Rocklahoma, Carolina Rebellion, Rock USA, Rockin' The Rivers, Rock Carnival, and on the Shiprocked cruise.
Shaman's Harvest is vocalist Nathan Hunt, guitarist Josh Hamler and Derrick Shipp, and drummer Adam Zemanek.
Confirmed appearances include:
2/15 Huntsville, AL Mars Music Hall
2/17 Brandon, MS City Hall Live
2/18 New Orleans, LA House of Blues
2/19 Little Rock, AR The Hall
2/21 San Antonio, TX Tobin Center
2/22 Houston, TX White Oak Music Hall
2/23 Dallas, TX The Factory Deep Ellum
2/25 Oklahoma City, OK Criterion
2/26 Miami, OK Buffalo Run Casino
2/28 Mobile, AL Soul Kitchen
3/01 Atlanta, GA Buckhead Theatre
3/02 Tampa, FL Hard Rock Event Center
3/05 Ft. Myers, FL The Ranch
3/06 Orlando, FL Hard Rock
3/08 Chattanooga, TN The Signal
3/09 Charlotte, NC Fillmore
3/11 Raleigh, NC The Ritz
3/12 Myrtle Beach, SC House of Blues
3/13 Charleston, SC Charleston Music Hall
5/19 Jacksonville, FL Welcome To Rockville
Note: All appearances other than Welcome To Rockville supporting Theory Of A Deadman