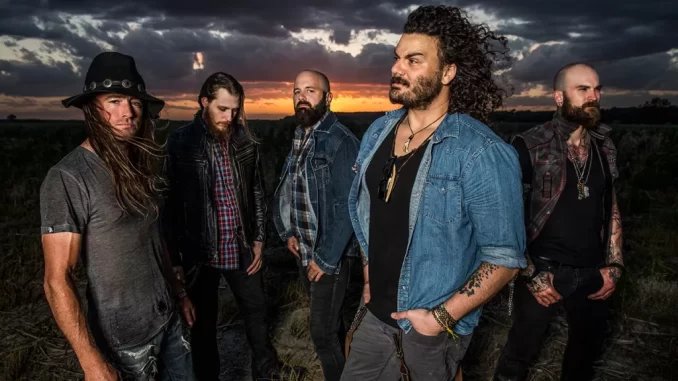 Jefferson City, MO — Shaman's Harvest and Mascot Records / Mascot Label Group have presented an official music video for the song "Under Your Skin." To view, click here: https://youtu.be/AiHRccLeplg. Guitarist Josh Hamler shares, "'Under Your Skin' opens the Rebelator album with a dynamic guitar driven intro that quickly turns into a drum and bass groove that just draws you in. The hook in the chorus and the guitar solo in the bridge brings it all home. This song has all that's Rock 'n Roll." Guitarist Derrick Shipp adds, "The song is one of the more aggressive tracks musically in my opinion. The opening riff is a unique blend of major and minor keys and the bass taking over on the verses is great. It created a lot of space for vocals to shine."
This week, the band will begin a tour with Crobot and Any Given Sin. Confirmed appearances for the bill featuring the three Mascot Records recording artists follows below. The band toured with Theory Of A Deadman earlier this year, and has plans to appear at Rock Fest in Cadott, WI on July 16.
"This was the hardest record we've ever made, on every level," says singer Nathan Hunt, referring to Shaman's Harvest's seventh LP. The Missouri hard-rockers assembled this project during a global pandemic that debilitated the entire music industry. The road to Rebelator was even rockier than the band expected: natural disasters, logistical nightmares, and an extreme case of collective writer's block. "We struggled the whole way," Hunt adds with a gruff baritone chuckle. "It was an interesting process for sure."
When they arrived at lead single "Voices," a graceful balance of light and shade, the band instantly knew they'd written one of their best—a feeling cemented by their mutual celebration. "Once we had it all laid out and had a rough demo," says Hamler, "we listened back to the first time, and we all looked at each other and busted out laughing, like, 'Fuck yeah!'"
In keeping with the spirit of those last three albums, the band aimed to, in Hunt's words, "de-genre-fy" their music—aiming beyond the rote contemporary rock-metal formula to add sublet arrangement quirks.
The band has released six albums prior, with a combined 250 million plus streams their repertoire. The majority of those are in the U.S., with 200 million plays. Europe accounts for 45 million, with other continents amassing the additional 5 million. To date, Shaman's Harvest has sold over 100,000 albums and 415,000 singles. At radio, the band's last album yielded two Top 30 Active Rock singles in "The Come Up" and "Devil In Our Wake." The prior album, and first with Mascot Label Group, Smokin' Hearts and Broken Guns enjoyed massive success at the format with four Top 40 Active Rock singles, the highest chart position being #11 with "In Chains."
They have toured with a who's who in Rock, amongst whom are Godsmack, Nickelback, AC/DC, Alice In Chains, Shinedown, Seether, and Cheap Trick alongside others. They've been a consistent draw at festivals that include Rock On The Range, Welcome To Rockville, Rocklahoma, Carolina Rebellion, Rock USA, Rockin' The Rivers, Rock Carnival, and on the Shiprocked cruise.
Shaman's Harvest is vocalist Nathan Hunt, guitarist Josh Hamler and Derrick Shipp, and drummer Adam Zemanek.
Upcoming appearances include:
6/03 Hampton Beach, NH Wally's ^
6/04 Rochester, NY Montage Music Hall ^
6/06 Nashville, TN The Basement East ^
6/07 Columbus, OH Skully's ^
6/09 Ft. Wayne, IN Rockstar Lounge ^
6/10 Flint, MI The Machine Shop ^
6/11 Battle Creek, MI Music Factory ^
6/14 Kansasville, WI 1175 ^
6/15 Joliet, IL The Forge ^
6/17 Moline, IL The Rust Belt Theater ^
6/18 Madison, WI The Majestic ^
6/21 Colorado Springs, CO Black Sheep ^
7/16 Cadott, WI Rock Fest
^ With Crobot and Any Given Sin