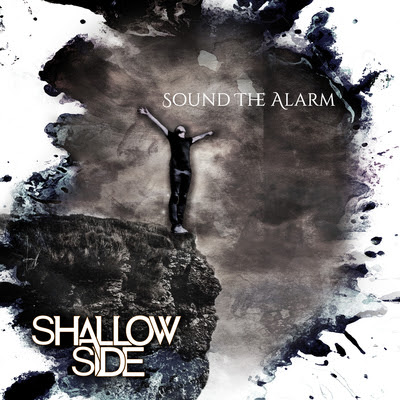 Shallow Side Set To Release "Saints & Sinners" March 29th
First Single "SOUND THE ALARM" Available Now
SIMPSONVILLE, SC –
Shallow Side
and
Thermal Entertainment
have joined forces for the band's new album
Saints & Sinners
set to be released on Friday, March 29th. It will be the band's first full length release. Pre-order bundles are available at 
http://bit.ly/2Xgn28F.
Saints & Sinners was produced by rock and metal giant Michael "Elvis" Baskette (Incubus, Altered Bridge, Chevelle, Three Days Grace, Slash) and recorded in Orlando, FL at his Barbarosa studio. The album includes 10 all new original tracks.
"Recording with Elvis was an experience all in itself. Growing up, I was listening to records that shaped and molded me individually as an artist and he had his hands in almost every single one of them it seems. It was a journey recording Saints & Sinners and I believe the songs truly capture where we were and express growth in music, as well as experiences." says Heath Fields (drummer).
 Matt Daniels (bassist) added, "Artistically, it is an amazing time for us. There were so many ideas that came to light during the writing of "Saints and Sinners." We had put all of our creativity and emotions into a pot to discover what makes a Shallow Side record; from the angelic vocals, melodic riffs, and the driving rhythm sections that keep the beat bumping. This is something that accurately represents where we are as a band and our growth together."
Seth Trimble (guitarist) expressed, "I honestly wasn't as excited for my own birth as I am for this album. I've never had a better sense of pride than when we hit that playback button at the end of the day and got to explore this beautiful soundscape that we created together."
The first single
SOUND THE ALARM 
goes to radio March 5th and available now for streaming/download at:   
https://shallowside.net/sound-the-alarm.
   A music video will debut in early March.
"It's really a coming of age, or developmental piece for us. We've written songs since we started playing music. We've recorded the best of those songs but at some point we never really knew who we were, or what we really wanted. This full length album allows us to dive in and really start to understand who Shallow Side really is…" says Eric Boatright (vocalist).
Shallow Side are composed of Eric Boatright (vocals), Seth Trimble (guitars), Heath Fields (drums) and Matt Daniels (bass).
Saints & Sinners | Track Listing
1. Revival
2. Saints & Sinners
3. SOUND THE ALARM
4.Drugs&Lust
5.Temptations
6. Hallelujah
7. No More
8. All Rise
9. Not Alone
10. Carry One
###
For further information, please contact Thermal Enteratinment
About Shallow Side
Since coming into the rock scene, Shallow Side have released 3 EPs and several stand alone singles.   Their last EP "ONE" spurred three singles Rebel, Renegade (Styx cover) and Can You Hear Me that started to get them noticed and earned them Loudwire's Best New Artist of 2016.   Continously touring from coast-to-coast, they have made many new fans.   Their music videos have garnered well over 6 million views on their YouTube alone and millions more on various animes.   Their music has been streamed over 10 million times.