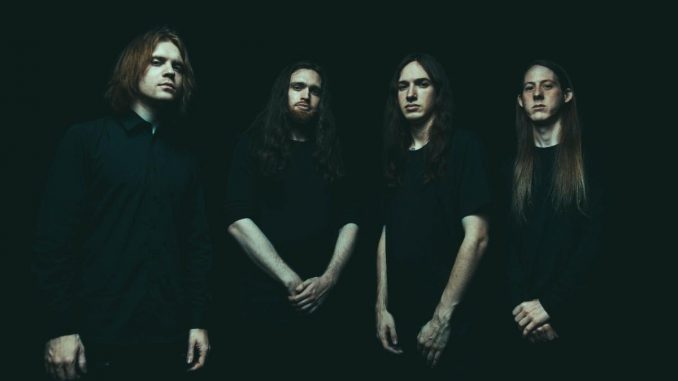 Friday, July 30th, 2021 – Shadow Of Intent, one of the most exciting and revered bands to emerge from the metal world in recent years, have dropped brand new track, "Intensified Genocide" today. The fresh slice of highly technical brutality from the New England quartet is accompanied by a new music video which can be viewed
here
or by clicking the image below. Find the track on streaming platforms
here
.
Speaking on the band's new release, vocalist Ben Duerr shares
"With this song, we touch on some of the darkest chapters in human history, often swept under the rug or unheard of. Events that may happen anywhere, due to the carelessness or shortsightedness of dignitaries."
Since their formation in 2014, Shadow Of Intent have garnered a reputation for crafting mind-blowingly technical, prog tinged symphonic deathcore. Widely acknowledged as one of the forerunners of the current deathcore renaissance, the band's debut album 'Primordial' was named as one of Revolver Magazine's '
15 Essential Deathcore Albums
', with Metal Sucks giving their 2019 album 'Melancholy' a perfect 5/5 review, stating "you can expect Shadow of Intent to send echoes across metal for as long as they feel like making music". To date, they have clocked up 55 million streams and 21.5 million YouTube Views.
The band have been hard at work on new music over the past year. Keep it locked for more news on a new album coming soon.
ABOUT SHADOW OF INTENT
Shadow of Intent is an American metal band based in New England originally formed by Ben Duerr and Chris Wiseman in 2014. The band continues to release their music independently including their first album 'Primordial' (2016), second album 'Reclaimer' (2017) and very recently their latest work 'Melancholy' (2019). The band name and lyrics were originally derived from lore from the Halo franchise and since then, the band's subject matter has become more dark and personal while maintaining an element of fantasy and wonder.
Shadow Of Intent's music draws from a variety of different genres of metal including death metal, black metal, symphonic metal, progressive metal, and metalcore. The band played their first live show at the end of 2017, which then lead to them embarking on several US tours with bands such as The Black Dahlia Murder, Whitechapel, Carnifex, Fleshgod Apocalypse, Despised Icon, and more.
Shadow Of Intent Are
Ben Duerr – Vocals
Chris Wiseman – Guitar, Vocals, Keyboards
Bryce Butler – Drums
Andrew Monias – Bass