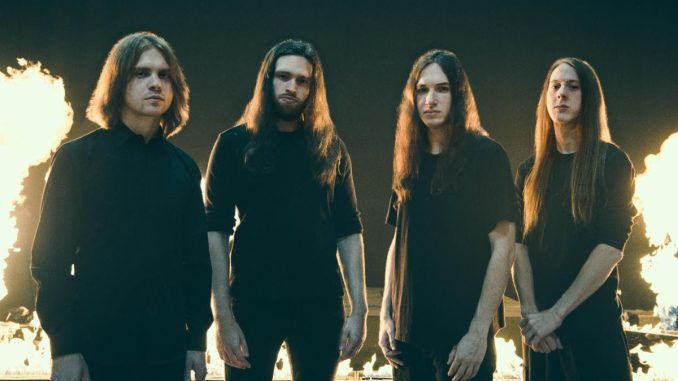 Shadow Of Intent
Critically Acclaimed New Album
'ELEGY'
Out Now
Drop Video For Brand New Track
"OF FURY"
" Shadow Of Intent has kicked off 2022 with one of the most over-the-top symphonic deathcore albums of all time. Elegy is essential listening if you were one of those kids that spent high school rotating between Dimmu Borgir and Whitechapel. With flawless production and a masterful balancing of the two styles, it's a way to great start the new year" – Metal Injection
Friday, January 14th, 2022 – SHADOW OF INTENT, one of the most exciting and revered bands to emerge from the metal world in recent years, have finally released their highly anticipated new album 'Elegy' today, available on all platforms
here
. To highlight the release, the band have also released the official music video for "Of Fury", a brand new track taken from the album. You can watch the video
here
or by clicking the link below:
Speaking on the band's new release, frontman Ben Deurr shares
"We'd like to thank all of our loyal and dedicated fans, old and new, for sticking with us, and for giving us a chance. We'd also like to thank Christian Donaldson, Francesco Ferrini, Par Olofsson, for their help in bringing Elegy to life and giving it due justice. We hope you all enjoy the record. Time to get back to it."
"Of Fury" follows previous singles taken from 'Elegy' – "
Where Millions Have Come To Die
" feat. Phil Bozeman of Whitechapel and first taste of the new album, "
From Ruin…We Rise
". The album announcement was preceded by the release of stand-alone tracks
"
Intensified Genocide
" and Shadow Of Intent's twist on the Lamb of God classic "
Laid To Rest
". Collectively, to date, the tracks have clocked up 2.8 million Spotify streams and 1.5 million YouTube Views.
Since their formation in 2014, SHADOW OF INTENT have garnered a reputation for crafting mind-blowingly technical, prog tinged symphonic deathcore. Widely acknowledged as one of the forerunners of the current deathcore renaissance, the band's debut album 'Primordial' was named as one of Revolver Magazine's '
15 Essential Deathcore Albums
', with Metal Sucks giving their 2019 album 'Melancholy' a perfect 5/5 review, stating "you can expect Shadow of Intent to send echoes across metal for as long as they feel like making music". To date, they have clocked up 60 million streams, 22 million YouTube Views and have 240,000 monthly listeners on Spotify.
Shadow Of Intent

Elegy

Track Listing

1. Farewell

2. Saurian King

3. The Coming Fire

4. Of Fury

5. Intensified Genocide

6. Life of Exile

7. Where Millions Have Come to Die

8. From Ruin… We Rise

9. Blood in the Sands of Time

10. Reconquest

11. Elegy I: Adapt

12. Elegy II: Devise

13. Elegy III: Overcome
SHADOW OF INTENT will be hitting the road next month with Cannibal Corpse, Whitechapel and Revocation. Tickets available from
shadowofintent.com
Shadow Of Intent W/ Cannibal Corpse | Tour Dates

2/18/2022 Center Stage – Atlanta, GA

2/19/2022 The Ramkat – Winston-Salem, NC

2/20/2022 Baltimore Soundstage – Baltimore, MD

2/21/2022 Reverb – Reading, PA

2/22/2022 The Roxian – Pittsburgh, PA

2/24/2022 Brooklyn Steel – Brooklyn, NY

2/25/2022 The Palladium – Worcester, MA

2/26/2022 Anthology – Rochester, NY

2/28/2022 The Majestic – Detroit, MI

3/01/2022 The Vic – Chicago, IL

3/02/2022 Skyway Theater – Minneapolis, MN

3/04/2022 The Gothic – Denver, CO

3/05/2022 Metro Music Hall – Salt Lake City, UT

3/07/2022 Showbox – Seattle, WA

3/08/2022 Hawthorne – Portland, OR

3/10/2022 Ace Of Spades – Sacramento, CA

3/11/2022 The UC Theatre – Berkeley, CA

3/12/2022 The Observatory – Santa Ana, CA

3/13/2022 The Belasco – Los Angeles, CA

3/14/2022 The Van Buren – Phoenix, AZ

3/15/2022 Sunshine Theater – Albuquerque, NM

3/17/2022 Vibes Event Center – San Antonio, TX

3/18/2022 White Oak Music Hall – Houston, TX

3/19/2022 Amplified Live – Dallas, TX

3/21/2022 Red Flag – St. Louis, MO

3/22/2022 Mercury Ballroom – Louisville, KY

3/23/2022 Iron City – Birmingham, AL

3/25/2022 Jannus Live – St. Petersburg, FL

3/26/2022 Revolution – Ft. Lauderdale, FL
ABOUT SHADOW OF INTENT
SHADOW OF INTENT is an American metal band based in New England originally formed by Ben Duerr and Chris Wiseman in 2014. The band continues to release their music independently including their first album Primordial (2016), second album Reclaimer (2017) and very recently their latest work Melancholy (2019).
The band name and lyrics were originally derived from lore from the Halo franchise and since then the band's subject matter has become more dark and personal, while maintaining an element of fantasy and wonder. The band's music is heavily built off of various different genres of metal including death metal, black metal, symphonic metal, progressive metal, and metalcore. SHADOW OF INTENT played their first live show at the end of 2017, which then lead to them embarking on several US tours with bands such as The Black Dahlia Murder, Whitechapel, Carnifex, Fleshgod Apocalypse, Despised Icon, and more.
2021 has brought about a new era of the band bringing singles, "Where Millions Have Come To Die", "
Intensified Genocide
", "
From Ruin… We Rise
" and a cover of Lamb of God's "
Laid to Rest
", foreshadowing the 2022 'Elegy' album release. The band further evolves their subject matter, touching on the atrocities of mankind throughout history brought about by warmongering, hatred, and greed. The signature SHADOW OF INTENT sound continues to evolve with a larger-than-life cinematic soundscape accompanying each track, bringing a sonic experience hitherto unheard.
Shadow Of Intent Are
Ben Duerr – Vocals
Chris Wiseman – Guitar, Vocals, Keyboards
Bryce Butler – Drums
Andrew Monias – Bass
Find Shadow of Intent Online