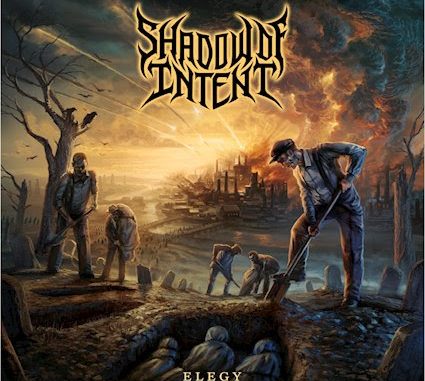 The deathcore band, Shadow of Intent, (Ben Duerr- vocals, Chris Wiseman-guitars/clean vocals, Andrew Monias- bass, Bryce Butler-drums) is releasing their fourth studio album, "Elegy," on January 14, 2022. The album will be released through Blood Blast Distribution. The band has found a lot of success since its inception- amassing 60 million streams, 22 million YouTube views, and having nearly a quarter-million monthly listeners on Spotify.
The album starts out with "Farewell." It begins with an atmospheric and operatic intro that intensifies a minute later when the drums barrel in like a cavalry entering battle.  As with every other Shadow of Intent album, the vocals are absolutely brutal. Wiseman's ability on the fretboard is evident in this song as he busts out an incredible solo toward the end of the song.  The next track is "Saurian King," which starts with guitar picking and a light solo, but shifts into the main part of the song where groovy riffs ebb and flow throughout. "The Coming Fire" is one of my favorite tracks on the album. First, Bryce Butler really shows off his phenomenal talent as a drummer- his footwork never seems to let up, and secondly, a beautiful violin solo ends the song- contrasting with the carnage of everything that came before.
The band has released several singles over the last six months.  The first single, "Intensified Genocide," was released July 30 of last year.  The official music video, which was directed by Joey Durango (Traitors, Makari, Lorna Shore) has already amassed more than half a million views on YouTube. Not bad for a band that releases music independently!  The second and third singles, "From Ruin…We Rise," and "Where Millions Have Come to Die," were released last October.  The official music video of the formerly mentioned song was also directed by Joey Durango, while the latter was directed by Chris Klumpp. Both videos were received well by fans and "Where Millions Have Come to Die" gained special attention as Whitechapel's Phil Bozeman is featured as a guest vocalist.  The latest single, "Of Fury," was released in mid-December and features a catchy riff along with some tubular bells- making it sound slightly like Christmas. 
Not many bands nowadays will include thirteen tracks on an album, but Shadow of Intent is not one to dish out something mediocre.  "Life of Exile" has a slower tempo overall- but features many layers and dynamic parts.  "Blood in the Sands of Time" is another one of my favorites on the album, and the second to feature guest vocals- this time of Chuck Billy of Testament.  Anyone who loves Testament knows that when Chuck Billy guests on a song, it is going to be epic.  As with every of the band's albums, "Elegy" features an instrumental track, "Reconquest." The song is a nearly five-minute masterpiece featuring riffs and solos until it transitions into the three-part climax of the album: "Elegy I- Adapt," "Elegy II- Devise," and "Elegy III- Overcome."  I would recommend listening to these three songs together as a whole. The bass lines really stand out and the rest of the music will take you on an aural journey of anticipation, intensity, and satisfaction.  
These New Englanders have been making music for less than a decade, but it's as if they have been the leaders of their genre since they first emerged on the scene.  Every album has been exceptional and in my opinion, "Elegy" is their best yet. With the album, it's safe to say that Shadow of Intent has established itself as the icon of American deathcore.