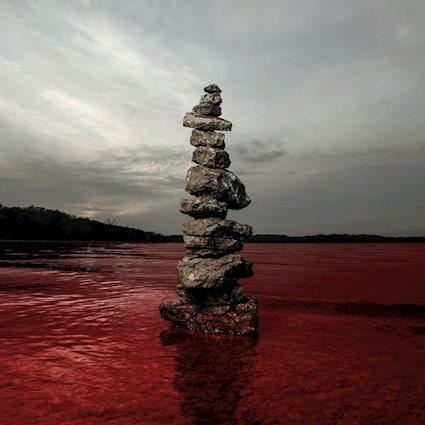 There are a few bands that I have consistently listened to for over two decades. However, there is one band that has yet to have failed to put out an album that turned me off from listening to them. That band is Sevendust. Sure, I have my favorites, but every record they have released in their twenty-six-year career has been solid. Sevendust, who have sold over 3 million albums, (4 of which have been certified Gold), are now releasing their thirteenth full-length album, "Blood & Stone" on October 23, 2020, through Rise Records.
Again, this album is great. I want to stress that. I've had it on repeat, and my fellow fans of the band will enjoy it, but it does sound fairly similar to the previous album, "All I See Is War." To their credit, Sevendust has stayed relatively consistent in their sound as they survived through so many different eras of rock and metal. I would imagine that it is hard for five guys in their late forties and early fifties to deliver the same angst from their younger years. This album isn't soft- it's just more mature.
The first song to be released from "Blood & Stone was a cover of Soundgarden's hit song, "The Day I Tried To Live In my opinion, any band that attempts to revive a song that was sung by Chris Cornell is making an extremely bold move and is probably setting themselves up for failure. However, Witherspoon delivers a performance that not only proves his vocal range can confidently match Cornell's skill but can render his emotion as well. This is no doubt the best cover of a classic song since Disturbed released their version of "The Sound of Silence" in 2015.
The second single to be released was "Blood From a Stone." In a recent interview, guitarist Clint Lowery stated, "Blood From a Stone' was inspired by the endurance and threshold of our band, the wins and the losses, the good and bad years. That we have more to give, more to say and we pull that out of each other." Rise Records released a lyric video for the single on August 28 and was received with extremely positive reviews.
Each song on the album combines its uniqueness with Sevendust's consistent and signature sound. Some of my favorites are "Against the World," "Love," and the slower-tempoed, "Criminal." Sevendust is one of the hardest working bands in the genre and is probably one of the most underrated.
Blood & Stone exemplifies the harmony of intensity and maturity that can only be heard from a band who has mastered their craft. Pre-order this album today!