It is rare that a band in an opening slot gets the recognition they deserve in a review. At best they get a couple sentences and a photo. One band that definitely deserves more… and is getting more, is Seven Spires. Their performance at The Complex in Salt Lake City, Utah on March 19, 2022 was evidence of this fact.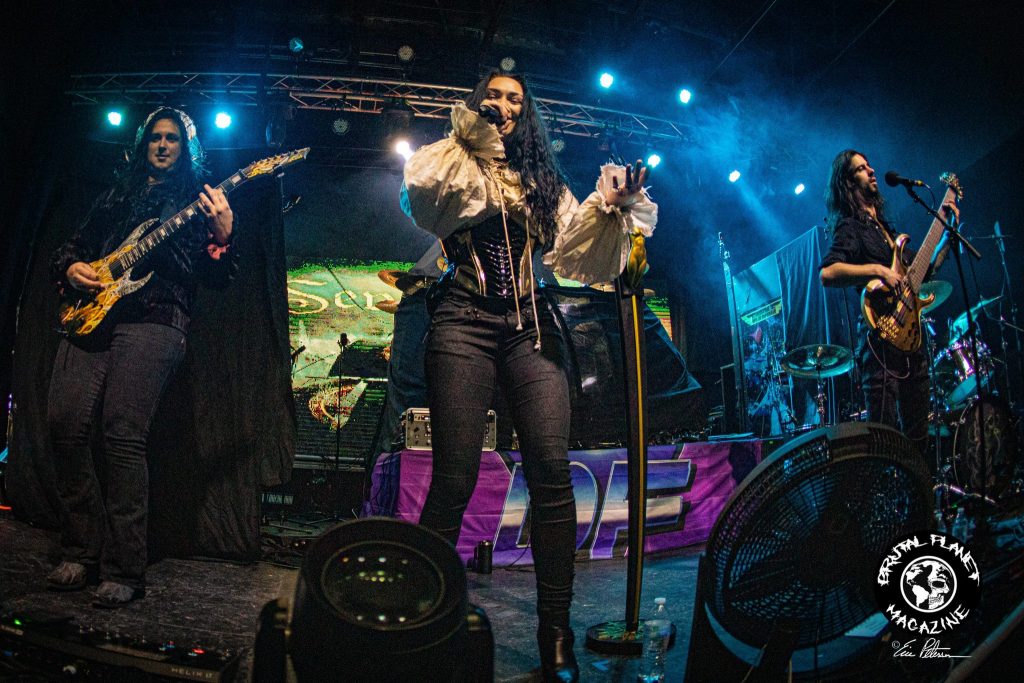 I have been listening to and reviewing Seven Spires' music since they released their debut album Solveig in 2017. I was immediately drawn to their use of symphonic elements in conjunction with their metal sound. In addition to their unique style, I was mesmerized by the vocals of singer Adrienne Cowan and what she was single handily capable of. I often describe her as a soft-spoken angel who floats on clouds, effortlessly singing with a soothing almost hypnotic voice. But then… out of nowhere she jumps off her cloud and hits the earth with a demonic growl that puts the possessed to shame. As they prepared to take the stage, I felt like a kid on Christmas morning waiting to see what Santa had left me, this was an evening I had been waiting for four years. A snowstorm cancelled their first stop in Salt Lake City in 2019 and 2020, 2021 dates were shot down due to COVID.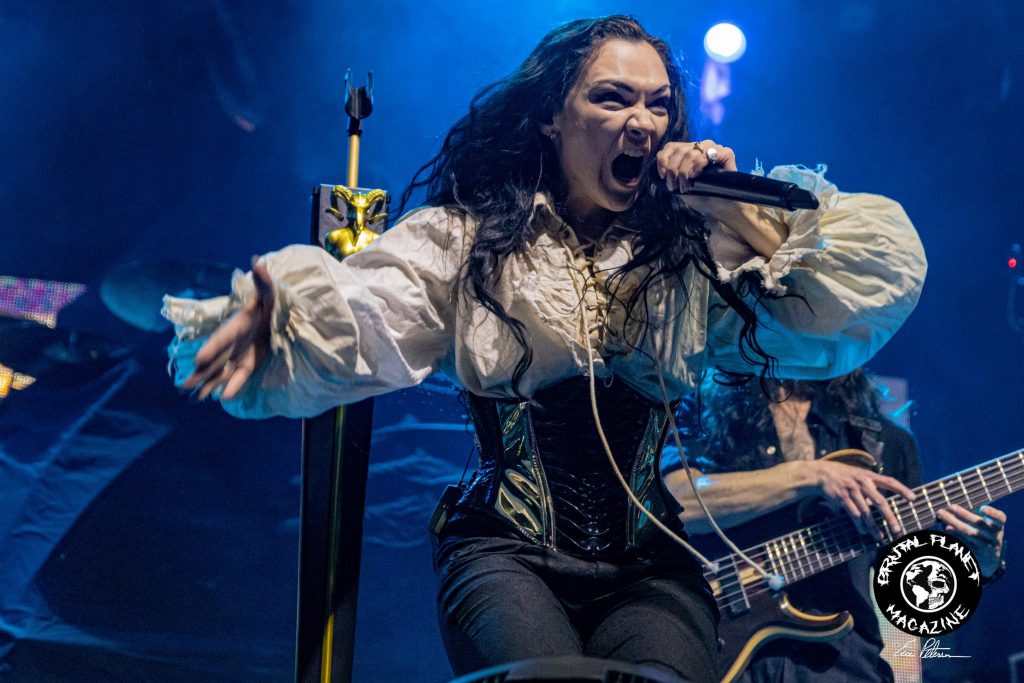 The lights faded and "Wanderer's Prayer" began with ominous chants. The band filed on to a cramped stage one by one. Drummer Chris Dovas was first, followed by bassist Peter Albert de Reyna and guitarist Jack Kosto. Last but not least – the incredible Adrienne Cowan. The intro faded and transitioned into "Gods of Debauchery," the title track from their latest release. Jack's guitar introduction led with a very story like riff that signaled the ensuing adventure. That riff was soon interrupted by Chris' pounding drumbeat and Peter's thunderous bass. Almost from out of nowhere the beast like vocals of Adrianne cut through. She flipped back and forth from demon to angel effortlessly throughout the song.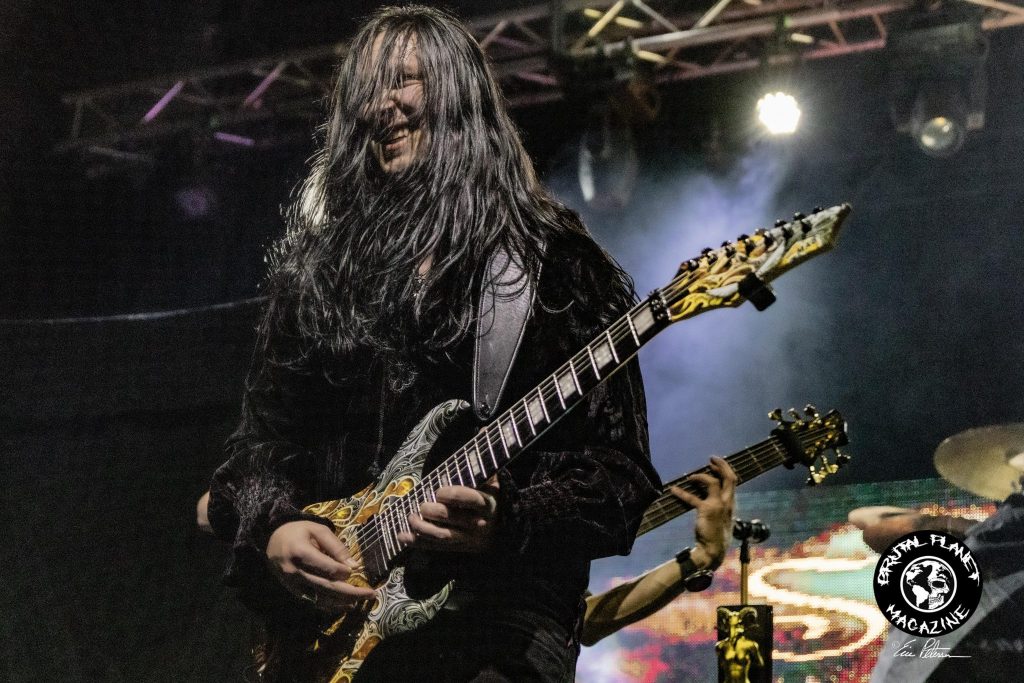 Once the song ended, the audience was thrust into the soundtrack like opening of "Oceans of Time." The angelic side of Adrienne's voice was showcased throughout the song as Peter shredded his six-string bass like Eddie Van Halen once did the guitar. Peter's fingers played intricately across the neck of the bass creating a frenzied rhythm. As one epic song concluded another began; "Lightbringer" caught the audience in a sinister yet eloquently laid trap with lyrics like:
"Goin' down, down, down, to a heaven underground
Where two's a party and three's a crowd
You want it, you'll find it if you open your mind
Time to sin 'til you win, let your demons out!
Goin' down, down, down where the demons hang around
Where souls are sold and the music's loud
He's sweet, she's vicious, this love's fictitious
So sin 'til you win, let your demons out!"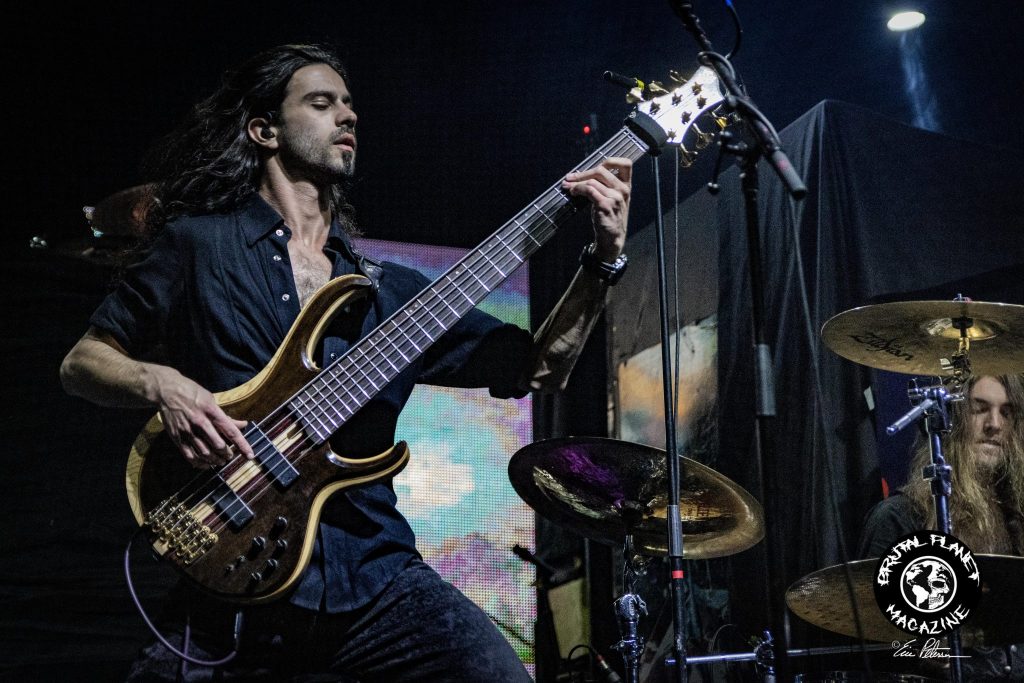 At this point, the set dove back into my favorite album Emerald Seas and the song "Succumb." This fast paced epic showcased once again how each member's precision playing is essential for a flawless delivery. The song has a beautifully crafted guitar solo that follows the beat of the song like a boat riding the waves atop the sea. But the sea was about to get rough… very rough. "Drowner of Worlds" began, and Adrienne was a beast spitting venom and destroying everything in her sight. It seemed as though there would be no redemption and then "Dare to Live" sprang forward as the final song in the setlist. The symphonic sound paired with Jack's guitar perfectly. This song showcases the strengths of each member of Seven Spires. From Chris's blistering beats to Adrienne's bipolar vocal style, the song has it all.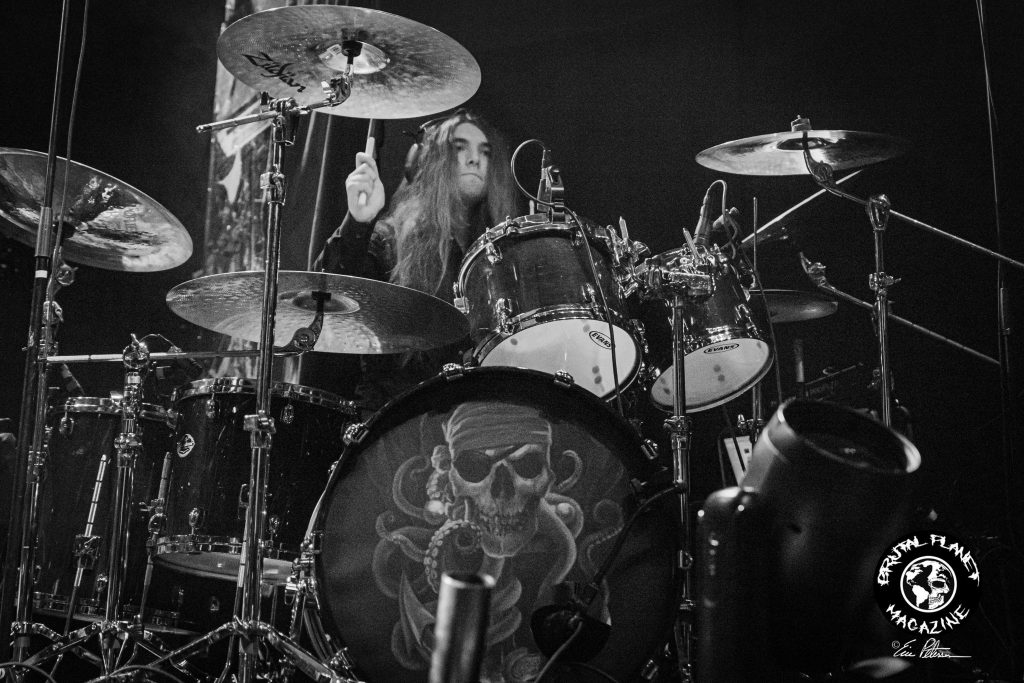 As this tragically short set came to an end, I found myself wanting more. More of what I prepared myself for over the last five years. Heartbreakingly I knew there would not be an encore, but the crowd's response gave me hope for the future. As it turned out, I was not alone in wanting more. A good portion of the crowd had begun chanting "One more song!" The gesture gave me confidence that as Seven Spires heads to the next city, more of the masses will recognize their talent. And that one day soon this group of Berklee School of Music graduates will return to Salt Lake City to unite us all again for a much longer set.
You can see Seven Spires opening for Dragonforce throughout the spring. You can also catch them in June at Prog Power USA. Don't miss this band.