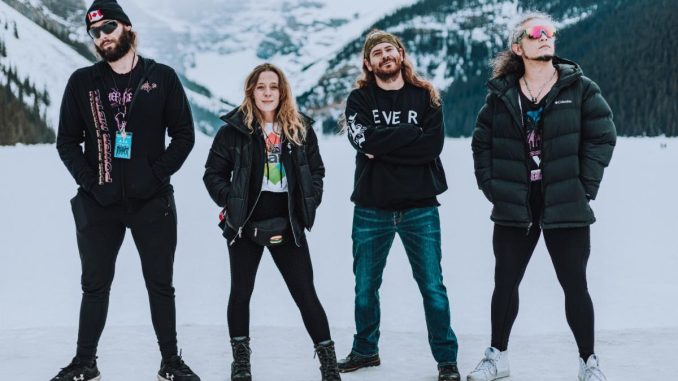 Filmed on Powerwolf Dates!
Watch HERE
Heading Out on May and June Dates with
Rhapsody Of Fire & Windrose
SEVEN KINGDOMS have released the newest video clip for the song "A Silent Remedy" taken from their latest release, 'Zenith' out on Distortion Music Group. The video was shot during the Powerwolf US and Canada Tour with footage coming from New York, Worcester and Denver.

Commented Guitarist, Camden Cruz,

"We are stoked to drop this video for "A Silent Remedy"! Playing the shows with Powerwolf was a huge and memorable experience for us as a band, and we thought it would be very cool to capture this song over multiple shows and make a music video out of it. There is no way to explain how awesome those shows were, so what better way than to just simply show it to you?!

"Big shoutout to all the fans that attended and to those we met at the show! I also want to give a big shout out to our team for making this happen. Its a huge relief to find a solid and dedicated home here with Distortion Music Group. The level of work and push we receive from DMG is significant and has simply been unmatched"

Watch the Official Music Video for "A Silent Remedy" HERE
SEVEN KINGDOMS is currently headed out on tour with Rhapsody Of Fire and Windrose in May and June where they will support their latest release, 'Zenith', over 27 shows across North America. Dates Below!
5/10 – Boston, MA – Middle East Underground
– LOW TICKETS
5/11 – Quebec City, QC – Imperial Bell
– LOW TICKETS
5/12 – Montreal, QC – Studio TD
– SOLD OUT
5/13 – Ottawa, ON – Brass Monkey
– LOW TICKETS
5/14 – Toronto, ON – The Garrison
– LOW TICKETS
5/16 – Joliet, IL – The Forge
5/17 – Minneapolis, MN – The Caboose
5/18 – Kansas City, MO – BLVD Nights
5/19 – Denver, CO – HQ
5/20 – Salt Lake City, UT – Soundwell
5/22 – Seattle, WA – El Corazon
5/23 – Vancouver, BC – Rickshaw Theater
5/24 – Portland, OR – Bossanova Ballroom
5/25 – San Francisco, CA – DNA Lounge
5/26 – San Diego, CA – Brick By Brick
5/27 – Santa Ana, CA – The Observatory
5/28 – Los Angeles, CA – 1720
5/29 – Mesa, AZ – Nile Theater
5/31 – Oklahoma City, OK – 89th St. Col.
6/1 – Dallas, TX – Granada Theater
6/2 – Austin, TX – Come And Take It Live!
6/3 – Houston, TX – Warehouse Live
6/5 – Orlando, FL – Conduit
6/6 – Atlanta, GA – The Masquerade (Hell)
6/7 – Greensboro, NC – Hangar 1819
6/8 – Philadelphia, PA – Warehouse on Watts
6/9 – New York, NY – Gramercy Theater