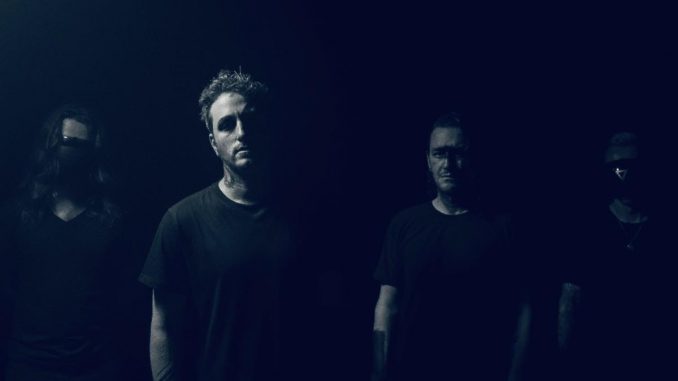 New Music Video for "The Way Back" (feat. TELLE & DJ Lethal) Premiering Exclusively via KNOTFEST
SET THE SUN invites fans to experience the enigmatic duo's debut EP, In Absentia, which is out now on all major streaming platforms. Featuring previous singles "Invisible" and "New Condition", the band's first foray into modern alt-rock modalities is made possible through their frequent collaboration with a growing group of highly lauded fellow artists, who they refer to as "The Collective". This group includes names like Ryan Clark (Demon Hunter) & Michael Lessard (The Contortionist), who, respectively, contributed vocals on the previously mentioned tracks. The likes of Clint Lowery (Sevendust) and Keith Wallen (Breaking Benjamin) also lend their hand to composing tracks on the new EP. The artwork for 'In Absentia' was created by Ryan Clark of Demon Hunter.

Along with the release of 'In Absentia', SET THE SUN have unveiled their new single, "The Way Back", which features guest performances from TELLE (The Word Alive) & DJ Lethal (Limp Bizkit). The band has partnered with KNOTFEST to premiere the music video, which was directed by J.T. Ibanez, and can be found here:

https://knotfest.com/culture/pulse-of-the-maggots/set-the-sun-drop-powerful-emotional-purge-with-the-track-the-way-back/

Speaking about the new single, the band comments:

"The Way Back was written about the feeling that you've lost yourself – whether that's your passion, your confidence, or your reason to keep fighting, and remembering how life used to feel. The older you get, the more life throws at you and the more scars you accumulate,

and that can lead to feeling like a shadow of yourself. Sometimes you wish you could go back to a different version of yourself."

Going into details on how the song came to be, they add, "After we wrote most of the music, we decided to finish writing the song with Keith Wallen. And since the main riff gave us a Wes Borland vibe, we thought it would be cool to hear what DJ Lethal would do over top of it, so we hit him up; he experimented over a bunch of the track and then we picked our favorite bits and it sounds awesome & almost electronic. We were also able to get Producer/Composer Matt Lange to contribute to the production of the song. Finally, we wanted to have edgier vocals for the bridge, and we've always loved TELLE's voice & his screams, so we were delighted when we found out he had time to track it. And he absolutely nailed it and took things to the next level."

In addition to the standard release of In Absentia, a remix version of the EP will be released on August 12, 2022. Check out the previously released "Invisible" (ASTR0L4B3 R3M1X).
About SET THE SUN:

Alt-Rock outfit SET THE SUN are ready to unleash their debut EP after making their presence known last year. Comprised of two primary contributors, Arc & Eris, the American-Canadian duo will release the five-track offering, 'In Absentia', on July 8th, 2022. The record features the singles "Invisible" (feat. Ryan Clark) and "New Condition" (feat. Michael Lessard), along with the next lead single, "The Way Back" (feat. Telle & DJ Lethal).

"This EP was a bit of an unplanned detour," the band shares. "We had just finished recording our debut LP and COVID hit. Both of us were going through some difficult personal situations, so it felt natural to keep writing. We wanted to dive into those feelings of isolation, division, and immovable conflict. There's nothing more crippling than sources of pain we can't change or remedy. Futility is not a pretty thing."

Throughout their debut, STS enlists the contributions of numerous guest performers and collaborators. This group of peers, which the band calls "The Collective", has allowed the band to create songs that aren't confined to the boundaries of genre norms – and instead venture into a sprawling range of soundscapes and ideas.

"The demos for the first five songs came together very quickly, even though we wrote them remotely between Nashville and Toronto. Then we reached out to some members of The Collective – musicians we've long admired and respected who we knew could add a little something extra."

"We worked with composer/producer Matt Lange and Breaking Benjamin guitarist & vocalist Keith Wallen on 'The Way Back', and Clint Lowery from Sevendust on 'New Condition'. We then reached out to Ryan from Demon Hunter, TELLE from the Word Alive, Dj Lethal from Limp Bizkit, Michael Lessard from The Contortionist, and Thomas Freckleton from Silent Planet to feature on the tracks. They all added their own touch and it gave each song its own unique feel, so we're delighted with how it all turned out. There's a good mix of sadness, aggression, and eeriness that we feel will be a good introduction to Set the Sun. And there's much more to come."

In addition to the standard release, a remix version of 'In Absentia' will be released on August 12th.
Watch the video for the second single "New Condition" (feat. Michael Lessard)
Watch the video for the first single "Invisible" (feat. Ryan Clark)
SET THE SUN Is:

Arc – Vocals, Guitar, Keys

Eris – Drums, Programming