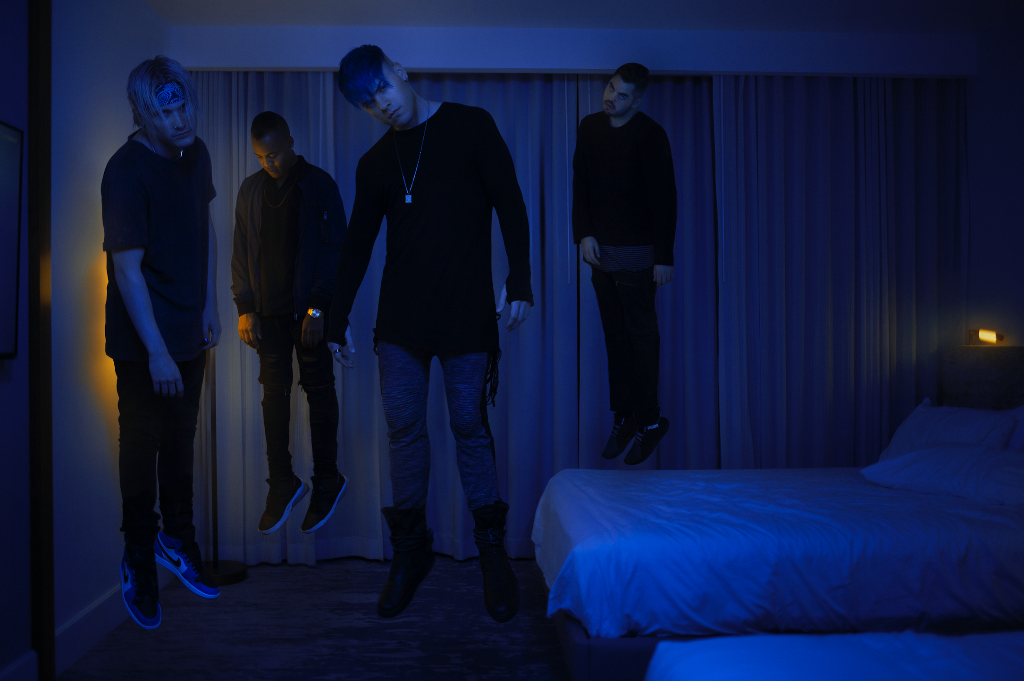 Set It Off have announced their summer 2019 U.S. tour plans. The band will embark on the Midnight World Tour Part 3. It's the third leg in support of their Fearless Records debut Midnight, out now. This leg follows Part 1, which canvassed the U.S., and Part 2, which rolled through Europe.
For Part 3, the band will hit the road on a headlining trek with support from Emarosa, Broadside, and Lizzy Farrall. The tour starts on June 11 in Colorado Springs and runs through July 18 in Los Angeles. The band will also appear at two Warped Tour 25th Anniversary Weekend shows and Sad Summer. All Set It Off tour dates are below.
"Parts 1 and 2 of the Midnight World Tour have been such a success for us that we immediately started working on coming back to the U.S. to play some areas we didn't get to see on the first run," said singer Cody Carson. "The overall support has been overwhelming, and we cannot thank you enough! A lot of the shows sold out on our last tour so PLEASE don't wait and get your tickets now at setitoffband.com."
Midnight was produced by Mike Green (Neck Deep, All Time Low, State Champs) with additional production by Brandon Paddock (Panic! At the Disco, Papa Roach, The Used, Daughtry). The album demonstrates a depth and breadth of musicianship. Carson played clarinet, and guitarist Dan Clermont played trumpet on the record, while the band also incorporated live strings, live horns, and a live gospel choir into the album. Midnight also includes intricate, instrumental features by Reel Big Fish's Matt Appleton and Issues' Skyler Accord, as well as a vocal feature by Wayfarers.
Check out "Killer in the Mirror," "Midnight Thoughts," and "Dancing With the Devil."
SET IT OFF ON TOUR:
THE MIDNIGHT WORLD TOUR PART 3:
WITH EMAROSA, BROADSIDE, + LIZZY FARRALL:
6/11 — Colorado Springs, CO — Black Sheep
6/12 — Lawrence, KS — The Bottleneck
6/14 — Burnsville, MN — The Garage
6/15 — Milwaukee, WI — The Rave
6/16 — Des Moines, IA — Wooly's
6/18 — St. Louis, MO — Fubar
6/19 — Nashville, TN — The Basement East
6/21 — Indianapolis, IN — The Citadel
6/22 — Columbus, OH — Newport Music Hall
6/23 — Grand Rapids, MI — Elevation
6/25 — Buffalo, NY — Rec Room
6/26 — Poughkeepsie, NY — The Chance Theater
6/28 — Hartford, CT — The Webster
6/29 — Richmond, VA — The Canal Club
6/30 — Atlantic City, NJ — Atlantic City Beach*
7/2 — Pawtucket, RI — The Met
7/3 — Amityville, NY — Revolution
7/5 — Reading, PA — Reverb
7/6 — Silver Spring, MD — The Fillmore
7/7 — Charlotte, NC — Amo's Southend
7/8 — Orlando, FL — Sad Summer*
7/9 — Lake Park, FL — The Kelsey Theater
7/12 — Pensacola, FL — Vinyl Music Hall
7/13 — Austin, TX — Empire Garage
7/16 — Tucson, AZ — 191 Toole
7/18 — Los Angeles, CA — El Rey
7/20 — Mountainview, CA — Shoreline Amphitheatre*
*Festival Dates
SET IT OFF ARE:
Cody Carson — Vocals
Dan Clermont — Guitar
Zach DeWall — Guitar
Maxx Danziger — Drums
ABOUT SET IT OFF:
Set It Off — comprised of Cody Carson (vocals), Dan Clermont (guitar), Zach DeWall (guitar) and Maxx Danziger (drums )— are known for creating their own original brand of pop music, infusing bold electronic elements that guide loud, driving rock instrumentations with guitar riffs as catchy as the choruses. The end result is an overall feel-good, dance-worthy vibe. Set It Off, who originated in Clearwater, Florida but are now L.A.-based, command attention and bring authenticity back to pop music in a bold and unapologetic way. The group's last full-length release, Upside Down, was cited as one of the "Most Anticipated Albums of 2016" by Alternative Press and followed the band's sophomore album, Duality, which debuted at No. 18 on the Billboard Independent Chart. The band's debut full-length, Cinematics, debuted at No. 1 on the Billboard South Atlantic Heatseekers Regional Chart, No. 4 on Billboard Heatseekers Chart, No. 9 on Billboard Next Big Sound Chart, and even broke into the Billboard Top 200 chart. Now, Set It Off of come to Fearless Records for their next chapter with the dynamic new single, "Lonely Dance," which affirms the band has reached a higher level of musicianship. The new track serves as a preview to some of the band's upcoming, most edgy and pop-driven anthems to date.