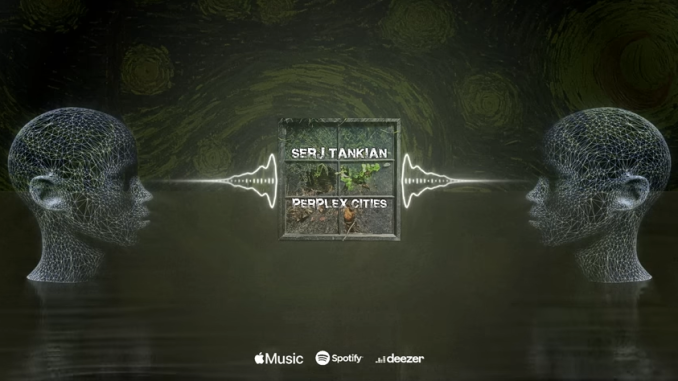 Oct. 21, 2022, Los Angeles – Serj Tankian's new EP, Perplex Cities, is available now on all major music streaming platforms via Serjical Strike. The 5-song release, which was uniquely previewed personally by Tankian via an augmented reality introduction through the Arloopa app, can now also be heard, and viewed, via a YouTube based visualizer playlist (listen/watch here).
Tankian has described the self-produced release as "a completely different sound than what I've done before. More electronic, subtle and deeper in terms of its layers of presentation musically. Perplex Cities gives off an aura that is unique and unlike my previous releases."
The EP's arrival coincides with Tankian's current fine art exhibit, running now through Nov. 1 at Stephanie's Gallery in La Cañada Flintridge, Calif. Dubbed "Shapeshift: A Dynamic Dive into Diversity," the 18 original artworks are each paired with a unique piece of music created specifically for the artwork. Tankian recently explained in an Orange County Register interview: "I think the music and art both co-inspire. Mostly I'm inspired by the music to create the painting, but there are times where I'll paint freeform and I've done a lot of it recently and I'll say, 'What is the score of this painting? What is the musical tone of this painting?' And I'll go and either compose a piece or pick a piece from my own library that I've never used before that really speaks to these paintings."
The GRAMMY-Award winning musician has also announced the April 29 performance of "Invocations," an operatic suite that can best be described as music that calls on spirits to co-inspire and wander. The performance sees Tankian return to The Soraya at California State University, Northridge. Tickets for the one-time outing can be found here.