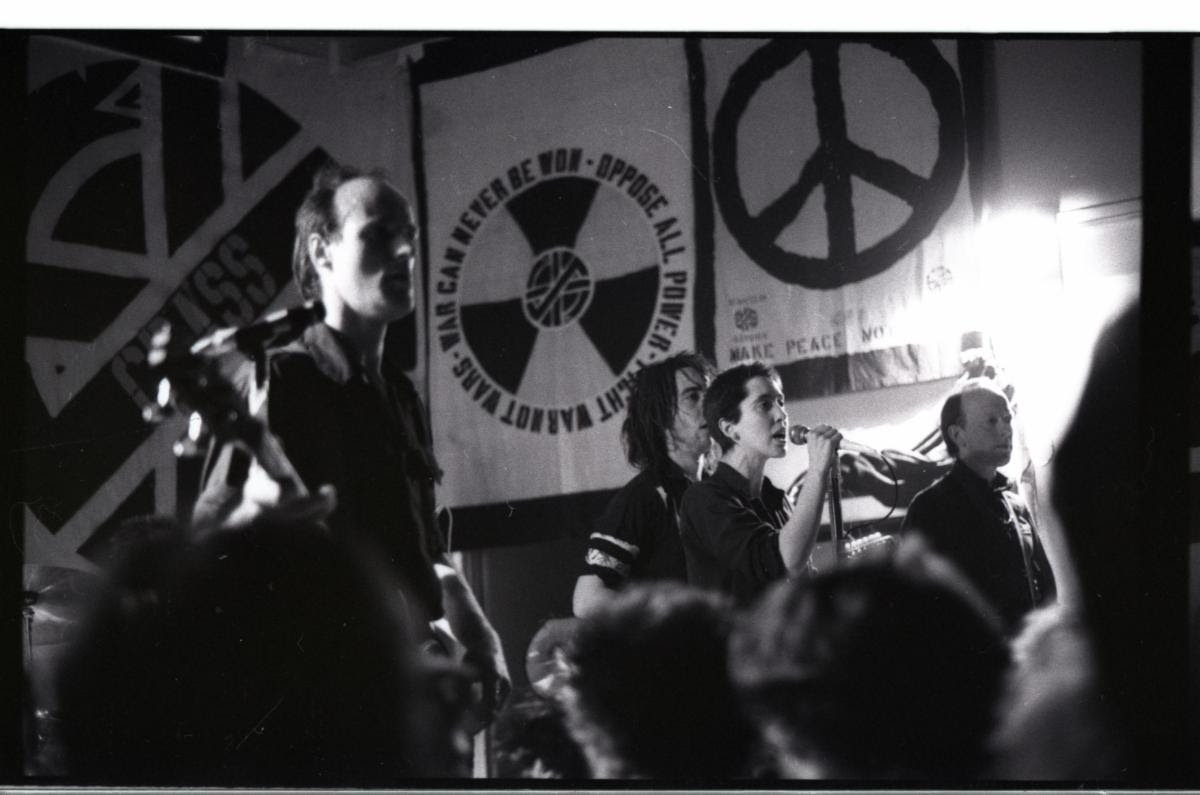 Crassical Collection Set for Release October 30 via One Little Independent Records
Classic CRASS performance photo
Seminal avant-punk collective CRASS has revealed a new video for "Sheep Farming 3," a previously unreleased track available on the Best Before 1984 (Crassical Collection) reissue, out October 30 in North America via One Little Independent Records.
"A previously unreleased version of 'Sheep Farming in the Falklands' written and produced sometime after hostilities had ceased," explains CRASS member Penny Rimbaud. "The first listener to send us the lyrics in full will be handsomely rewarded. I've tried, but despite having written them, I still can't get it word for word."
The Crassical Collection includes CRASS' entire legendary catalog, restored from the original analogue studio tapes.
The Crassical Collection includes Stations of the Crass (1979), Feeding of the Five Thousand (The Second Sitting) (1981), Penis Envy (1981), Christ – The Album (1982), Yes Sir, I Will (1983), Ten Notes on a Summer's Day (1986) and Best Before 1984 (1986). Each of the records have been repackaged and bolstered by rare and unreleased tracks, and stunning new artwork from Gee Vaucher, who has lovingly created what could only be considered a true artifact.
The band's first six albums include two CDs, with the first disc being the main album remastered by Alex Gordon at Abbey Road Studios and the second being a mixture of rare live and remastered studio recordings. Each package also includes a fold-out poster and a high-quality 60-page booklet featuring all lyrics along with extensive liner notes from band members Penny Rimbaud and Steve Ignorant, which shed light on the making of the records.
The Best Before 1984 Crassical Collection is brand-new and has also been remastered and features five fold-out posters and a 52-page booklet.
Pre-orders for the seven releases are available now via Amazon (see below for direct links).
Full Crassical Collection cover art
Leading up to the release of the Crassical Collection, CRASS has embarked on the ambitious The Feeding of the Five Thousand Remix Project. Beginning in late 2019, CRASS took the step of making the original separate track stems of their seminal debut album The Feeding of the Five Thousand available as a free download. With a call to take the original 16 track recording in its pre-mix state, the intent was for people to create their own remixes and interpretations and breathe fresh life and ideas into this revolutionary music.
Pre-order links for the Crassical Collection:
Best Before 1984 (Crassical Collection)
Ten Notes on a Summer's Day (Crassical Collection)
Yes Sir, I Will (Crassical Collection)
Christ – The Album (Crassical Collection)
Penis Envy
Stations of the Crass
Feeding of the Five Thousand (The Second Sitting)
Best Before 1984 Crassical Collection packshot