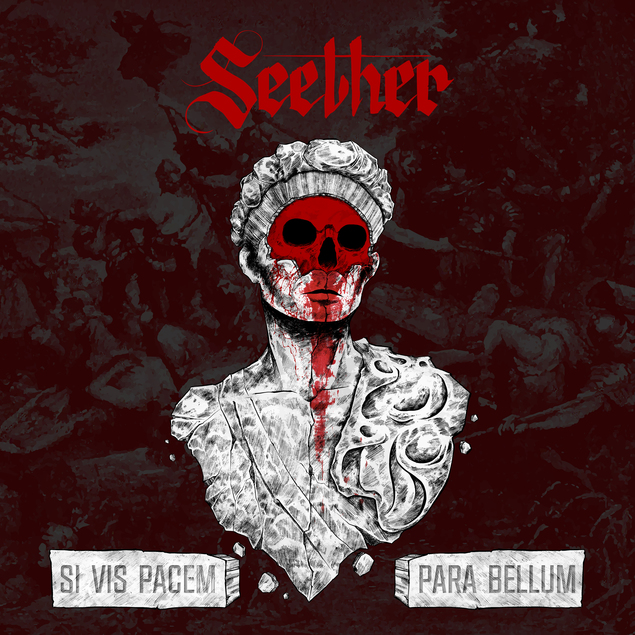 It has been over three years since Seether (Shaun Morgan- vocalist/guitar, Dale Stewart- bass/vocals, John Humphrey- drums, Corey Lowery- guitar/vocals) has released an album. Now, the South African rock band is delivering an incredible eighth album to their fans. The title of this highly anticipated work is, "Si Vis Pacem, Para Bellum"– a Latin phrase meaning, "If you want peace, prepare for war." It was recorded in Nashville last winter and is set to be released on August 28th through Fantasy Records.
Kicking off the thirteen tracks is the song "Dead and Done." The opening riffs are simple yet hit hard with Seether's heavy guitar tone. The riffs prowl back and forth for nearly a full minute before vocalist Shaun Morgan sings the first verse. The music, lyrics, and delivery not only set the tone for the rest of the album, but it is also exactly what long-time fans of the band would hope for- raw, unadulterated angst.
The first single, "Dangerous," was released on June 24th and received extremely positive feedback online. The official music video features animation made by Turkish director Mertcan Mertbilek (Santana, Ray Charles). Despite the direction many of their peers have taken, Seether has been surprisingly true to their sound over their twenty-one-year career. However, while this song stays consistent with the band's roots, there is also a dark atmosphere to both the single and the music video. It's as if Shaun Morgan is familiarizing himself with his inner-demons and releasing them vehemently.
The band has functioned as a three-piece for much of their career and has proved they can write five great albums (two which were certified Gold) without a second guitarist; but all good things can get better if the right people are involved. "Si Vis Pacem, Para Bellum" is the first album to feature Seether's newest member, Corey Lowery (Stereomud, Dark New Day, Saint Asonia). Speaking of Corey, Shaun Morgan comments that he brings "a lot of expertise; he assistant-engineered the album" and that Corey is "inspiring as a guitarist as well; he's the older brother I've always wanted."
When a band can find the right chemistry among its members, the result can be a knockout performance like what can be found on this album. Dale Stewart brings heavy basslines under the spotlight with the songs "Bruised and Bloodied," and "Buried in the Sand." The former mentioned track was released as a single on July 16th. While "Liar" and "Written In Stone" both have slower tempos, the band does not let up on the emotion or intensity. The opening guitar riffs of "Let It Go" bring a driving ferocity as they lead to a chorus of beautiful melody and "Beg" is the perfect example of Seether's ability to convey passion and angst.
Many fans think this South African band is one of the most underrated bands of the last two decades. Whether you agree with that statement or not, they have undoubtedly proven time and time again that they know how to access the cultural climate and craft their art in a way that is relatable to listeners. People everywhere desire for things to be right in the world, and "Si Vis Pacem, Para Bellum" is Seether's attempt to fight for it.