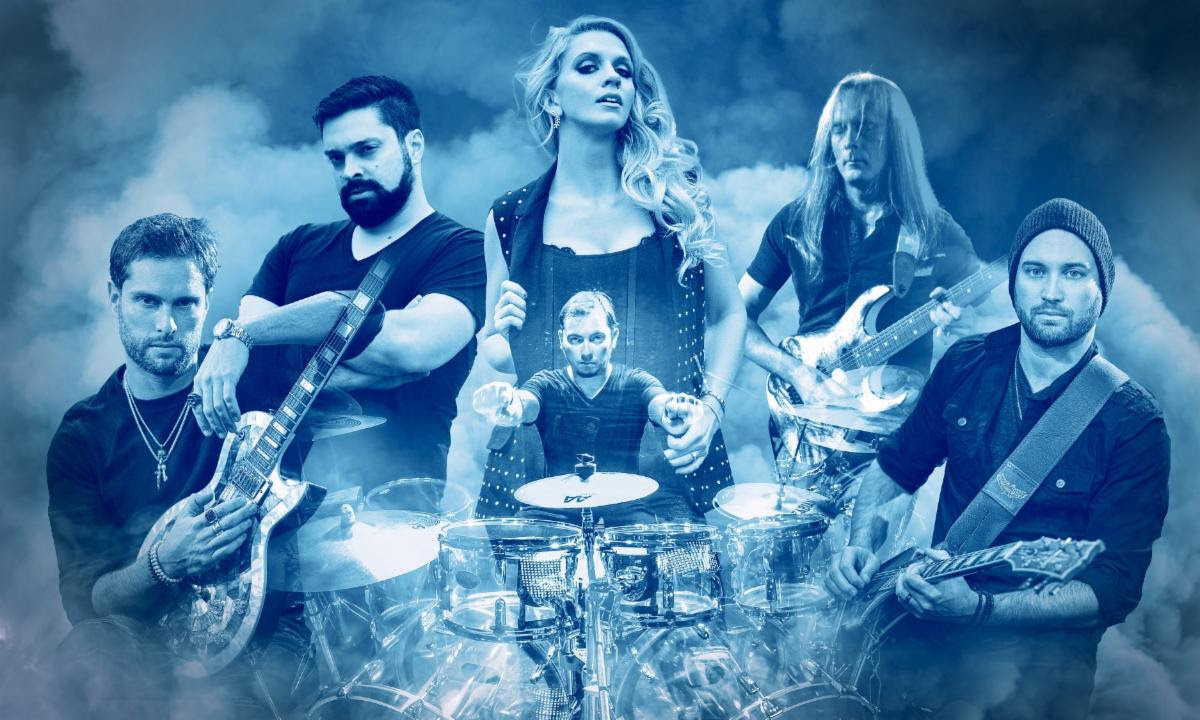 Sophomore Album to Feature Guests Oli Herbert, Marty Friedman, Dave Ellefson, Jeff Loomis and More
The second opus from classical metal ensemble LOST SYMPHONY, aptly titled Chapter II, is available today.
"The times are certainly a little weird and I don't think 'Chapter II' could be any more appropriate," says LOST SYMPHONY founder Benny Goodman. "There was a lot of time and effort put into making this music so that it takes you somewhere. From start to finish, there is always a light through the darkness."
Primarily composed before, yet eerily perfect for the age of the Pandemic, the eight-track album strains beauty through aural apocalypse. The collective founded by multi-instrumentalist and producer Benny Goodman and comprising his brother Brian (compositions, arrangement), Cory Paza (bass, guitar), Kelly Kereliuk (guitar), Paul Lourenco (drums), and Siobhán Cronin (violin, viola, electric violin) has once again welcomed a revolving cast of virtuosos to join them for the next phase. This installment includes Marty Friedman, David Ellefson, Jeff Loomis, Bumblefoot and many more.
The album has produced three singles thus far:
"Conflagration" – featuring Oli Herbert, Matt LaPierre and Conrad Simon
"No Exit" featuring David Ellefson, Jeff Loomis and Marty Friedman
"Murder of Crows" featuring Jon Donais, Matt Bachand and Jimi Bell
With the release of Chapter II, LOST SYMPHONY members Benny Goodman, Siobhán Cronin and Cory Paza are also launching the 2020'd podcast. Instead of binge-watching countless TV shows, this creative three-ring circus with boundless energy decided to create a podcast to provide a vehicle for their pent-up creativity. The modern-day triumvirate called up some of their most interesting and successful friends, including recording artists, touring musicians, music industry experts, TV personalities, even a billionaire, and asked these friends to give us their take on current events as well as to share some of their wildest entertainment memories.
2020'd is a series of no-holds-barred discussions. chocked-full of insider information that explores the various paths that lead their highly successful guests to their unique lifestyles and prominence in the entertainment industry. Paramount in the podcasts is a healthy serving of rock n' roll war stories that give you a peek behind the-curtain of the entertainment industry.
As a team, Goodman, Cronin and Paza connect with their guests on an intellectual and emotional level, covering a wide range of topics resulting in a hilarious and informative discussions. The Podcasts are a full-tilt ride providing an edgy and immersive full-on belly laugh experience.
The first six episodes – We Got 2020'd!, Richard Shaw: From Musical Theatre to Cradle of Filth,
About LOST SYMPHONY:
LOST SYMPHONY was set in motion when Benny Goodman invited guitarists Kelly Kereliuk and Conrad Simon to add another dimension to the classical demo he had composed. An early recording of "Leave Well Enough Alone," which appears on Chapter II, made its way to All That Remains co-founder and guitar hero Oli Herbert, who quickly jumped aboard as a chief collaborator. Upon arrival, Chapter I immediately received widespread critical acclaim. Metal Insider described it as "the great collision between metal and classical music," and BraveWords claimed it has "taken the scene by storm."
LOST SYMPHONY online:
2020'd online: