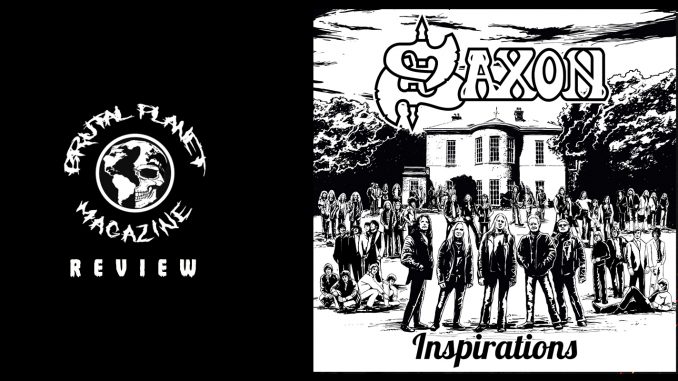 Saxon led the charge in the late '70s and '80s as part of the new British Heavy Metal wave along with Judas Priest and Motorhead. With that in mind, why is one of the founding fathers of metal making an album saluting their inspirations when bands should be hailing Saxon themselves for their contribution to the metal world? Biff Byford explains it this way: "We wanted to do an album based on our influences, the songs, and bands that inspired us to write what we did and still do." Even Saxon has been influenced, and they too want to celebrate those inspirations with the aptly titled Inspirations.
First, Inspirations's artwork embraces each of the bands Saxon pays tribute to on the album. It is a subtle and clever album cover. I come from an era where being able to stare at an album cover and pick out little gems is part of the fun of owning the album, so I was impressed from the minute I laid eyes on the cover art.
"Paint It Black," originally recorded by The Rolling Stones, gets things started. Biff's vocals add a grittier, darker sound to the song, making it a bit more ominous-sounding.
Next is Led Zeppelin's "Immigrant Song." Some would say it is almost impossible to match Robert Plant's intensity, but vocally Biff's version holds its own, and musically Saxon's remake has much more of an intense plundering beat to it. The Beatles inevitably hold an inspirational spot on any band of Saxon's era, and they chose to remake "Paperback Writer." Of course, the song in Saxon's hands is more raw, heavy, and not so poppy. I would have loved to seen Saxon choose a more melodic song from the Let it Be album, but this is not my inspiration album.
"Evil Woman" by Black Sabbath and "Stone Free" by Jimi Hendrix gives Paul Quinn and Doug Scarratt a chance to show their love to the great Toni Iommi and Jimi Hendrix. Saxon has had a genuine admiration for Motorhead for a long time, and it seems fitting that they pay tribute to Lemmy with a cover of "Bomber." Deep Purple's "Speed King" appears to be a perfect fit for Biff vocally, and Nibbs Carter thumps some great bass lines originally done by Roger Glover. "The Rocker" adds a heavier version of the Thin Lizzy classic.
One song that most would never consider a good fit for Saxon but leads the pack on the album is Toto's "Hold The Line." Biff flawlessly revives the sharp vocal delivery of the original. The fantastic drum line of Nigel Glockler feels like a fitting tribute to the late Jeff Porcaro, whose original drums laid the groundwork for this 1978 hit.
Inspirations finishes strong with "Problem Child" from Bon Scott era AC/DC and crescendos with a great visit back to the 1965 psychedelic hit "See My Friends." by The Kinks.
Saxon went old school recording Inspirations. It was recorded at Brockfield House outside York with a strong appreciation and intent to make sure things were old school using Marshall cabs, Marshall amps, and real drums. Biff produced the album, and longtime Saxon sixth man Jacky Lehmann recorded and mixed the album to perfectly ensure an authentic sound.
If you want to hear some fun recordings of songs that helped lay the groundwork for what Saxon became, then Inspirations should be on a shortlist for albums to pick up on 19 March 2021 via Silver Lining Music / Militia Guard.