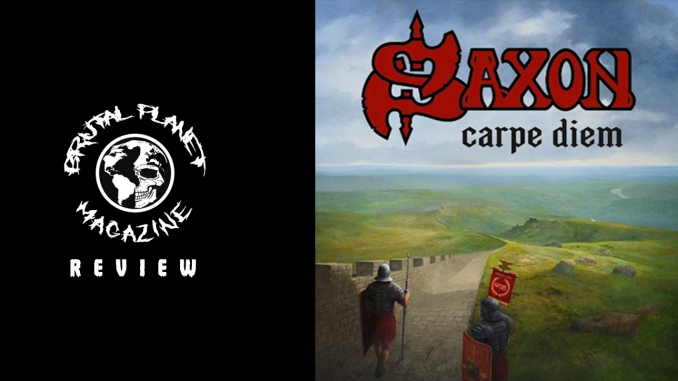 The new wave of British Heavy Metal began over four decades ago. One of the bands responsible for the creation and continuation of that sound is Saxon. Their sound has slightly changed over the years, but it all comes back to a fast-paced guitar driven sound with screaming vocals. The one major difference between albums of the 70's, 80's and today is the recording, mixing, and mastering of albums. During the 80's Saxon albums were amazingly written but in my opinion the mixing and mastering was lacking. This was likely due to technology of the day. In 2002 some of their early hits were re-recorded and included on a greatest hits album called Heavy Metal Thunder. This album really helped me understand the impact Saxon had on not only the movement but the metal genre in general. 2018's Thunderbolt was one of my favorite Saxon albums of all time. The mixing and mastering of that album are brilliant. That album was produced and mixed by the master Andy Sneap. In 2022 Saxon is set to release their 23rd studio album titled Carpe Diem. The album is also produced by Andy Sneap, which sets the stage for a great album right from the start.
The first track is title track "Carpe Diem (Seize the Day)." It starts with an ominous orchestration that is followed by what can only be described as the drums of war. What ensues is nothing less than a war anthem. The song is a nod to the Roman Empire as they would say "Carpe Diem" to each other. The saying translates to "Seize the Day" which is a perfect way to live one's life. "Age of Steam" begins with the epic guitar that one would expect from Saxon, and it continues throughout the song. "The Pilgrimage" slows the beat down to a more classic novel like sound. The song chronicles a journey just as the title reflects. "Dambusters" continues the high speed auditory assault.
"Remember the Fallen" begins and the legacy of "Dallas 1P.M." is conjured. The track has a strong guitar driven sound and Biff's vocals show no sign of aging. The roots of the song are taken from the fallen taken from us due to the current pandemic. The album powers through "Super Nova" and arrives at "Lady in Gray." The song has almost ballade like beat that infuses piano and keys, but it does not subtract guitar. The lyrics give the song an eerie vibe that chills. "All for One" speeds the beat back up that then carries into "Living on the Limit." "Black is the Night" wraps up the epic album with a classic Saxon sound.
Carpe Diem provides the listener a perfect equation into the chemistry that has made Saxon so successful for so many years. The riffs on the album demonstrate how bands like Metallica found Saxon to be so influential. While listening the Carpe Diem it is easy to hear the origins of thrash shining through each song. The album may have been released in 2022 but the sounds are timeless and signature Saxon. Pick up Carpe Diem on February 4, 2022 when it is released and be sure to support Saxon by purchasing merchandise from https://www.saxon747.com/
SAXON:
BIFF BYFORD – Vocals
PAUL QUINN – Guitar
NIGEL GLOCKLER – Drums
DOUG SCARRATT – Guitar
NIBBS CARTER – Bass