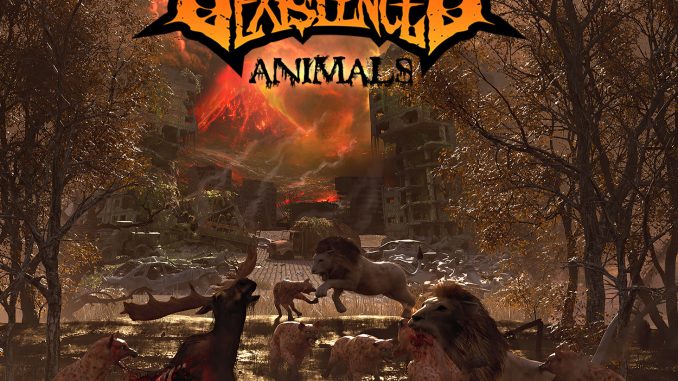 SAVAGE EXISTENCE RELEASE NEW VIDEO, "A THOUSAND POUNDS OF TRAINWRECK," ANNOUNCE TOUR DATES WITH SEPULTURA

Savage Existence have released their new live music video for the song "A Thousand Pounds of Trainwreck." A faithful reflection of the energy of a live performance (which is what this band is about), the clip was shot during their recent tour in Mexico – where they shared stage with legends of death metal Monstrosity – and can be viewed via this link:
https://www.youtube.com/watch?app=desktop&v=ZwgKvY5y3JA
"'A Thousand Pounds of Trainwreck' is one of our heaviest songs and one of our favorites to play live," says the band. "As a show opener in this video, you can see how quickly this song gets people moving."
The group's debut album, 'Animals,' was released on November 19, 2021, and in April they will be opening shows in Mexico for Sepultura (including April 13th at Pistoleros House of Show in Chihuahua and April 17th at Circo Volador in Ciudad de Mexico). This new band has released already several blasting videos during past months on their channels attracting fans and followers all over the world.

"True and honest expression of pure energy, old school meeting modern metal, groove and death metal style with southern rock influence, strong head banging riffs and insane vocals," is how the band describes their sound. "In the vein of such bands as Pantera, Five Finger Death Punch, Lamb of God, Soulfly, Machine Head and Sepultura. Creating our very own sound by adding almost progressive rhythms and also very smooth and melodic parts in an original amalgama of sounds."

Savage Existence is the extreme groove/death metal band created in Costa Rica by Daniel Cleland (guitars) and Jesse Radford (drums), both entrepreneurs from Canada, and experienced vocalist, producer and songwriter Anton Darusso (Wings of Destiny, Oxidize from Sweden, Magic Opera) from Italy. They are joined by Emil Minott (bass) and Andres Castro (guitars). 'Animals' was produced and recorded by Logan Mader (Once Human, ex-Machine Head, ex-Soulfly). Savage Existence is inspired by old school metal, taking it to another level with blasting riffs, unconventional song writing, insane vocals, and an overall wall of heavy sound.
For more background about the band, view this recent EPK: https://www.youtube.com/watch?v=ZY_B9e9LRKI
'Animals' is now available for streaming on digital platforms worldwide thanks to Blood Blast Distribution. The album has themes of animalistic savagery one might find in the jungle, influenced by the band's time spent in Costa Rica. "Be the predator, not the prey," and "I am just an animal hunting in the jungle" are some of the band's taglines, challenging societal norms, media biases, and other challenges we face as society and individuals.
And soon, the band will be playing with Sepultura. "Sepultura is one of this main influences and is a true cult band that is important to share the stage with, so we can show what we are able to deliver as live performers. We are very much looking forward to thrashing alongside such a legendary band and sharing our music with their fans. It's all about gaining more and more credibility and captivating attention. It's a perfect opportunity for us to show what we are made of. We will explode and present the 'Animals' album almost entirely, creating an experience for the fans more than just a gig but a life experience."
And the band already has plans for the future. "We expect to release an EP with 2 covers (Lamb of God "Resurrection Man" & Machine Head "Old," with participation of Logan Mader on guitars) and then the second album 'MATRICIDE,' that is already recorded with special guest Gary Holt on guitars and some other stellar appearances (also produced by Logan Mader). As for the rest of the 2022-2023, we plan to play live, of course if pandemic allows. For now – the sky is the limit."
FOR MORE INFORMATION, VISIT: