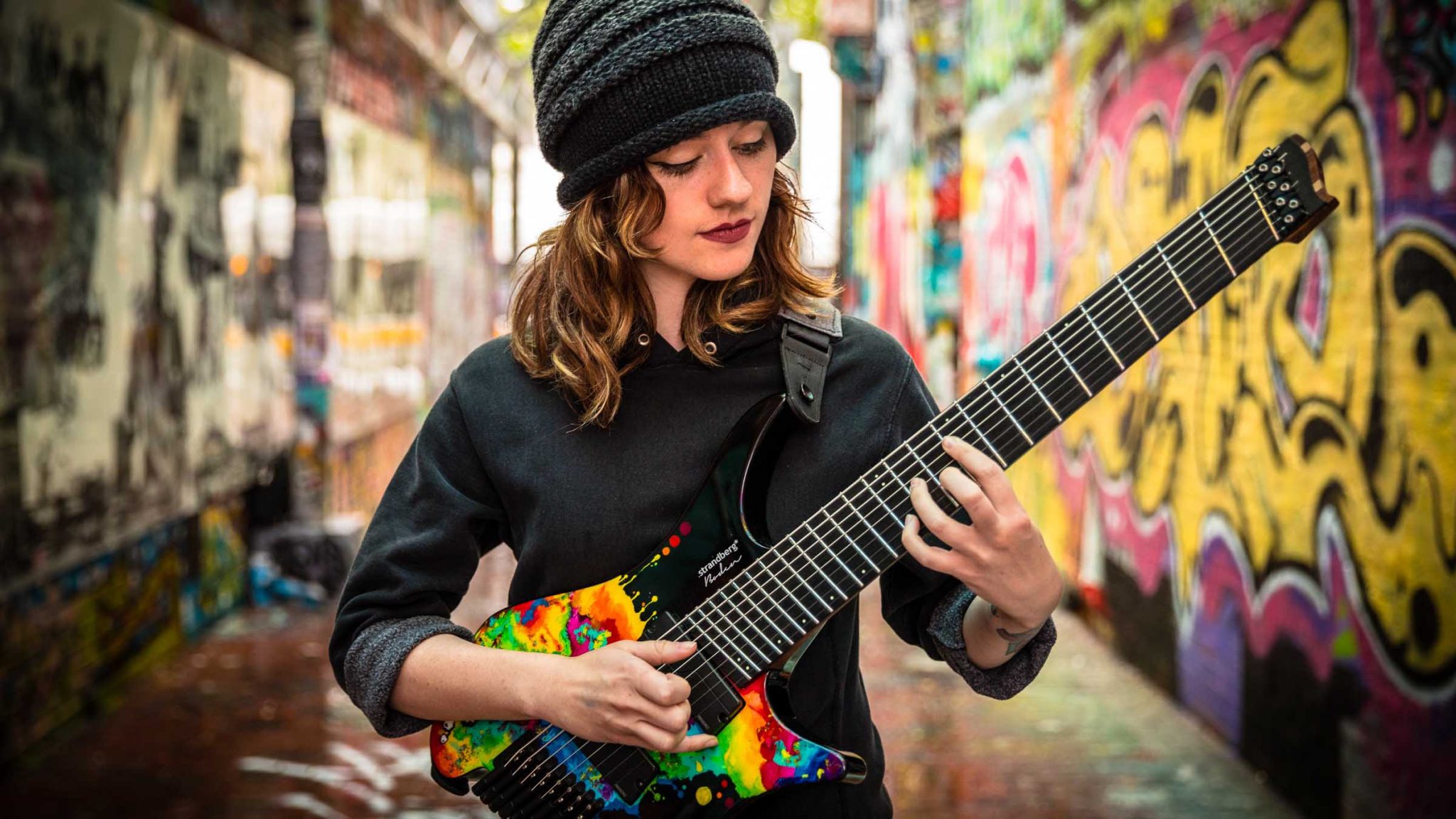 SARAH LONGFIELD, named one of "the world's greatest 7 and 8 string guitarists" via Guitar World and one of the 50 Greatest Female Guitar Players by Guitar Player Magazine, is reissuing her albums 'Sum' and 'Collapse / Expand' on CD. The records, which will officially be released on July 19, are now available for pre-orders at the Season of Mist E-Shop and on Bandcamp.

LONGFIELD got her start on YouTube, cultivating a growing audience of over 215,000 subscribers. Not only has she been featured in Forbes for her DIY prowess and impressive YouTube empire, but Ultimate Guitar recently named her one of the Top 25 YouTube Guitarists (#13) as well.

To learn more about LONGFIELD's background and signature tapping techniques, check out this February 2019 profile piece via Premier Guitar!
Currently, LONGFIELD is nearing the end of her tour with FELIX MARTIN. The remaining dates and ticket links are as follows:
SARAH LONGFIELD (w/ Felix Martin, Hedras):
05/29: Austin, TX @ Dirty Dog Bar (TICKETS // EVENT LINK)
05/30: Dallas, TX @ Three Links (TICKETS)
LONGFIELD is touring in support of her ambitious new album, 'Disparity,' which was released on November 30, 2018 via Season of Mist, making it the guitarist's debut to the label. 'Disparity' sees LONGFIELD raise her virtuoso playing and unique tapping technique (adapted from piano-playing fundamentals) to astounding new heights. Her music defies all genre constriction while artfully melding complex melodies with incredible levels of guitar shred. LONGFIELD is in the vanguard of young players leading the evolution of the modern guitarist, with 'Disparity' being a fascinating and mesmerizing glimpse inside the storm. Listen to 'Disparity' in full HERE.
Additionally, the 8-string extraordinaire recently debuted her first ever signature guitar via Strandberg at the 2019 NAMM Show. Details on her signature axe can be found HERE. Photos can be found below.

After years of playing the piano and the violin, multi-instrumentalist Sarah Longfield found her true musical calling when she purchased her first 7-string guitar at the age of 13. Her first EP's 'Zeal' (2011) and 'Par Avion' (2012) received high praise from critics and fans alike.
In 2012, Longfield formed the band THE FINE CONTSTANT. In just a few years, the band released two full length albums, and toured the world supporting MARTY FRIEDMAN, ANGEL VIVALDI, POLYPHIA, and performing at festivals such as UK Tech Fest, Euroblast Fest, SXSW, and more. Her band has been hailed as "an exceptional breed of top-notch instrumental metal" (No Clean Singing), featuring "experimental know-how with a more finely-tuned approach to songwriting that bleeds together passages of spacey electronics and intertwining guitar melodies." (Heavy Blog is Heavy)
Longfield first gained notoriety from her prolific playthrough and guitar demonstrations on her YouTube channel. Since then, Longfield has uploaded a collection of over 100 videos, featuring playthroughs, cover songs, solo material, vlogs, and much more. To date, Longfield's channel has over 215,000 subscribers, and amassed millions upon millions of views.
For interviews and guest list requests, please contact Katy Irizarry at Katy@season-of-mist.com.
For more on SARAH LONGFIELD, visit her official YOUTUBE, FACEBOOK, and INSTAGRAMpages.For more on SEASON OF MIST artists, visit our official WEBSITE, FACEBOOK, INSTAGRAM, YOUTUBE, and TWITTER pages.