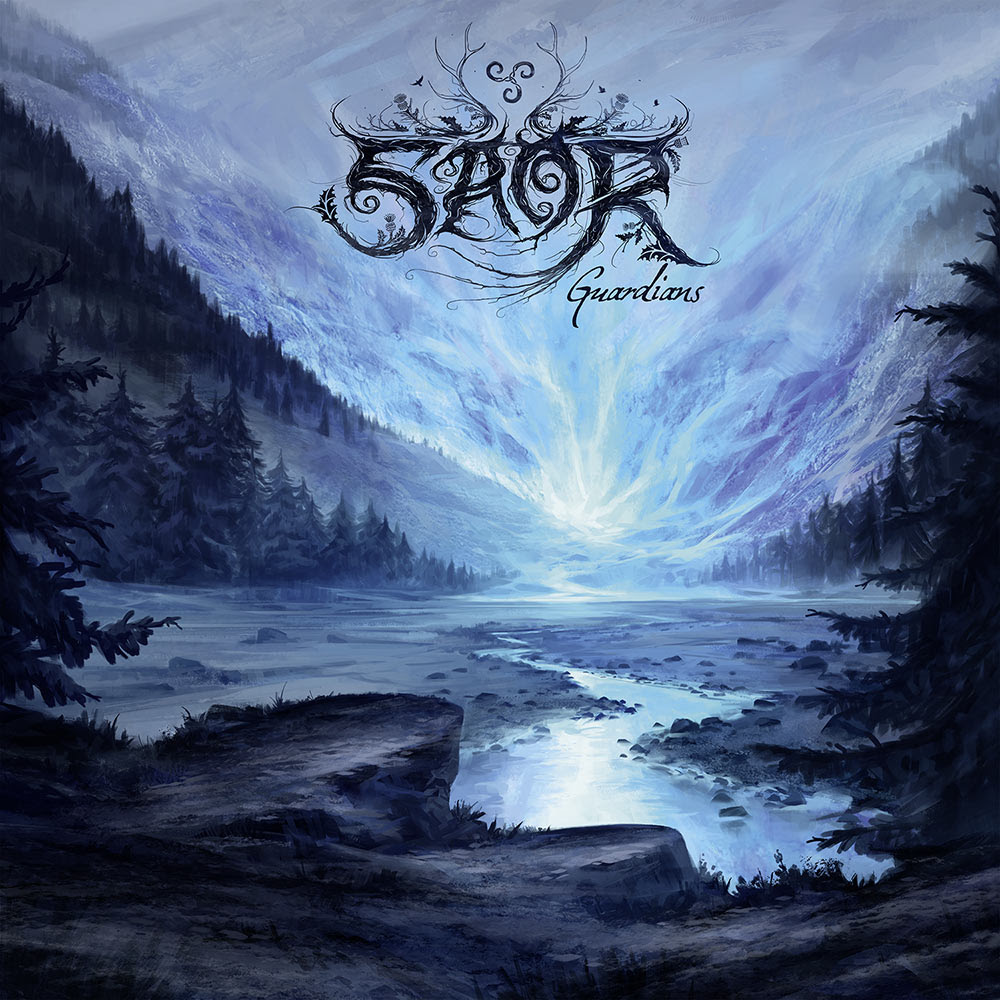 Scottish folk-inspired black metal outfit
SAOR
has won a Scottish Alternative Music Award in the "Best Metal" category! The Scottish Alternative Music Awards (SAMA's) recognizes the best new Scottish music, shining a spotlight across an eclectic range of contemporary music genres.
Frontman Andy Marshall comments: "Thanks to everyone who voted for us, I really appreciate it. It's been a tough year, so this award means a lot. Special thanks to our manager Joe, the live band and Season of Mist for all their hard work. Cheers and hope to you guys next year!"
On January 15,
SAOR
will release a remixed and remastered version of their third full-length 'Guardians'. Listen to the remixed and remastered track "Hearth" below at
THIS LOCATION
.
All reissues are available in the Season of Mist shop HERE.
The cover art and tracklist of 'Guardians' can be found below.
Tracklist:
1. Guardians (11:32)
2. The Declaration (10:32)
3. Autumn Rain (11:09)
4. Hearth (11:28)
5. Tears of a Nation (11:18)
Bonus track:
6. Dawn of Heroes (04:00)
Total: 0:59:59
Since its formation in 2013, Saor has continually evolved while remaining boldly faithful to its Scottish heritage. Forged by the vision of the band's founder Andy Marshall, Saor (meaning "Free" in Scottish Gaelic) has a uniquely expressive approach that dives deep into lyrical themes based on literature, landscapes, history, sorrow, nature, and the majestic mountains of his homeland.
Expertly transitioning between atmospheric Black Metal, Celtic Folk, and traditional Scottish sounds – the wildly exploratory music of Saor knows no limitations and seeks out every opportunity to expand on its potential.
With a crew of talented session musicians surrounding him in the studio, Andy recorded the debut album Roots in the band's inaugural year, following it up with the second record Aura in 2014. Inspired by the response, Andy pushed himself creatively towards that next-level once again and brought his songs to the stage live for the first time in 2015 – a move that immediately bolstered the ambitions of Saor and opened the door to an entire host of new opportunities for them.

The release of the 2016 album Guardians saw even more support for the band's music forming rapidly, soon finding Saor in high demand for shows of all over the globe. Surging forward to cover the map with stops in Russia, Malta, Belgium, Germany, France, Norway, Italy, Finland and the UK, they played in feature spots of notable festivals like Hellfest Open Air, Ragnarök Festival, Damnation Festival, Steelfest Open Air, Kilkim Žaibu, and Cernunnos Pagan Fest along their journey. Cementing their place on the stage where they rightly belonged, Saor became synonymous with gripping live performances, showcasing the range of sonic extremities in the band's sound while revealing captivating ideas and complex structures.
For the past two years, Saor has been writing and recording an all-new set of powerful songs that take the insightful mix of stunning melody and musical intensity in their sound boldly into the next chapter of their career on the highly-anticipated release of the latest record Forgotten Paths, coming out February 2019.
Enlisting the talent of Neige from Alcest to contribute to the new album, along with another ensemble of talented session musicians, Forgotten Paths promises to be a genuine experience in music unlike any other, designed to push/pull emotions through thought-provoking and poetic lyricism and sounds that courageously explore the most innocent expressions to the full storm and fury of Saor's unbridled passion.
Their creation of Caledonian Metal has clearly caught fire with listeners and ignited what was once only a spark of support into a full-blown blaze of burning desire and an authentic craving for the unmatched skill, uniqueness, and imagination in Saor's epic sound.
With the official release of Forgotten Paths in 2019, festival bookings in Germany and Czech Republic coming up, and a relentless tour schedule that will see the band dominate stages in Europe, Canada and the USA over the course of the same year – Saor's music is finding the worldwide audience that such monumental commitment, focus, and determination, truly deserves.

Genre: Folk-Inspired Black Metal
Press kit: https://presskit.season-of-mist.com/Saor/
Shop link: https://redirect.season-of-mist.com/saor-reissues
For more on SAOR, visit the band's official WEBSITE, BANDCAMP, FACEBOOK, INSTAGRAM, and YOUTUBE.