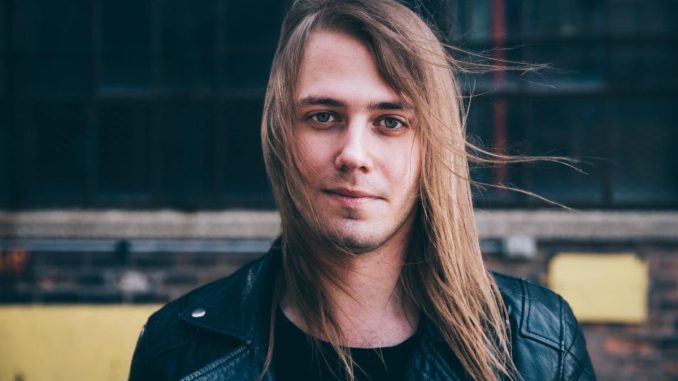 Acclaimed Instrumental Guitarist Sammy Boller Returns
With New Single and Video for "Midnight Garden"
Song Now Available Via All Digital Streaming Partners Here:
Boller Currently On Tour Opening For Greg Howe Through August 26th –
Tickets Now Available Here: https://www.sammyboller.com/tour
(New York, NY) – Detroit shred guitar virtuoso Sammy Boller is releasing his first piece of new music in over a year with his newest single "Midnight Garden." The new track – produced by Nick Sampson – comes from the instrumental maestro's sophomore album anticipated to be released in 2024. "Midnight Garden" is a musical showcase of Sammy Boller's talent on guitar that has won him a legion of fans across the United States. The song is a melodic addition to Sammy's catalog and picks up where last year's single "Spellbound" (also from the upcoming 2024 sophomore album) left off. The new song is also available via all digital streaming services and can be found here: https://orcd.co/3oojbo. Sammy has filmed a performance music video for "Midnight Garden" that is now available and offers the viewer a glimpse at Boller's unique playing style. The music video can be seen here: https://youtu.be/ku47WOEPCB0.
In March of 2020, Sammy Boller released his solo debut Kingdom of the Sun – a stunning prog-tinged instrumental love letter to the guitar – to critical acclaim. Music videos for the lead tracks "Kingdom of the Sun" and "Cloak of Light" give an up close and personal look at Sammy's graceful style, and the playthrough video for "The Empress" gives an intimate perspective of Sammy's personal technique. Check out the entirety of Kingdom of the Sun HERE. The singles "Path of the Heart" and "Ritual Lights"- that were released after the debut album – showcased the development and songwriting as an instrumentalist that Sammy acquired from performing live across the country.
"Midnight Garden" is being released as Sammy is currently out on a North American tour opening for Greg Howe. With 13 dates left, the tour runs through August 26th where it wraps up in Chicago, IL at Reggie's Music Joint. Remaining stops of the tour include Nashville, TN (August 14th), two nights in New York City at the famed Iridium (August 18th & 19th), and Toronto, ON (August 24th) to name a few. Tickets for all shows are currently on-sale and more information can be found at: https://www.sammyboller.com/tour.
Sammy Boller 2023 Tour Dates
8/11 – The Woodlands, TX – Dosey Doe Big Barn
8/12 – McKinney, TX – The Guitar Sanctuary
8/13 – Nashville, TN – City Winery Nashville
8/14 – Asheville, NC – The Grey Eagle
8/16 – Vienna, VA – Jammin Java
8/17 – Ardmore, PA – Ardmore Music Hall
8/18 – New York, NY – Iridium
8/19 – New York, NY – Iridium
8/22 – Rochester, NY – Lovin' Cup
8/23 – Nepean, ON – Brass Monkey
8/24 – Toronto, ON – The Rockpile
8/25 – Westland, MI – The Token Lounge
8/26 – Chicago, IL – Reggie's Music Joint
Sammy Boller (Photo Credit: Joe Gall)
About Sammy Boller
After Joe Satriani selected him as a winner in Guitar Center's "Master Satriani" class in 2012, guitar virtuoso Sammy Boller has gone on to become an internationally acclaimed player, scoring a Billboard Top 20 hit with Citizen Zero's "Go (Let Me Save You)" in 2016. In March of 2020, Sammy released his debut solo album Kingdom of the Sun to critical acclaim. Sammy is sponsored by Friedman Amplification, touring the US and Europe to sponsor clinics and gear demonstrations, and is also a guest columnist and virtual instructor at Guitar World Magazine.
###
For more information on Sammy Boller, visit
Or connect with him at: