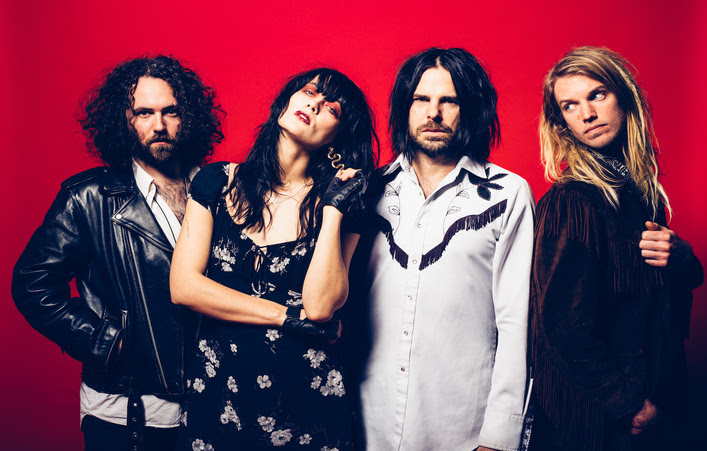 "Welcome To Silvertown"
Out Today On Notting Hill Music Masters
Debut Album From UK Garage Rockers Saint Agnes
Follows Impressive 1.5 Million Streams On Spotify,
Attention From Apple, Sirius XM
Video For Latest Single "Move Like A Ghost"
Premieres On Kerrang This Week
Classic Rock Magazine Hails Them As
"Your New Favorite Band"
Photo by Rob Blackham
Today marks the anticipated release of "Welcome To Silvertown," the debut album from up-and-coming British garage rockers Saint Agnes, on Notting Hill Music Masters. Self-produced and engineered by Luke Oldfield (The Wytches, Uncle Acid & The Deadbeats), the noir recording captures the true rebel heart and energy of the band that has received love from Classic Rock Magazine, The Quietus, Kerrang, Alternative Press and more in recent months, as well as being added to playlists on Apple and Spotify and being spun on Sirius XM's Octane channel. The quartet's inaugural album is rife with themes of wild fantasy, escapism, emotional fragility and the inside-outs of living in East London's district of Silvertown, all bookended with the band's incredible penchant for lyrical songwriting.
While the thuds of the opener title track (which has received 1.5 million streams on Spotify) deliver the riff-laden assault that Saint Agnes fans have come to love, tracks like "Why Do You Refuse To Die" step into new territories, inspired by the high intensity and excitement of classic Western films. The pulsing pop-noir of "I Got a Drum" arrives Gospel-indebted, while "Diablo Take Me Home" touches on their love of the blues and Jack White-esque Detroit riffery. "The Witching Hour" rockets into bold sonic territories anew, with Stooges-esque rhythms set against a Grace Slick vocal delivery.
Speaking of the album, the band says; "We wanted to transform everyday mundane events into moments of high drama in an attempt to better understand our own stories. We wanted to magnify and illuminate certain aspects of ourselves in order to see a little more clearly, and we wanted to create narratives that people could connect with and recognize as their own battles, their own feelings."
Co-fronted by enthralling frontwoman Kitty Austen (vocals/guitar/keys) and guitarist/vocalist Jon Tufnell, backed up by bassist Ben Chernett and drummer Andy Head, the band's magnetic chemistry and catchy songwriting are making their mark with many comparing their incredible showmanship and tough-as-nails attitude with The Kills, Jack White, Starcrawler and Rival Sons.
Now in 2019, the gates of Saint Agnes' quasi-fictional sin city are flung open. Enter if you dare—there are plenty more tales from these sick streets waiting to be told.
WELCOME TO SILVERTOWN Tracklisting
Welcome To Silvertown

Move Like A Ghost
Diablo, Take Me Home
I Got A Drum
The Witching Hour
I Feel Dangerous Around You

The Death Or Glory Gang
Black Horse

Why Do You Refuse To Die?

Heart Of Mine
Saint Agnes has already logged 200 shows in their native UK and continue to win over audiences with appearances at several of Europe's biggest festivals this spring and summer.
SAINT AGNES 2019 FESTIVAL APPEARANCES
5/4 Leeds, England @ Live At Leeds Festival
5/5 Leicester, England @ Handmade Festival
5/11 Brighton, England @ The Great Escape Festival at Prince Albert
5/28 Milan, Italy @ Rock In Park Festival
6/2 London, England @ Camden Rocks Festival
6/8 Saint-Laurent des Cuves, France @ Festival Papillons de Nuit
6/13 Isle Of Wight, UK @ Isle Of Wight festival
7/6 Hradec Kralove, Czech Republic @ Rock for People Festival
7/25 Pikehall, Derbyshire, UK @ Y Not Festival
7/26 Standon, Herfordshire, England @ Standon Calling Festival
7/27 Trebur, Germany @ Trebur Open Air
8/17 Durham, England @ Hardwick Live
8/30 Bingley, England @ Bingley Music Live
Interviews and music are available.
About Notting Hill Music Masters (NHMM)
NHMM is the new record label from The Notting Hill Music Group, one of the world's leading music publishers for the past quarter of a century. Helmed by label President Ken Komisar and Notting Hill Music Group Chairman Andy McQueen, NHMM's artists have enjoyed synch placements on major TV Networks including Fox TV's primetime hit show "Lucifer" and MTVs "Ex On The Beach" as well as dozens of live TV appearances in major markets and video playlists from MTV Live, Nick Music, Clubland TV, CMT, MTV Europe and many more. Utilizing its twin hubs of London & Los Angeles, the label is perfectly placed to break European records in the USA and American repertoire in Europe.
Notting Hill Music Masters
Notting Hill Music Publishing
Follow Saint Agnes