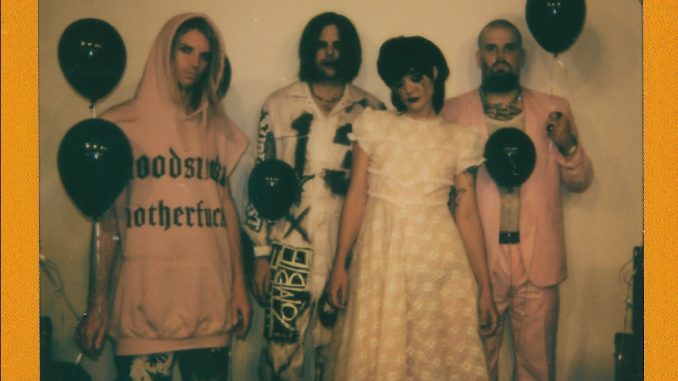 NEW ALBUM BLOODSUCKERS OUT JULY 21 VIA SPINEFARM
ALBUM FEATURES MIMI BARKS AND SEAN BEAVAN (NINE INCH NAILS)
Ferocious four-piece Saint Agnes have released the video for their new single "Outsider." Watch it here.
The track is the third taste of their upcoming album Bloodsuckers, out July 21 via Spinefarm. Stream the single and pre-order the album here.
"Outsider" was premiered on BBC Radio 1's Introducing Rock earlier this week, with Alyx Holcombe stating: "a band that I think just sounds like the future of rock music … I'm so excited about them."

Vocalist + multi-instrumentalist Kitty A. Austen comments, "'Outsider' is a gothic rock anthem for the strange. It's part letter to my younger, very lost self, part promise to anyone out there feeling lost or alone — you are an outsider, but that's the best thing about you. Celebrate your differences, own your special strangeness. You will find your people, there are lots of us out here! Perennial outsiders, doing things our own way. And you might be a bit broken, but that doesn't mean that you're not whole: it doesn't mean that you're not worthy. 'Outsider' is an invitation to join our weird, wild world and a promise that you will always have a home with us if you struggle to find one elsewhere. I wish I could tell the odd kid that I was, that she will find a glorious home one day with a band of outsiders and that she will be very happy there."
Saint Agnes are also making big waves in the gaming world, with the release of
Dead Island 2
last month. The game, which features the
Saint Agnes
song "
And They All Fall Down
" has sold over two million copies.
Hailing from the UK, Saint Agnes are all about honest lyrics, intense vocal performances, plus rage-fuelled music intended to give a voice to those closer to the fringe than the center.
As much gang as band, Saint Agnes seek to empower those who've been battered and bruised yet refuse to lie down, and it's a thread that runs deep within Bloodsuckers — SA's first album for Spinefarm and the follow-up to 2019's Welcome To Silvertown, issued on the band's own label.

In addition to … Silvertown, Saint Agnes have released a number of singles, videos, and EPs, embarked on headline tours in both the UK and Europe, and appeared at a host of festivals, including Download, 2000trees, Isle of Wight, and Kendal Calling.

One thing's for sure, it's got nothing to do with rule-books or playing it safe…
From the title track onwards, Bloodsuckers is a genre-jumping body of work, taking in elements of metal, punk, industrial, and grunge, without being bound by any specific style; the 11 tracks here come straight from the source, largely self-produced and mixed (NIN collaborator Sean Bevan lends his mixing and production skills to "Follow You"), and this self-contained approach provides an extra emotional weight throughout, with doom trap provocateur and Kerrang! cover artist Mimi Barks further fuelling the chaos on the short, sharp shock that is "Body Bag."
Created in the months following the unexpected and untimely death of Kitty's mother, Bloodsuckers explores a number of themes, including mental illness, pent-up rage, undying love and, of course, grief; from the trash-metal howl into the night that is "Bloodsuckers" right through to broken ballad, "This Is Not The End," a poignant reflection of Kitty's still-raw emotions, this is a call to outsiders everywhere…

Concludes Kitty, "Creating this album gave me a reason to get to my feet at a time when I really wasn't sure if I could. I've tried to put everything I've been feeling into it, all the pain, the rage, the grief, even the unexpected moments of beauty and belief. I hope it makes you feel less alone. I hope it makes you feel bigger, badder, and stronger. We might be damaged but that doesn't mean we're worthless. This is a record for the defeated, the crushed. We might be broken but that doesn't mean we're not whole. Bloodsuckers forever, Saint Agnes forever."
SAINT AGNES ARE:
Kitty A. Austen — Vocals, Guitar, Bass
Jon James Tufnell — Guitar, Vox, Bass
Andrew Head — Drums
Ryan Brown — Bass
BLOODSUCKERS TRACKLISTING:
"
Bloodsuckers
"
"
Animal
"
"I Mean Nothing To You"
"Outsider"
"This Is Not The End"
"Follow You"
"I Am"
"At War With Myself"
"Middle Finger"
"Body Bag" (Feat. Mimi Barks)
"Forever And Ever"