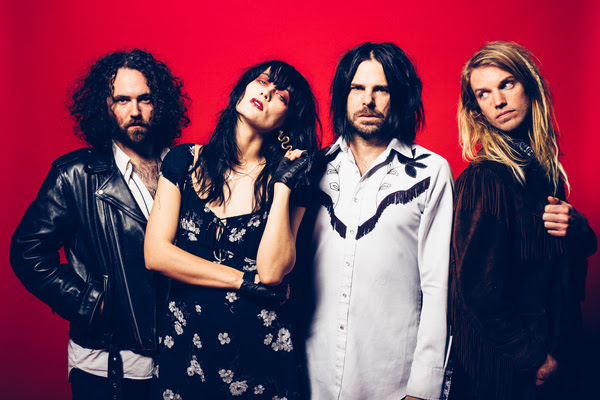 UK Garage Rockers Saint Agnes Make Bold Introduction In America
Video For New Single "Welcome To Silvertown" Premieres On
Spotify's "All New Rock," "New Noise" Channels As Well As Gigwise,
Added to Apple's "Breaking Hard Rock" Playlist, And
Featured On SiriusXM Octane's "Test Drive" On Friday, March 15
With Hints Of The Kills and Yeah Yeah Yeahs,
Debut Album Will Be Released May 3
European Tour Continues With Major Festival Appearances
Classic Rock Magazine Says Of Saint Agnes,
"Say Hello To Your New Favorite Band"
Photo by Rob Blackham
In the past few months, Saint Agnes has taken the UK by storm. The fiery four-piece hailing from England has received acclaim from major publications, hailed as part of the new generation that "keep rock's flame burning" (Classic Rock), and with many comparing their gritty garage rock, incredible showmanship and tough-as-nails attitude with The Kills, Jack White, Starcrawler and Rival Sons.
"Emerging act Saint Agnes, who are a Tarantino-via-White-Stripes-style of Western rock band, have dropped the ferocious 'Welcome to Silvertown,' which should have you feeling awake and ready to take on the weekend." —The Independent
"Saint Agnes deliver menacing witchery. Warped, weird and a bit filthy, yes, but oh so tasty." — Classic Rock Magazine
"Saint Agnes kick out the jams with a fervour and sense of purpose that's genuinely refreshing." — The Quietus
"Saint Agnes have created a unique cinematic sound and a rock 'n' roll Gothic image to match."  — Daily Telegraph
Co-fronted by enthralling frontwoman
Kitty Austen
(vocals/guitar/keys) and guitarist/vocalist
Jon Tufnell
, backed up by bassist
Ben Chernett
and drummer
Andy Head
, the band's magnetic chemistry and catchy songwriting are making their mark in the U.S. in 2019. This month,
Saint Agnes
' brand-new single
"Welcome To Silvertown"
has been given a good deal of attention by
Spotify
, with the streaming platform exclusively premiering the band's vertical video for the song on the
"All New Rock"
and
"New Noise"
channels, as well as
Apple
who added the song to the
"Breaking Hard Rock"
playlist. The full-cut video also
premieres
on
Gigwise
today. In addition, on
Friday, March 15,
the blues rock-inspired track will be featured as one of three new songs on the weekly
"Test Drive"
on
SiriusXM's Octane
.
The song is the first single from the band's upcoming debut album, also called  "Welcome To Silvertown" that will be released Friday, May 3 on Notting Hill Music Masters. Self-produced and engineered by Luke Oldfield (The Wytches, Uncle Acid & The Deadbeats), the noir recording captures the true rebel heart and energy of the band. The album is rife with themes of wild fantasy, escapism, emotional fragility and the inside-outs of living in East London's district of Silvertown, all bookended with the band's incredible penchant for lyrical songwriting.
"With the album, we wanted to transform everyday mundane events into moments of high drama in an attempt to better understand our own stories," says Austen. "We wanted to magnify and illuminate certain aspects of ourselves in order to see a little more clearly, and we wanted to create narratives that people could connect with and recognize as their own battles, their own feelings."
Saint Agnes has already logged 200 shows in their native UK and continue to win over audiences with appearances at several of Europe's biggest festivals this spring and summer.
SAINT AGNES 2019 FESTIVAL APPEARANCES
3/23 Brighton, England @ Mutations Festival
3/29 Bordeaux, France @ Les Femmes s'en Mêlent Festival
4/12 Dresden, Germany @ Polimagie Festival
5/4 Leeds, England @ Live At Leeds Festival
5/5 Leicester, England @ Handmade Festival
5/11 Brighton, England @ The Great Escape Festival at Prince Albert
5/28 Milan, Italy @ Rock In Park Festival
6/2 London, England @ Camden Rocks Festival
6/8 Saint-Laurent des Cuves, France @ Festival Papillons de Nuit
6/13 Isle Of Wight, UK @ Isle Of Wight festival
7/6 Hradec Kralove, Czech Republic @ Rock for People Festival
7/25 Pikehall, Derbyshire, UK @ Y Not Festival
7/26 Standon, Herfordshire, England @ Standon Calling Festival
7/27 Trebur, Germany @ Trebur Open Air
8/17 Durham, England @ Hardwick Live
8/30 Bingley, England @ Bingley Music Live
Interviews and music are available.
About Notting Hill Music Masters (NHMM)
NHMM is the new record label from The Notting Hill Music Group, one of the world's leading music publishers for the past quarter of a century. Helmed by label President Ken Komisar and Notting Hill Music Group Chairman Andy McQueen, NHMM's artists have enjoyed synch placements on major TV Networks including Fox TV's primetime hit show "Lucifer" and MTVs "Ex On The Beach" as well as dozens of live TV appearances in major markets and video playlists from MTV Live, Nick Music, Clubland TV, CMT, MTV Europe and many more. Utilizing its twin hubs of London & Los Angeles, the label is perfectly placed to break European records in the USA and American repertoire in Europe.
Notting Hill Music Masters 
Notting Hill Music Publishing
Follow Saint Agnes