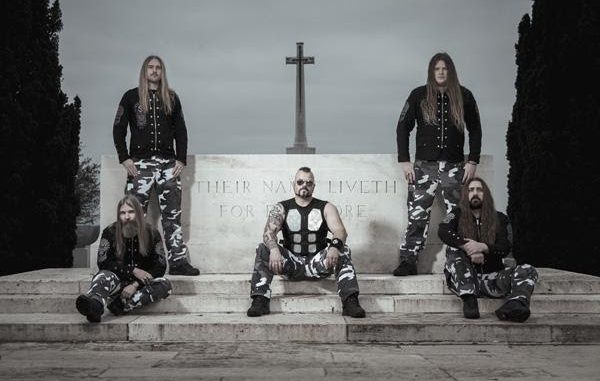 SABATON RELEASES
STORIES FROM THE WESTERN FRONT
Third EP of Echoes Of The Great War Trilogy
Now Available + Music Video for "1916" track
LOS ANGELES, CA – Friday, April 14, 2013 — SABATON's final EP in the Echoes of The Great War EP trilogy entitled Stories From The Western Front is now officially available on all platforms and features a never-heard-before cover of Motörhead's well-known track, "1916."

Stream Stories from the Western Front HERE

In celebration of this final EP, the band has also unleashed a brand-new music video for "1916" filmed in Birmingham, England, and at Britain's famous Black Country Living Museum. The music video features an overload of historical characters from the SABATON lore, a headbanging metal army from Birmingham, and even a cameo from the living members of Motörhead – Mikkey Dee and Phil Campbell.

Watch the music video for the Motörhead cover, "1916" HERE

The Western Front was one of World War I's main theatres of conflict. It stretched across more than 400 miles through France and Belgium from the Swiss border to the North Sea. It was a deadly place, and to put things into perspective, at least four-million men died there, although the true figure can never be confirmed.

The Stories From The Western Front EP tells stories of those who fought and fell on the Western Front, a place where the trenches and the ceaseless shelling drove men to insanity. Often, those who returned from this treacherous place did so with shell shock and chronic nightmares, PTSD or injuries that changed their lives forever.
"We are excited to release the last EP in the Echoes of The Great War series as well as a new music video, which we had a blast filming in the UK. Our new EP tells the tales that came from the Western Front, a brutal and unforgiving theatre of war. The Battle of Verdun, which was the longest battle of the First World War, the Battle of Passchendaele in 1917 in Flanders, the Battle of the Somme… these are all things we should not forget," explains Pär Sundstrom. "And through this EP – in fact, through this whole EP collection – our sole mission has been to immortalize these stories and ensure that these are at the forefront of everyone's minds.

"Speaking of the Battle of the Somme," Pär adds, "this conflict resulted in a huge loss of human life – around 300,000 fatalities. It was one of the bloodiest and deadliest conflicts of WW1 – and in human history! This is what "1916" was written about, and that's why it was the missing puzzle piece of this EP."

Meanwhile, Joakim Brodén shares more information about the band's cover of Motörhead: "We believed that '1916' was the perfect fit for this EP, not only because it's related to the First World War, but because we just love everything about the song. Lemmy was inspired to write this track after watching a documentary about the Battle of the Somme. The lyrics are emotionally charged and perfectly describe the experiences of all the young soldiers, most of whom were essentially just kids. A lyric that really moves me and hits home is: 'We were food for the gun, and that's what you are when you're soldiers.' I can't get that out of my head."

"We think we did this song justice. It's our tribute to one of the greatest bands in the world and a nod to those who fought in the First World War and made the ultimate sacrifice!" he notes.

With each EP in the Echoes Of The Great War trilogy, SABATON is releasing an exclusive digipak in limited numbers. They often sell out immediately, so if you want one for your collection, be quick!

Track list:

1. 1916

2. Great War

3. Hellfighters

4. The Price of A Mile

5. Fields of Verdun

6. Race To The Sea

7. Devil Dogs

About the Echoes Of The Great War EP trilogy

The stories of World War I have always fascinated SABATON – two studio albums dedicated to this conflict are the proof. Originating from their all-consuming passion for history and heroism, the band has launched an EP trilogy entitled Echoes Of The Great War featuring new songs specifically about World War I, coupled with topically related catalog music.

SABATON intends to present this music to their fans in a different way: With this WWI collection, you will be able to familiarize yourself with these incredible war stories while simultaneously quenching your thirst for metal.

About SABATON

In the more than two decades since their launch, Swedish metallers Sabaton have achieved quadruple-Platinum sales, headlined major festivals and sold-out arena concerts across the globe, and earned a legion of loyal fans by carving out a reputation as one of the hardest working bands in rock. Sabaton combines standout stage design and production with epic concept albums, linking real-life historical war events with classic kick-ass metal. To date, the band has released ten studio albums, amassed six GOLD, two PLATINUM, and one four-times-PLATINUM awards, seen eight of its albums score Top 10 international chart status, and six claim the Top 5. The band has earned eight Metal Hammer/Golden Gods Awards nominations, taking home the award for "Breakthrough Artist" in 2011 and "Best Live Band" in three different years, and a Grammis nomination (Swedish equivalent to the U.S. GRAMMY) as Best Heavy Metal band. Sabaton has also accumulated more than two billion streams across all streaming platforms.

(…continues HERE)
Standing: Hannes Van Dahl, Tommy Johansson
Seated: Pär Sundström, Joakim Brodén, Chris Rörland • Photo Credit: Tim Tronckoe
SABATON live:
The Tour To End All Tours 2023
presented by Cobra Agency
14.04. UK Leeds – First Direct Arena
15.04 UK London – OVO Arena Wembley
16.04. UK Cardiff – Motorpoint Arena
18.04. UK Glasgow – OVO Hydro
21.04. FR Paris – Zenith
22.04. DE Frankfurt – Festhalle
24.04. DE Hamburg – Barclays Arena
25.04. LU Esch / Alzette – Rockhal
28.04. SE Stockholm – Avicii Arena
29.04. NO Oslo – Spektrum
30.04. DK Copenhagen – Royal Arena
02.05. DE Hannover – ZAG Arena
03.05. NL Amsterdam – Ziggo Dome
05.05. DE Berlin – Mercedes Benz Arena
06.05. DE Leipzig – Quarterback Immobilien Arena
07.05. AT Vienna – Stadthalle
09.05. PL Lodz – Atlas Arena
10.05. CZ Ostrava – Arena Ostrava
12.05. DE Cologne – Lanxess Arena
13.05. BE Antwerp – Sportpaleis
15.05. DE Munich – Olympiahalle
18.05. EE Tallinn – Saku Arena
19.05. FI Helsinki – Ice Hall
20.05. FI Kuopio – Kuopio Hall
Tickets can be purchased here: