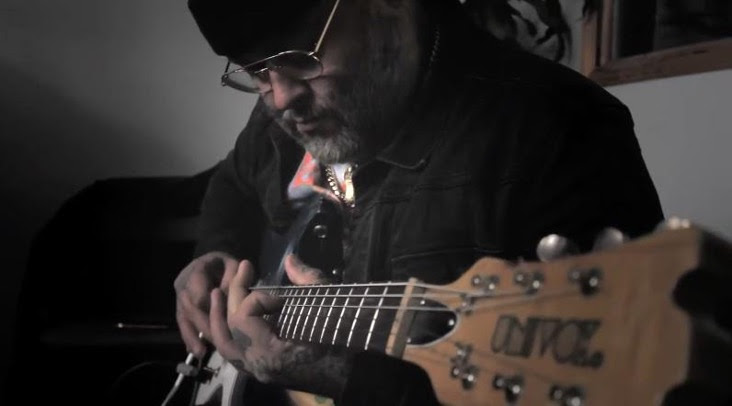 WATCH THE KILLER EDIT HERE
"SLASHERMAN THEME SONG" IS TAKEN FROM THE FILM SCORE OF RANDOM ACTS OF VIOLENCE, JAY BARUCHEL'S HORROR FILM ORIGINAL
SCORE DONE BY WADE MACNEIL + ANDREW MACPHERSON

Digital Version OUT NOW On Streaming Platforms HERE
Vinyl Pre-Orders Available HERE
Rue Morgue has premiered the killer video for the new "Slasherman Theme Song" (Remix), performed by Wade MacNeil (Alexisonfire, Gallows).
Watch it here.
"Slasherman Theme Song" is from the original score for the Jay Baruchel directed horror film, Random Acts of Violence, by Wade MacNeil (Alexisonfire, Gallows) and Andrew "Ango" Macpherson (Goon: Last of the Enforcers, Dark Side of the Ring). The digital version of the score is out now on streaming platforms here.
Physical pre-orders are available here via Dine Alone Records.

Having lent their talents to the Far Cry video game series, Starlink: Battle for Atlas, Tom Clancy's Rainbow Six: Siege, and horror films like The Ranger (Shudder), MacNeil and Macpherson have created an ominous, yet understated and unsettling style of electronica. Characterized by its atmospheric soundscapes and a pulsating, hypnotic edge, the score perfectly echoes the themes depicted in an uncompromising, visually stunning film.
"When you're scoring a film you are creating a soundtrack for a world that doesn't exist," says MacNeil. "Finding the sounds and melodies for that bleak stretch of rust belt highway in Random Acts was exhilarating. Making music to frighten people is such a unique way to spend your time in a studio. I love it."
Based on the Image Comics graphic novel by Justin Gray and Jimmy Palmiotti, Random Acts of Violence is an elevated slasher horror that will easily become a cult favorite — scratching the entertainment element of horror whilst searching for the deeper meaning behind the violence. The film explores the idea of legitimising cruelty, and the fact that monsters are not merely monsters, they are broken people. Stretching from one end of the emotional spectrum to the other, it holds a mirror up to art, society, and violence.

Wade MacNeil is the founder and guitarist of Alexisonfire, and has also served as frontman of renowned punk band Gallows. In 2017, Wade composed additional music for Jay Baruchel's comedy Goon: Last of the Enforcers, where he met Andrew.

Andrew "Ango" Macpherson is a producer, composer, and filmmaker. He has produced music for the likes of Jacques Greene, Machinedrum, Tommy Genesis, Cadence Weapon, Jesse Boykins III, Lunice, Katy B, Syv de Blare, and many more. Macpherson has also recorded for UK label LuckyMe Records and produced tracks for labels such as Last Gang, eOne, Ninja Tune, 4AD, B4 Sounds, True Romance, and 100%Silk. In 2015, he wrote and produced on the Juno-nominated album Dirty Laundry by Ben Stevenson and he is an alum and studio team member of the Red Bull Music

RANDOM ACTS OF VIOLENCE TRACK LISTING:
1. "There Can Be No Beginning"
2. "Slasherman Theme Song"
3. "Welcome To McBain"
4. "Curious Ghost"
5. "Kathy's Book"
6. "From Myth To Man"
7. "1, 12, 18"
8. "Albany"
9. "The Tryptch"
10. "The Churn"
11. "Who Comes Up With This Stuff"
12. "Albany" (Reprise)
13. "4, 8, 35"
14. "Return To McBain
15. "I Can't Wait To Show You"
16. "I Won't Scream For You"
17. "Last Page"
18. "Our Ending"
19. "Heartland At Night"
DINE ALONE RECORDS ONLINE: