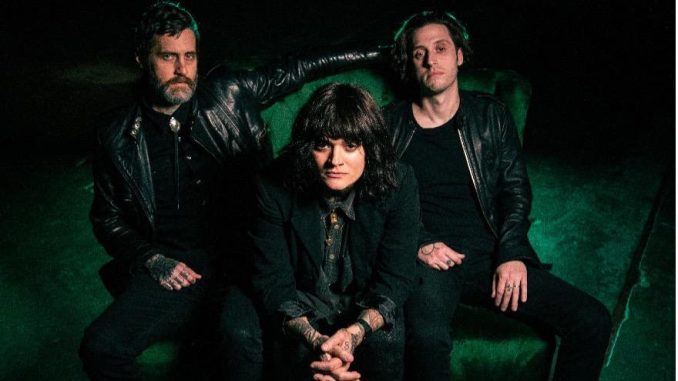 Watch HERE
Announce Record Release Show in Atlanta
New Album, 'Rebuilding The Mountain', Out Now!
Order HERE
With the release of their fourth studio album, 'Rebuilding The Mountain', now realized – Atlanta's ROYAL THUNDER are eager to return to their hometown to celebrate the journey that led to the trio's resurrection.

Today, the band has unveiled a music video for the song "Twice" from the new LP, along with the announcement of an official album release show at The Earl on Saturday, August 12th!

Released on June 16th via Spinefarm Records, 'Rebuilding The Mountain' is the band's first studio effort since 2017's 'Wick'. Mostly recently, ROYAL THUNDER concluded a US tour alongside Royal Bliss and New Monarch.

Reflecting on the studio montage for the "Twice" music video, guitarist Josh Weaver shares:

"We had an incredible time reuniting in the studio and bringing the music to life. We all grew and learned a lot about ourselves during that time, pushing us personally and as musicians. We are so thankful to be back doing what we love and thankful to have one another. Thank you to everyone that has truly supported us and believed in us! Hope you enjoy the video!"

Watch the Video for "Twice" HERE
Commenting on the band's upcoming hometown show, vocalist/bassist Mlny Parsonz adds,

"Our recent tour was a reminder of what we were missing and what we are meant to do. We made connections within ourselves and with the people around us. I can't wait to do that again in our hometown, ATL. The love and support after being gone for a while, was and is felt. Thank you to everyone that has been sharing this experience with us. We appreciate you more than words I can say."
ROYAL THUNDER – Album Release Show
Saturday, August 12 @ The Earl (Atlanta, GA)
with special guests Dead Register & Rod Hamdallah
'Rebuilding The Mountain' Track List
1) Drag Me
2) The Knife
3) Now Here No Where
4) Twice
5) Pull
6) Live To Live
7) My Ten
8) Fade
9) The King
10) Dead Star
'Rebuilding The Mountain'

Second chances in music—as in life—are rare. In a gated ecosystem that is set up to prevent even first chances, getting a do-over hardly ever happens. Perhaps no one in 2023 appreciates that more than the members of ROYAL THUNDER. After losing a key member and eventually collapsing entirely under the weight of excess, the beloved Georgia trio have reunited and returned with their first album in six years.

For vocalist/bassist Mlny Parsonz, guitarist Josh Weaver and drummer Evan Diprima, the title of their fourth record tells the tale: 'Rebuilding the Mountain'. For Diprima, who left the band in early 2018, it's a long-awaited homecoming. Weaver and Parsonz reconnected with Diprima long-distance at the height of the pandemic in 2020. They spent about a year exchanging demos and song ideas online before finally getting in the same room together to write this album.

Recorded at West End Sound in Atlanta, 'Rebuilding the Mountain' was engineered by Tom Tapley and Miles Landrum and co-produced by ROYAL THUNDER and Tom Tapley. It marks the first time the band has recorded live in the studio.
"'Rebuilding the Mountain' represents a new phase for ROYAL THUNDER, one that has the band writing some of the strongest material of their careers."
– Blabbermouth
"a monolithic feat in and of itself…heavily vocal-driven
and packed with the band's passion"
– Invisible Oranges
"an album that slithers around you like a fever dream"
– Ghost Cult Magazine
| | |
| --- | --- |
| Watch the Video for "The Knife" HERE | Watch the Video for "Fade" HERE |
Royal Thunder are:

Mlny Parsonz – vocals, bass

Josh Weaver – guitar

Evan Diprima – drums