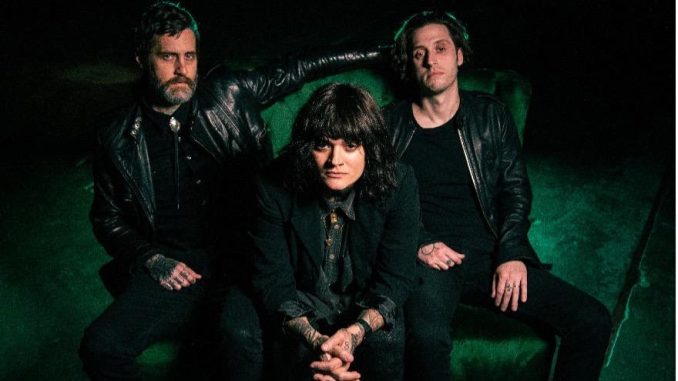 Listen / Stream HERE
On Tour This Summer with Royal Bliss
"'Rebuilding the Mountain' represents a new phase for ROYAL THUNDER, one that has the band writing some of the strongest material of their careers."
– Blabbermouth
"a monolithic feat in and of itself…heavily vocal-driven
and packed with the band's passion"
– Invisible Oranges
"an album that slithers around you like a fever dream"
– Ghost Cult Magazine
The cumulation of a journey that saw them endure many ups and downs, Atlanta's ROYAL THUNDER have released their long-awaited fourth album, 'Rebuilding The Mountain' – their first studio release since 2017's 'Wick'. The new record, which boasts the return of drummer Evan Diprima, is 10 tracks of some of the band's most earnest work to date, including singles "The Knife" and "Fade".

Speaking on the backstory behind their new album, guitarist Josh Weaver shares:

"It was really a special time writing and working on this record. There were a lot of hardships we had prior to the pandemic and during, as everyone experienced. The band dissolved and toxic behavior became a priority over the music, addiction being the number one factor for things falling apart. We reconnected with our drummer, Evan Diprima, during the pandemic. We agreed that we needed to get our priorities straight and do the band uncompromisingly right, as in right for us. There was a huge void in us, not playing. We started writing our album immediately. We surrendered our heart and soul to each song. It felt good to work hard and create, to have what felt like a second chance to be a band again. We are thankful for the music and the healing it has brought us. We hope that the music will be a source of hope, inspiration, and healing to all that hear it."
'Rebuilding The Mountain' Track List
1) Drag Me
2) The Knife
3) Now Here No Where
4) Twice
5) Pull
6) Live To Live
7) My Ten
8) Fade
9) The King
10) Dead Star
In addition to the release of 'Rebuilding The Mountain', fans in the U.S. can catch Royal Thunder on the road this summer, as the band will be touring with Royal Bliss.
See below for dates!
ROYAL THUNDER Live Dates:
Royal Bliss 25th Anniversary Survival Summer Tour
w/ New Monarch
July 6 – Omaha, NE – Waiting Room
July 7 – Rockford, IL – District Bar & Grill
July 9 – Wisconsin Dells, WI – Crystal Grand Music Theatre *
July 11 – St. Louis, MO – Blueberry Duck Hall
July 12 – Johnson City, TN – Capone's
July 13 – Indianapolis, IN – Hi-Fi
July 15 – Akron, OH – Musica
July 16 – Pittsburgh, PA – Crafthouse
July 18 – Mechanicsburgh, PA – Lovedrafts
July 19 – Concord, NH – Bank of NH Stage
July 20 – Hampton Beach, NH – Wally's
July 21 – Buffalo, NY – Ironworks
July 22 – Columbus, OH – Skully's
July 23 – Nashville, TN – Basement East
* No New Monarch
'Rebuilding The Mountain'

Second chances in music—as in life—are rare. In a gated ecosystem that is set up to prevent even first chances, getting a do-over hardly ever happens. Perhaps no one in 2023 appreciates that more than the members of ROYAL THUNDER. After losing a key member and eventually collapsing entirely under the weight of excess, the beloved Georgia trio have reunited and returned with their first album in six years.

For vocalist/bassist Mlny Parsonz, guitarist Josh Weaver and drummer Evan Diprima, the title of their fourth record tells the tale: 'Rebuilding the Mountain'. For Diprima, who left the band in early 2018, it's a long-awaited homecoming. Weaver and Parsonz reconnected with Diprima long-distance at the height of the pandemic in 2020. They spent about a year exchanging demos and song ideas online before finally getting in the same room together to write this album.

Recorded at West End Sound in Atlanta, 'Rebuilding the Mountain' was engineered by Tom Tapley and Miles Landrum and co-produced by ROYAL THUNDER and Tom Tapley. It marks the first time the band has recorded live in the studio.
| | |
| --- | --- |
| Watch the Video for "The Knife" HERE | Watch the Video for "Fade" HERE |
Royal Thunder are:

Mlny Parsonz – vocals, bass

Josh Weaver – guitar

Evan Diprima – drums