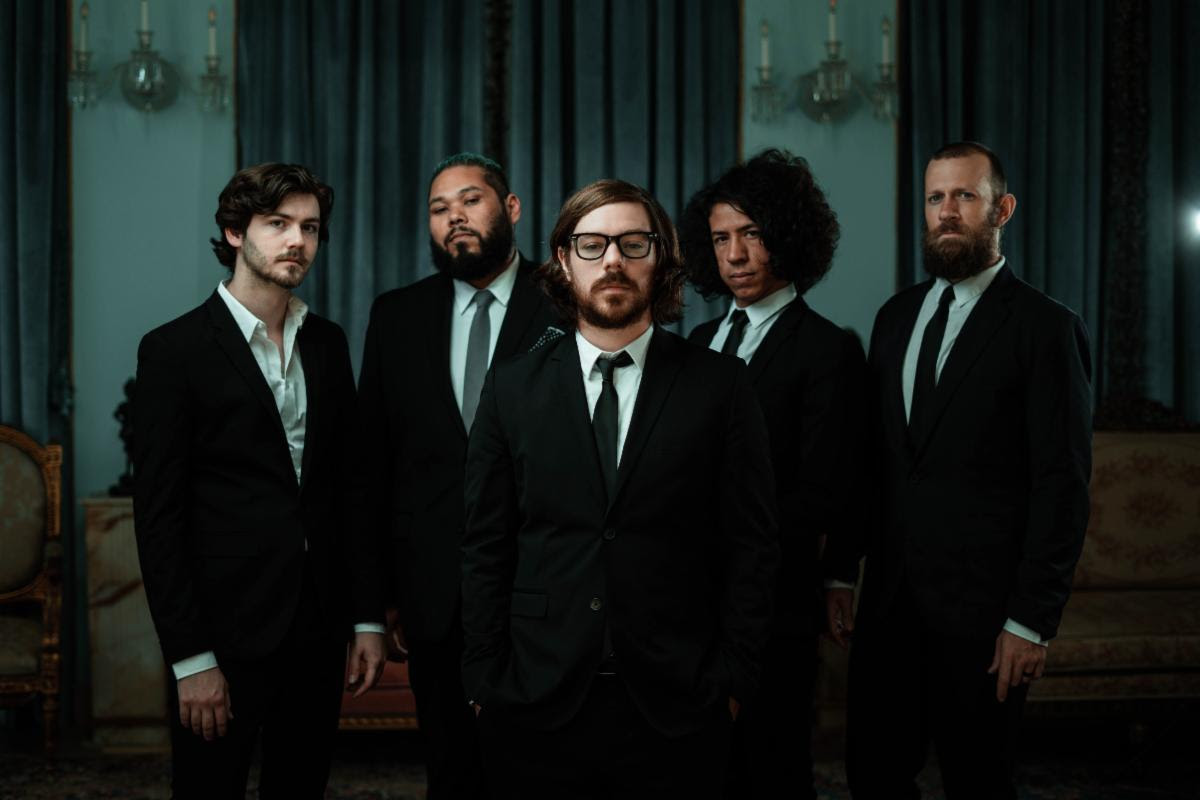 Announce New Album
COMPASSION
Releasing on Thursday 7th November Via Blue Swan Records
Release Video For First Single
'Numbing Agent'
US Tour with
Hail The Sun, Strawberry Girls and Vis
Starts This Friday
Thursday September 12th 2019 – ROYAL CODA, the Sacramento quintet comprised of members from Dance Gavin Dance, A Lot Like Birds, Eiodla and Sianvar, have announced the release of their second studio album, 'COMPASSION' which will be released on November 7th via Blue Swan Records. Album pre-orders are available now Vinyl and CD from
RoyalCoda.com
and Digital from
royalcoda.bandcamp.com
The band have also released the video for the album's lead single from the new album – 'Numbing Agent'. Speaking on the lyrical content of the new track, vocalist Kurt Travis says
"I wrote the lyrics for Numbing Agent around people destroying their lives, creating greed and selfishness surrounding their drug use. I felt that the instrumentals would set the scene perfectly for a coke party where this kind of thing takes place."
Watch the video
here
and below.
ROYAL CODA's pedigree, not only in terms of technical proficiency, but also in terms of crafting labyrinthine, multi-textured compositions, speaks for itself. Formed by guitar virtuoso Sergio Medina (Sianvar, Eidola), ROYAL CODA is a supergroup of musicians from within the post-hardcore scene and features Will Swan (Dance Gavin Dance, Sianvar, Secret Band) on guitar, Kurt Travis (ex-Dance Gavin Dance, Ex-A Lot Like Birds) on vocals, Joseph Arrington (A Lot Like Birds) on drums and Steffen Gotsch on bass.
Sometimes chaotically frantic, sometimes beautifully fragile and sometimes both, ROYAL CODA blend complex time signatures, soaring vocal lines and intricate guitar lines into their vast and elaborate soundscapes. The ebbs and flows of timbre and volume swell together to create a collection of gloriously whimsical and emotive songs. The new album title, 'Compassion', is a nod to the last Dance Gavin Dance album, 'Happiness', that both guitarist Will Swan and vocalist Kurt Travis recorded together before Kurt left the band.
ROYAL CODA shot to critical acclaim when they released their self-titled debut album in 2018. Quickly garnering a fiercely loyal, almost cult like following, the band played a handful of live shows in support of the self-titled including the inaugural, sold-out Swanfest in CA this April. Now they are about to kick off their first full US tour when they head out on the road with Hail The Sun, Strawberry Girls and Vis. kicking off on Friday, September 13 in Sacramento,CA. The tour will hit a further 21 cities across the US, culminating in Fresno, CA on October 13.
Hail The Sun | Strawberry Girls | Royal Coda | VIS

09/13 – Sacramento, CA @ Holy Diver09/14 – San Francisco, CA @ Bottom Of The Hill

09/15 – Los Angeles, CA @ Troubadour

09/17 – San Diego, CA @ SOMA Side Stage

09/18 – Phoenix, AZ @ Club Red

09/20 – Dallas, TX @ Deep Ellum Arts Co

09/21 – San Antonio, TX @ Paper Tiger

09/22 – Houston, TX @ The Secret Group

09/24 – Orlando, FL @ Soundbar

09/25 – Margate, FL @ O'Malley's

09/26 – Atlanta, GA @ Masquerade Hell

09/27 – Baltimore, MD @ Metro

09/28 – Philadelphia, PA @ Voltage Lounge

09/29 – Brooklyn, NY @ Knitting Factory

09/30 – Boston, MA @ Brighton Music Hall

10/02 – Toronto, ON @ Velvet Underground

10/03 – Ferndale, MI @ Loving Touch

10/04 – Indianapolis, IN @ The Citadel

10/05 – Chicago, IL @ Subterranean

10/07 – Denver, CO @ Bluebird

10/08 – Salt Lake City, UT @ Kilby Court

10/10 – Seattle, WA @ El Corazon

10/11 – Portland, OR @ Hawthorne

10/13 – Fresno, CA @ Strummers
ROYAL CODA are
Kurt Travis – vox
Sergio Medina – Guitar
Will Swan – Guitar
Joesph Arrington – Drums
Steffen Gotsch – Bass