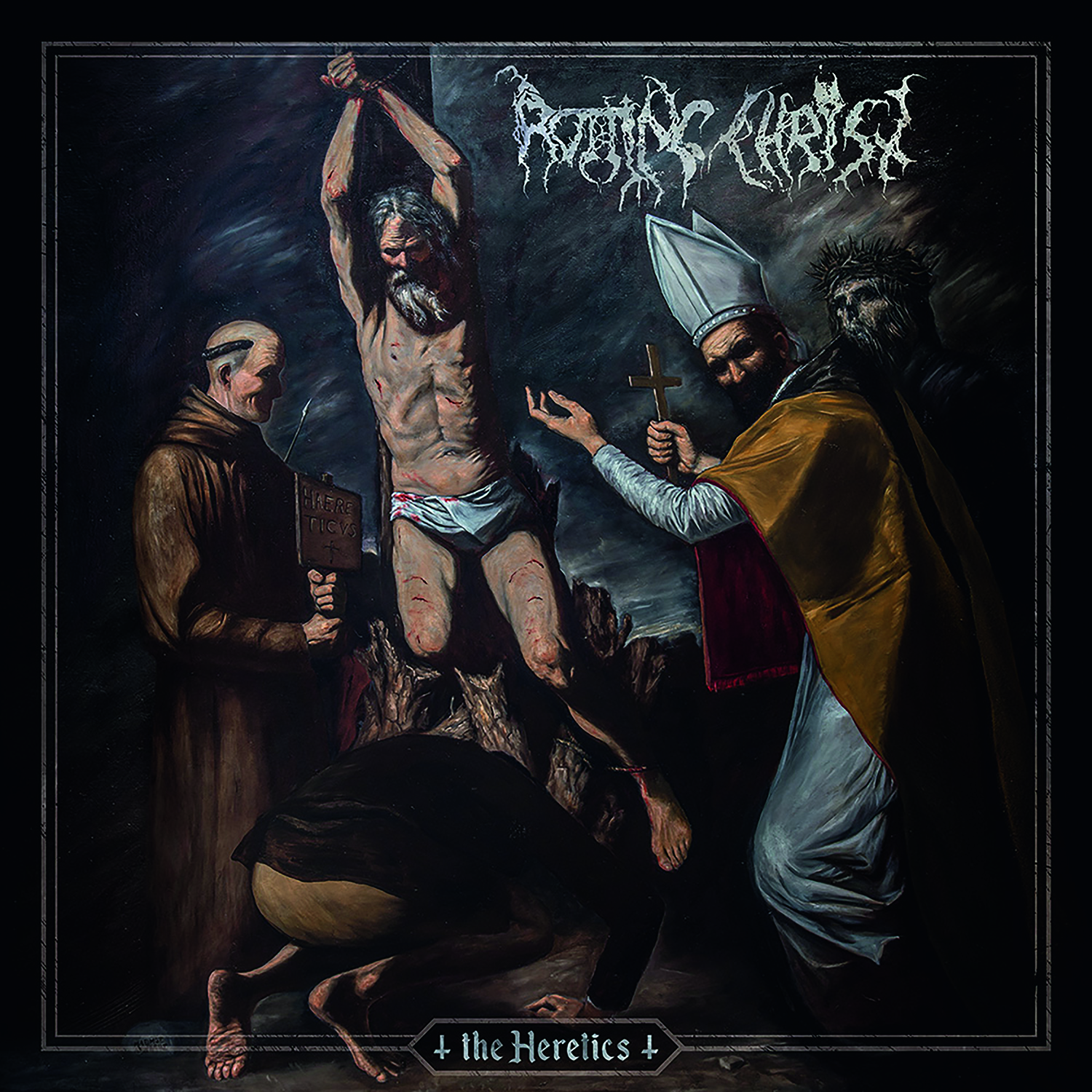 ROTTING CHRIST Share Lyric Video for 'The Heretics' Bonus Track, "The Sons of Hell," Announce Euro Tour Dates
The Greek metal veterans of
ROTTING CHRIST
have shared the lyric video for the song "The Sons of Hell," which appears as a bonus track on their new album, 'The Heretics.' Watch the video
HERE
.
'The Heretics' is out NOW via Season of Mist and can be purchased in various formats at THIS LOCATION.
Additionally, ROTTING CHRIST have announced new European tour dates together with MOONSPELL this fall. The massive rampage kicks off at the Markthalle venue in Hamburg (DE), and continues to wreck havoc throughout 22 more countries before a final curtain at the Backstage in München (DE). A full list of confirmed shows can be found below.
ROTTING CHRIST
+Moonspell
24 Oct 19 Hamburg (DE) Markthalle
25 Oct 19 Bochum (DE) Matrix
26 Oct 19 Hengelo (NL) Metropool
27 Oct 19 Amsterdam (NL) Melkweg
29 Oct 19 London (UK) Islington Assembly Hall
30 Oct 19 Antwerp (BE) Trix
31 Oct 19 Rennes (FR) L'etage
01 Nov 19 Paris (FR) La Machine
02 Nov 19 Toulouse (FR) Metronum
03 Nov 19 Madrid (ES) MON
07 Nov 19 Murcia (ES) Garaje
08 Nov 19 Barcelona (ES) Salamandra
09 Nov 19 Bourg-en-Bresse (FR) Le Tannerie
10 Nov 19 Milano (IT) Magazzini Generali
11 Nov 19 Bologna (IT) Estragon
15 Nov 19 Istanbul (TR) If Performance Hall
17 Nov 19 Sofia (BG) Mixtape 5
18 Nov 19 Zagreb (HR) Mochvara
19 Nov 19 Graz (AT) Dom im Berg
20 Nov 19 Bratislava (SK) Majestic Club
21 Nov 19 Vienna (AT) Simm City
22 Nov 19 Budapest (HU) A38
23 Nov 19 Zlin (CZ) Winter MOR – Euronics Sports Hall
24 Nov 19 Krakow (PL) Kwadrat
25 Nov 19 Warszaw (PL) Progresja
26 Nov 19 Gdansk (PL) B90
27 Nov 19 Riga (LV) Melna Piektdiena
28 Nov 19 Tallinn (EE) Tapper
29 Nov 19 Helsinki (FI) Tavastia
30 Nov 19 Tampere (FI) Klubi
01 Dec 19 Turku (FI) Apollo
03 Dec 19 Stockholm (SE) Slaktkyrkan
04 Dec 19 Oslo (NO) Parkteatret
05 Dec 19 Kolding (DK) Godset
06 Dec 19 Roskilde (DK) Gimle
07 Dec 19 Berlin (DE) Columbia Theater
08 Dec 19 Hannover (DE) Musikzentrum
09 Dec 19 Mannheim (DE) MS Connexion Complex
10 Dec 19 Esch Alzette (LU) Kulturfabrik
11 Dec 19 Geneve (CH) PTR
12 Dec 19 Pratteln (CH) Z7
13 Dec 19 Leipzig (DE) Hellraiser
14 Dec 19 Würzburg (DE) Posthalle
15 Dec 19 München (DE) Backstage

ROTTING CHRIST Festivals
27 Apr 19 Stockholm (SE) Stockholm Slaughter 2019
11 May 19 Vienna (AT) Vienna Metal Meeting
07 Aug 19 Fortress Josefov (CZ) Brutal Assault (Exact date TBA)
08 Aug 19 Caton Hall (UK) Bloodstock Open Air 2019 (Exact date TBA)
10 Aug 19 Kortrijk (BE) Alcatraz Festival 2019 (Exact date TBA)
ROTTING CHRIST
will be playing in support of their freshly released record 'The Heretics' which is streaming via the official Season of Mist YouTube channel
here
. The album artwork, created by Maximos Manolis, and album details of 'The Heretics' can be found below.
ROTTING CHRIST
have reached another peak in their long career that now spans over more than three decades. The Greeks have literally stood the test of time. With a steady core line-up and their well-honed live delivery,
ROTTING CHRIST
are filling concert halls and reap enthusiastic crowd reactions wherever they go. This demonstration of love from their followers is not just driven by nostalgia as the band has managed to evolve and grow, while staying relevant beyond the classics with their highly acclaimed latest albums such as 'Aealo' (2010), 'Κατά τον δαίμονα εαυτού' (2013), and 'Rituals' (2016).
Now, with the new offering 'The Heretics', ROTTING CHRIST are opening a brand new chapter. With confidence and skills derived from experience, each song represents its own sonic universe. Guitarist and vocalist Sakis Tolis in collaboration with his brother Themis on drums achieve a perfect balance of amalgamating their classic and unique style of riffing and rhythm with exciting new elements sprinkled in to keep their material exciting and fresh. The experienced is enhanced by Jens Bogren's equally clear and transparent yet also massive as well as sombre mix and mastering at his widely renowned Fascination Street Studios (AMORPHIS, BORKNAGAR, MOONSPELL, DEVIN TOWNSEND, and many more).
ROTTING CHRIST were founded by Sakis Tolis and his brother Themis in the year 1987. Starting out on a basis of death and grind, the Greeks had already embarked on a darker musical journey by the time their debut full-length 'Thy Mighty Contract' (1993) was revealed. On the following seven albums covering a ten-year period from 'Non Serviam' (1994) to 'Sanctus Diavolos' (2004), ROTTING CHRIST steadily defined their own distinct style by experimenting with elements from death, heavy, and gothic metal without betraying their black roots. At the same time, the band went from underground heroes to headliner status. With the highly acclaimed ninth album, 'Theogonia' (2007), the Greek stalwarts added an unmistakable native element to their sound, which has remained with them as a signature trademark ever since. Exploring the mythical legacy of cultures around the globe led to ROTTING CHRIST's massively successful latest release, 'Rituals' (2016). With more than 30 years, 13 studio albums, a dozen EPs, singles and split releases, as well as more than 1.250 shows under their belt, 2018 marked the year of 'Their Greatest Spells' (2018), where they musically revisited their exciting legacy to connect their past with the present.
'The Heretics' marks another step in the evolution of the Greek masters. Buckle up for a fascinating musical ride through the woes of religious wars, Zoroastrianism and the eternal war between good and evil.  Metal at its best!
For more on ROTTING CHRIST, follow their official WEBSITE, FACEBOOK, TWITTER, and INSTAGRAM.
Guest Musicians:
Irina Zybina (GRAI): Vocals on 'Vetry Zlye'
Dayal Patterson: Intoning on 'Fire God and Fear'
Ashmedi  (MELECHESH): Vocals on 'The Voice of the Universe'
Stratis Steele: Intoning on 'The Raven'
Line-up
Sakis Tolis: vocals, guitar
Themis Tolis: drums
Vangelis Karzis: bass
George Emmanuel: guitar