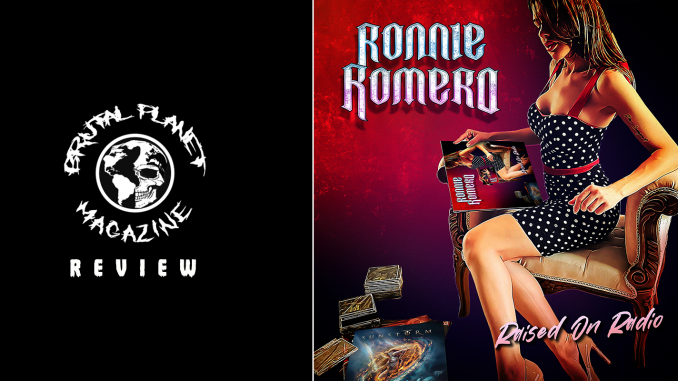 When it comes to rare metals, gold is always at the top. If gold had an auditory state, it would be the voice of Ronnie Romero. One of the best voices in the rock and metal world today, hands down. The range in his voice is simply incredible. He also knows how to add some grit and swagger to his singing style to create a powerful yet versatile sound. The combination makes anything he adds his voice to an instant success. Some of those projects include but are not limited to the amazing Lords of Black, Richie Blackmore's Rainbow and Michael Schenker Group (MSG).
Ronnie has decided to assemble a compilation of some of his favorite songs and add his voice to them. The result is Raised On Radio. Eleven tracks that showcase some of the best voices the rock and metal world has ever heard with Ronnie adding his own unique touch to each track. The album is set to be released on April 15, 2022.
It kicks off with "Sin's A Good Man's Brother" originally performed by Grand Funk Railroad. Ronnie does a flawless job highlighting the vocals of Mark Farner while putting his own spin on the tune. "Backstreet Love Affair" is hidden gem from one of the 80's most loved bands Survivor. The song was plucked from 1986's When Seconds Count. It was the band's sixth album but second with vocalist Jimi Jamison. Ronnie's version of the song replaces the keyboards with guitars and puts them behind a gritty, emotionally charged vocal performance.
One of my favorite songs from Raised On Radio is "No Smoke Without a Fire" by the legendary Bad Company. This was already an amazing song when it was originally recorded with Brian Howe on vocals. Ronnie spices it up for this version but still leaves the integrity of the song intact.
One of the songs that left me scratching my head initially is "I Was Born to Love You" by Freddie Mercury. Ronnie's voice as amazing as it is, didn't line up well with Freddie's in my personal opinion. After listening to the song a few times, I realized a cover song doesn't need to fit the same mold as the original. The point of the remaking the track is to show love and appreciation for the artist as an inspiration – not just mimicking their sound. Coming to that realization made the song a pleasurable auditory experience. "Play The Game Tonight" by Kansas on the other hand was a no brainer. The piano in the song alone makes it amazing both yesterday and today.
One of the true gems on this album has to be "Carolina County Ball" by Elf. The original song features one of the greatest voices in metal, Ronnie James Dio. Romero's version of the song injects a more prominent piano part and is mixed with a bluesy sound that pays tribute to Dio in one of his earliest projects.
"Girl On The Moon" by Foreigner appears next. It's a melancholy choice for the album and seems out of place on such an electrifying album. The next song "Gypse" originally performed by Uriah Heep is another highlight on the album. This highly guitar driven track mesmerized me and I continued to play it repeatedly. Srdjan Brankovic plays guitar on the album but on "Gypse" he demonstrates an ability to truly honor a song's original integrity.
Russ Ballard is a fairly unknown musician in the US but his biggest hit "Voices" is brought back to life by Romero. Ronnie has created a more transfixing version of the song, shattering glass vocally as he re-animates this nearly 40 year old hit.
Next, Javier Reyes steps in as lead guitarist on a blistering rendition of "All Along The Watchtower" originally by Bob Dylan, but perfected by Jimmy Hendrix. Romero's tenacious take on this song turns it inside out without damaging the original sound. This is another high point on Raised On Radio, one that should not be missed .
Last but definitely not least is "Since I've Been Loving You" by the mighty Led Zeppelin. This bluesy early Zeppelin track gets a modern makeover including more organ. If Romero decided to do a heavy blues album this song gives you an idea as to what it would sound like. Definitely another nod to his influences and the classics.
In summary, Ronnie Romero's voice is auditory gold and Raised On Radio is proof of that fact. The range of songs on this album demonstrates his intensity and vocal diversity. Stream or download Raised On Radio April 15, 2022 via Frontiers Music s.r.l. – or better yet, get out to your local record store and pick up a copy!