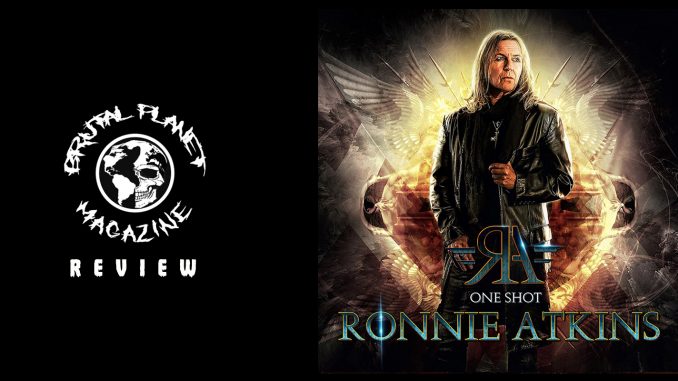 Someone once said, "Life imitates art." This statement could not be more relevant when talking about Ronnie Atkins' latest release, One Shot. The Pretty Maids and Nordic Union singer was diagnosed with lung cancer in 2019 and was diagnosed earlier this year again. Ronnie said about the album, "Lyrically, it also has a different approach. I found it hard to write about sex, drugs, and rock'n'roll, etc., due to the situation I'm wrapped up in, so I guess it turned out a bit more personal and maybe melancholic at times. But it reflects my thoughts at the given time these lyrics were written."
One Shot features some of Ronnie's best work. The album is full of lyrics with heartfelt value to them. The first song, "Real," is a perfect example of meaningful lyrics. It is an ideal way to start the journey into this adventure.
"Scorpio" offers a battle cry lyrically, combined with great beats mixed with heavy guitar riffs and keyboards. One of the strongest songs is the title track "One Shot." This power ballad is a piano-driven masterpiece with great emotion and lyrics
"One shot One life
One chance to throw the dice
And we can't waste another day no
One love two hearts
One go to play our parts in life
What if Tomorrow is too late"
An elevating guitar opening begins one of my favorite songs on the album, "Subjugated." It is not clear if it directly references Ronnie's battle with cancer, but as a cancer conqueror myself, I can say the lyrics fit one's desire to be rid of the disease. It provides a battle cry for breaking the chains of what is holding us down.
"Frequency of Love" and "Before The Rise Of An Empire" are strong rocking songs with an incredible 80's guitar-driven sound to them. Things slow down with "Miles Away" and provide a great romantic interlude to the album. It is a romantically charming track full of passion stanzas like lines.
Things pick back up with "Picture Yourself," an elevating song with inspiration flowing freely throughout it musically as well as lyrically.
"I Prophesize" has some heavy guitar riffs combined with strong vocals, making it one of One Shot's heaviest tracks. My favorite track is easily "One By One." It has a heavy beat, and the chorus uses choir-like cheering, making it very inspirational. Ronnie uses keyboards in the song to give it a very enthusiastic sound. If you are not motivated by this song, you are not living!!! The album concludes with "When Dreams Are Not Enough." The song has a somber sound in the verses but picks up with a great chorus.
Whether or not One Shot will be known as one of Ronnie's most popular solo works is yet to be determined, but the passion and emotion delivered in One Shot will solidify this album as the pinnacle piece of Ronnie's carrier, period. Pick up One Shot on March 12, 2021, via Frontiers Music s.r.l.