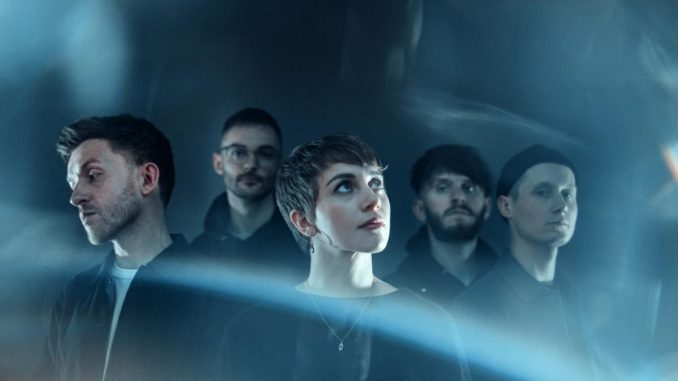 Wednesday, January 12th, 2022 – ROLO TOMASSI have released another huge new track and video, "Closer", which is taken from their expansive and ambitious new album 'Where Myth becomes Memory'. The album will be released on Friday, February 4th 2022 through MNRK. The band have already released the singles/videos for '
Drip
' and '
Cloaked
', which are already on around 500,000 views on Youtube between them. Album pre-order bundles are available
here
. Watch the video for "Closer"
here
or by clicking the image below.
Speaking on the new single and video, keyboardist and vocalist James Spence said,
"We wanted to show a completely different side to the record by releasing this single. The album is full of lighter, more gentle moments to contrast the darker side to it and none more so than this."
Vocalist Eva Korman added,
"The narrative side to the video is about the constant cycle of change. For better or worse, we take our past experiences with us into constantly evolving new beginnings."
ROLO TOMASSI have spent 17 years leading the pack rather than following and 'Where Myth Becomes Memory', sees them lead with more poise and determination than ever before. The new album serves as the final part in an unintended trilogy that began with 2015's 'Grievances' and continued with 2018's 'Time Will Die And Love Will Bury It', the most critically acclaimed album of the band's career to date. Every ROLO TOMASSI album shows signs of growth, but 'Where Myth Becomes Memory' serves as a culmination of a period of creativity that has exalted ROLO TOMASSI to their loftiest status so far as a band, with a singular vision where the most savage, unhinged sonics can co-exist harmoniously with epic cinematic elegance and grace.
Rolo Tomassi | Where Myth Becomes Memory

Full Track Listing

1. Almost Always

2. Cloaked

3. Mutual Ruin

4. Labyrinthine

5. Closer

6. Drip

7. Prescience

8. Stumbling

9. To Resist Forgetting

10. The End Of Eternity
MORE ON ROLO TOMASSI:
Formed in 2005 this quintet's early material blended hardcore with kitschy synths and nonsensical song structures. However, the group shaved off its more oddball qualities in favor of shoegaze and dream-pop on subsequent releases.This sound is beautifully demonstrated with Dillinger-style freak-outs that transition to lush soundscapes at a moment's notice. Anchored by the Spence siblings' complementary singing voices, the group perfectly blur the barrier between tranquility and destruction.
They have worked with US super producer Diplo and performed on Channel 4 TV live with Biffy Clyro (watch that
HERE
), they have played the SXSW Festival, released an album through IPECAC after catching the ear of Mike Patton and their last album is on around 7 million streams on Spotify alone.
This most recent album from 2018 'Time Will Die And love Will Bury It' was released to a flurry of praise an acclaim, landing it as the 2nd highest review score for the year on Metacritic (gaining a 92/100). Following previous tours and shows with the likes of Faith No More, Biffy Clyro, Dillinger Escape Plan, Architects, The Bronx and Gojira in 2019 (as main support), the band have established themselves as a live tour-de-force, now a headline prospect not only in their home territory of the UK and the EU, but also Australia, Japan, Russia and the USA.
There is no band on Earth quite like ROLO TOMASSI.
ROLO TOMASSI are:
Eva Korman – Vocals
James Spence – Keyboards, Piano, Vocals
Chris Cayford – Guitars
Nathan Fairweather – Bass
Al Potts – drums
Find Rolo Tomassi Online