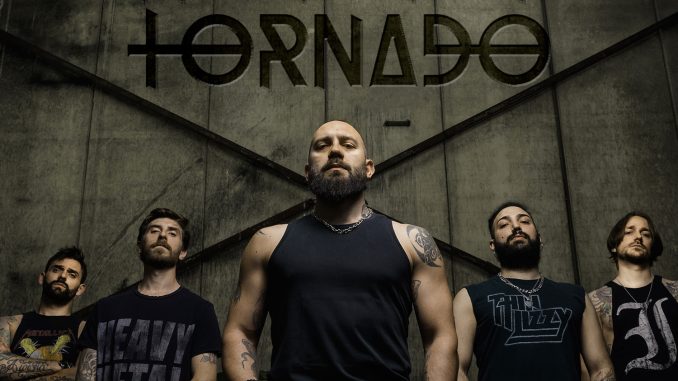 Unveil Music Video For First Single Off New Album "Love Is Démodé" Out March 2022
The fury of Italy's THE HUMAN TORNADO will be unleashing the new album "Love Is Démodé" on March 11, 2022 via Rockshots Records.
Today in preview, the band is sharing their first single "Dreamland" with an epic music video.
"Each one of us has an inner dark side, and we often have to control it to be able to do the best we can in everyday life. Dreamland is our invitation to fight and win our private monster accompanying us throughout life. So we chose this song as the first single because it represents our desire to fight and do our best on stage. The sound impact is strong, the drumming is powerful, the guitar riff is defined from the beginning to the end so that our message remains well impressed in our audience's mind." adds the band.
Enter the band's "Dreamland" with their music video at – https://youtu.be/5lsGrnkjGTo
Digital – https://bfan.link/dreamland
THE HUMAN TORNADO – Dreamland (Official Music Video)
Offering a slab of smashing knock-out heavy groove rock, The Human Tornado has been making shockwaves since forming in 2014 in Bologna, Italy. The band made their debut in 2016 with their first full-length "Storm In A Ketchup" on Hidden Stone Records along with supporting touring bands such as Twelve Foot Ninja, Destrage, and Crazy Town.
The Human Tornado's sophomore follow-up "Love Is Démodé" was self-produced by the band with mixing and mastering done by Marco Paradisi at Boat Studio. The album will feature ten hurricane tour de force tracks that will leave fans breathless and eager to set the track listing on repeat from beginning to end.
"Every song is played with heart and soul and we wanted to explore new sounds, but without forgetting our heavy rock imprint, so we produced an intense groovy album with more melodic openings." adds the band.
The lyrical concept behind the album is love, one of the strongest feelings of deep affection. It has different aspects and it can be addressed to another person, an animal, or a passion. But, if it's pure, this doesn't matter.
The band explains further: "For some years this feeling of love has been declining, going out of fashion. In fact, in our society finding people loving what they do is increasingly difficult and often image, power, success are the most important aspects of life. Moreover, these goals are more and more often achieved by means of questionable actions and negative feelings. In this album we want to express our idea of love in particular towards music, showing in every single song even the dark and negative sides coming from love in our life."

The Human Tornado will be revealing tracklisting and album artwork at a later date for "Love Is Démodé".

More info:
Rockshots.eu
Facebook.com/THTofficial
Instagram.com/thehumantornadoband