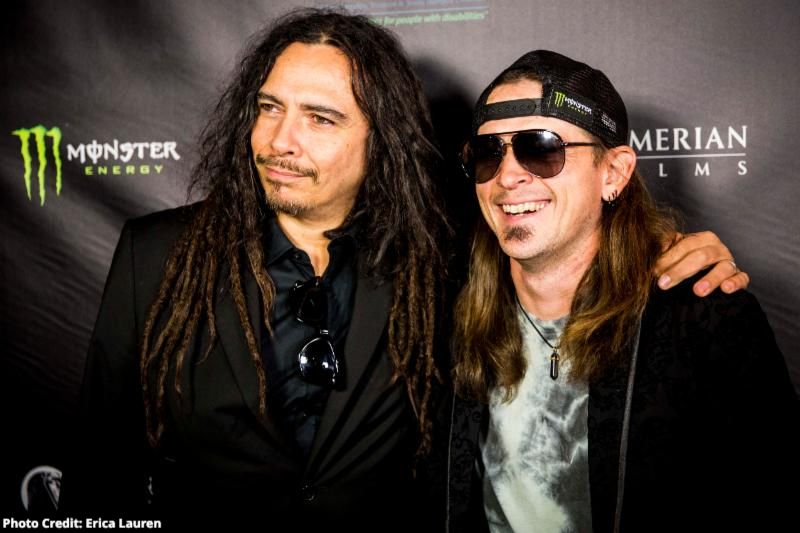 Rock Community Shows Up In Force For
The Los Angeles Premiere of
Mind Over Matter
"Mind Over Matter is a beautiful doc and a cinematic triumph… both artistically and emotionally. It will tear at your heart strings. For anyone who ever had a Rock and Roll dream!" – Matt Pinfield (SiriusXM, MTV)
'Through the power of Korn, Brandon Mendenhall fought his paralysis to live out his rock'n'roll dream.' – Kerrang!
"Mind Over Matter is a great story about the healing & transformative power of music in a time when people need it most." – Jamey Jasta
'Diagnosed with cerebral Palsy as a child, Korn mega-fan Brandon Mendenhall was told he could never play the guitar. Today, he has his own band.' – Metal Hammer
Wednesday 30th January 2019, Los Angeles – Some of the biggest names in rock and metal hit the red carpet at the Ahrya Fine Arts Theatre in Beverly Hills on Monday evening to celebrate the premiere of multi-award winning documentary film, 'MIND OVER MATTER'.
Joining stars of the movie – Korn's James 'Munky' Shaffer and Brandon Mendenhall – were members of Suicide Silence, Bad Wolves, Pennywise, Emmure, Kyng, Snot, Twelve Foot Ninja, King's X, Guns N' Roses, Nine Inch Nails and The Mendenhall Experiment, the movie's director Sébastien Paquet and producers Sean E. DeMott and Nathan Adams, Founder and CEO of Sumerian Films, Ash Avildsen and several TV and Radio personalities including Matt Pinfield and the event host, Jose Mangin of SiriusXM.
Speaking on the hugely successful evening, director – Sébastien Paquet commented:
"This project started 5 years ago with 2 friends and a camera. To come this far and sell out a theatre in Beverly Hills packed with rock stars and industry VIPs is the greatest achievement of my career, but more importantly a true testament of Brandon's universally inspirational story. It really is mind over matter".
Adding to this, Brandon Mendenhall, the inspirational subject of Mind Over Matter, says:
"I feel like with this film I have been blessed with the unique opportunity to change the world by helping to end the stigma on disabilities with the help of my friends in Korn"
Chris Gaza of Suicide Silence

Ash Avildesen (Sumerian Films), Fletcher Dragge (Pennywise) and Matt Pinfield
The internationally acclaimed documentary film, MIND OVER MATTER chronicles the inspirational story of Brandon Mendenhall and is available on all digital platforms now via Sumerian Films. Featured throughout the film are legendary KORN band members James "Munky" Shaffer, Brian "Head" Welch and Jonathan Davis. It is now available on all digital platforms.
Brandon was born with cerebral palsy, a neurological condition that affects movement, coordination and balance. More than one doctor told him he would never play an instrument, but Brandon had other plans. The film documents Brandon's unbelievable journey to rehabilitate his then-paralyzed left hand in order to play guitar, while also overcoming bullies and stereotypes. Along the way he found friendship and mentors with members of the Grammy-award winning band KORN.
Brandon eventually formed his own band THE MENDENHALL EXPERIMENT which opened the main stage at Monster Energy's Aftershock Festival 2016. They were soon signed with a major record deal and released their debut album on Lucent/Universal.
Now, as Mind Over Matter continues to gain momentum, with support from globally renowned media outlets such as KROQ, Metal Hammer, Kerrang!, The Adam Carolla Show, Loudwire and SiriusXM, Brandon Mendenhall's message of inspiration, empowerment and encouragement is being brought to the masses. Providing living proof that if you really put your mind over matter and never give up on your dreams, you can achieve anything. Even what is deemed the impossible.
Please see the film trailer
here
A great supporter of Brandon, KORN guitarist Munky says:
"Brandon is a big inspiration, not only for myself but for lots of people that not only want to get into music but that want to follow their dreams in anything."
Mind Over Matter is directed by Sebastien Paquet, a French filmmaker behind the award-winning short film "Wounded Warriors" and critically acclaimed short doc "Korn And The Prodigy Son", about the 12-year- old son of METALLICA bassist Robert Trujillo. Joining Paquet is Writer/Producer Nate Adams, Producer Sean E DeMott and Executive Producers Dillon D. Jordan, Marco Vicini, Daniel Wagner, Russell Emanuel and Gregg Journigan.
Celebrated on the film festival circuit, MIND OVER MATTER has taken home top awards including:
*2017 DOC LA. Los Angeles Documentary Film Festival: WINNER of 'Best Cinematography,' 'Best Screenwriting' and 'Audience' Awards
*2018 Los Angeles Diversity Film Festival: WINNER 'Audience' Award
*2018 Sacramento Film & Music Festival: WINNER 'Best Documentary Feature (Audience)'
*2018 Desert Rocks Film Festival: WINNER Documentary Feature
*2018 'Breaking Down Barriers' International Disability Film Festival: WINNER Best Documentary Character Award
For additional info, please see
Link to view screener of the documentary available upon request.
Brandon Mendenhall and Sebastien Paquet are available for interview.
Assets Available Below:
Find Mind Over Matter On Socials