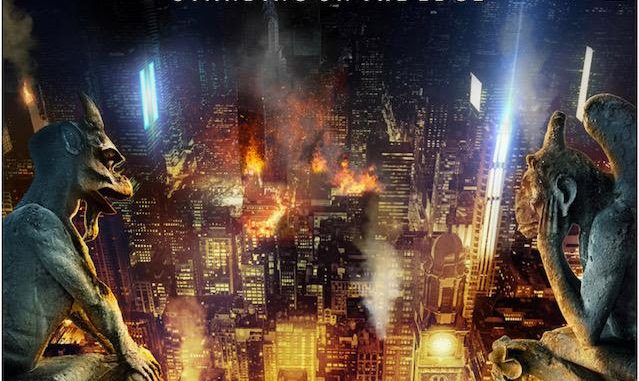 One of THE voices in hard rock for decades, like he showcased e.g. in his work with Michael Schenker.
-AOR Heaven-
Standing On The Edge not only showcases Robin McAuley's known strong suits in the world of album oriented hard rock, but also displays his incredible vocal range that has remained unchanged since his time with band's such as Grand Prix, Far Corporation, and McAuley Schenker Group.
-Bravewords-
"Standing On The Edge" is a killer no filler effort that every rock fan should add to their collection.
-Heavy Paradise-
###
Robin McAuley's new solo album, "Standing on the Edge" showcases the desire of the respected Irish rock singer to make a strong musical statement in a period that was more creative than ever for him! After reemerging on the recording side of the music industry with guest spots on Michael Schenker Fest albums and fronting the hard rock supergroup Black Swan, McAuley is feeling invigorated and ready to explore even more creative output, letting the world see that his voice is as powerful as ever. "Standing On The Edge" is out today!
Of the album, Robin says, "It was hard not to draw reference from the dreaded pandemic we all found ourselves in, and still do, so I just spat out what I was feeling and "Standing On The Edge" seemed an appropriate title to describe the current climate." He continues, "In contrast to that however, songs like "Run Away" harken back to my childhood years, racing across the fields next to our house trying to beat the rain home. I'm still running all these years later!! : ) Alessandro sent me this beautiful music and this lyric and melody came together quite quickly. It's very simple and childlike and I really like how this song turned out. "Wanna Take A Ride" on the other hand was just me desperate to get out of the house during lockdown and head to the beach. Top down, throttle wide open, and a stiff middle finger to Covid. I crank this SO LOUD in my car. Makes me smile! : )"
Robin McAuley's "Standing on the Edge" is an album that will surely thrill and delight melodic hard rock fans in 2021. Stay tuned….
Tracklist:
1. Thy Will Be Done
2. Standing On The Edge
3. Late December
4. Do You Remember
5. Say Goodbye
6. Chosen Few
7. Run Away
8. Supposed To Do Now
9. Wanna Take A Ride
10. Like A Ghost
11. Running Out Of Time
Line-up:
Robin McAuley – vocals
Andrea Seveso – guitars
Alessandro Del Vecchio – bass, keyboards, backing vocals
Nicholas Papapicco – drums
Howard Leese – guitars on "Supposed To Do Now"
For More Info Visit: