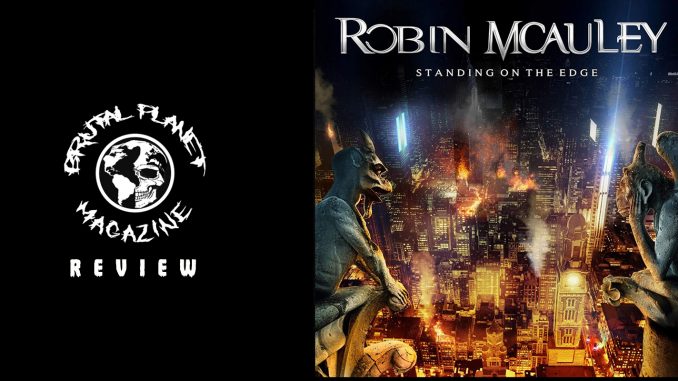 When it comes to iconic rock and metal voices from the '80s and early '90s, the one voice that comes to mind as the foundation for all others is that of Robin McAuley. Robin's start was in Grand Prix, an English rock/pop band. He then continued on to Far Corporation, a light rock band whose creator was Frank Farian, who later created Milli Vanilli. In 1987, Robin came on to my radar when he and Michael Schenker formed McAuley Schenker Group. Perfect Timing and Save Yourself were two albums I listened to non-stop between 87-90. Robin is a long-time member of the Raiding the Rock Vault cast, which plays in Las Vegas area Casinos. In 2020 Robin recorded Shake the World with Black Swan, and in 2021 Robin is set to release a long-awaited solo album called Standing On The Edge.
Standing On The Edge is just what you expect from a Robin McAuley solo album. Melodic guitar riffs paired with a good mixture of medium-tempo songs and power ballads to die for. All of this is topped off with a voice that sounds as good as it did in the '80s. If you have any doubts about the quality of Robin's voice, just listen to the first single and title track, "Standing On The Edge." The song has excellent melodic George Lynch style guitars and is the perfect choice to reintroduce the world to Robin's vocals.
The opening track "Thy Will Be Done" has a very modern sound that could easily be found on an Allen/Lande album. "Late December" has a softer power ballad vibe, with a fantastic guitar solo from Andrea Seveso. "Say Goodbye" is an amazing song that showcases the range that Robin still possesses. One of the heaviest tracks comes at the end of the album. "Running Out Of Time" is a fast-paced barn burner that leaves no doubt that Robin still has what it takes to rock and roll.
Standing On The Edge is a musical recipe I would love to see more of in the future. It is not excessive guitars or drums or overmixed. Instead, it has the right amounts of guitar and drums combined with the most important ingredient: Robin himself. Standing On The Edge will be available on May 7, 2021, via Frontiers Music.