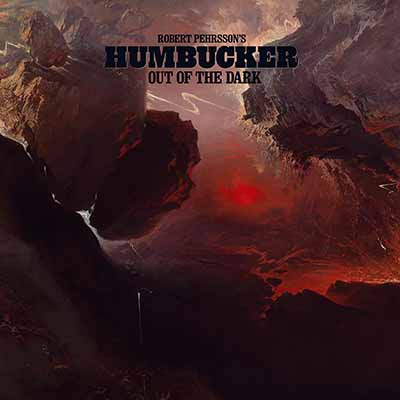 Music does a lot of things for a lot of people. It's transporting, for sure. It can take you right back, years back, to the very moment certain things happened in your life. It's uplifting, it's encouraging, it's strengthening. – Aretha Franklin (Brainyquote)
For those of us old enough to remember growing up with the guitar-driven rock of the 70's and 80's, Swedish guitarist and songwriter Robert Pehrsson's newest release, Out Of The Dark, coming out on September 13th from High Roller Records, is a blast from the past with all the energy of today's hard rock.
Persson's 2013 award-winning debut, Robert Pehrsson's Humbucker was followed up with his 2016 Long Way To The Light. Out Of The Dark continues that story. The album covers the gamut of human emotions dealing with heavy topics, like love, loss, friendship and grief, but it's anything but depressing.
It opens hard and fast with "All I Need Is Not To Need You" and never lets up. "Careless Lover" stays the course before we get a break with the striking acoustic intro to "Entombed in Time" (one of my faves).
"These Words", "Aphelion" and "Awaiting the Return of the Light" careen between loss and hope, with a range of emotions and rhythms that keep you looking forward to what's up next.
The album takes a distinct hard rock turn with "Castle Turns to Dust" and mostly says in that lane for the remainder with "Surrender", "Pick me Up" and "Everybody's Here". Out Of The Dark reminded me of everything from Devo to Kiss, Rick Springfield to Kenny Loggins and even a bit of Harold Faltemeyer.
It's like taking a journey….
Pehrsson comments, "The title says it all…. It was a lot of work, but I had a lot of fun, too…. I want to feel positive and I want to be a positive presence in other people's life. I have had many dark periods in my life and one of the ways I deal with that is through my music…. The songs are about losing love, finding love, death, life, depression, friendship and joy. It's like taking a journey through (life)…"
The entire album was recorded, engineered and mixed by Pehrsson at his Studio Humbucker with Nicke Andersson on drums and Joseph Thoss assisting on vocals. The orchestration and arrangements are spot on and the performances top-notch.
I've never met the man, but if Robert Pehsson's personality is anything like his music, I imagine he'd be a great person to hang with: charming, a lot of fun and never, ever boring.
Out of the Dark was written, recorded, engineered and Mixed by Robert Pehrsson at Studio Humbucker (Studio Humbucker). It releases on September 13th on High Roller Records.
Out of the Dark – Lineup
Vocals: Robert Pehrsson
Guitars: Robert Pehrsson
Bass: Robert Pehrsson
Drums: Nicke Andersson (The Hellacopters, Imperial State Electric, LUCIFER)
Backing Vocals: Joseph Tholl
Out of the Dark – Track Listing
01 All I Need is Not to Need You
02 Careless Lover
03 Entombed in Time
04 These Words
05 Aphelion
06 Awaiting the Return of the Light
07 Castle Turns to Dust
08 Surrender
09 Pick Me Up
10 Everybody's H