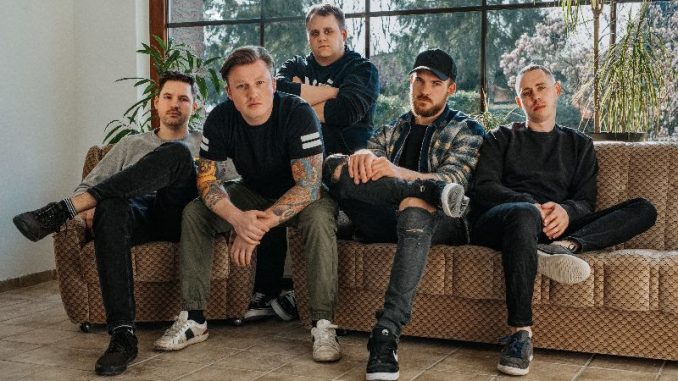 New Album 'Afterglow' Coming December 10th!
RISING INSANE – "Serenade" (Official Video)
German Metalcore outfit RISING INSANE have released their new single "Serenade", as well as a music video for the track. "Serenade" is the third single from the band's new studio 'Afterglow', which sees a December 10th, 2021 release via Long Branch Records.
Listen to "Serenade" and pre-order the new album 'Afterglow' here:
Rising Insane comment on their new single "Serenade":
"You could almost think 'Serenade' is about a love affair – in principle, it is a relationship, too – only it's the one with depression and anxiety disorders. No matter how hard you fight it or how well you get by during the day, when you go to sleep and your mind starts spinning, you end up losing yourself again."
'Afterglow' Tracklist
1. Afterglow
2. Meant To Live
3. War
4. Flightless Bird
5. Serenade
6. Oxygen
7. Breakout
8. The Surface
9. Something Inside Of Me
10. Broken Homes
11. Bend And Break
12. Imprisoned
Rising Insane is not just the name but also what happened literally to these five guys from northern Germany over the last few years. After their self-released debut album, 'Nation' in 2017, the band gained attention quickly in the German metal scene on shows with Stray From The Path and For Today, as well as a support slot for Annisokay on their 2018 headline run.
In 2019 they played at the Impericon Festival and got signed by Long Branch Records. This led to the band's first label release, 'Porcelain' in November 2019, which received outstanding reviews from around the world and accelerated them into international attention. In the aftermath of the album release, the band kept busy and recorded a well-received cover version of "Blinding Lights" by The Weeknd. This cover got the band even more worldwide attention and spread their name even wider. Due to the pandemic, their first headline run had to be cancelled in 2020 and the band decided to stay active, recording an EP named 'Recovered' with even more cover songs, including "Blinding Lights".
Now Rising Insane are back with new music and ready to elevate into an even higher stratosphere. They stay true to their post-hardcore and metalcore roots, but have clearly grown as a band and as individual musicians. The sound is more mature and the songs will not leave any questions as to whether these guys can stay true to their name and keep rising insane!
RISING INSANE Lineup:
Aaron Steineker – Vocals
Sven Polizuk – Guitars
Florian Köchy – Guitars
Ulf Hedenkamp – Bass
Robert Kühling – Drums
Watch the video for the second single "Afterglow" here
Watch the video for the first single "Meant To Live" here