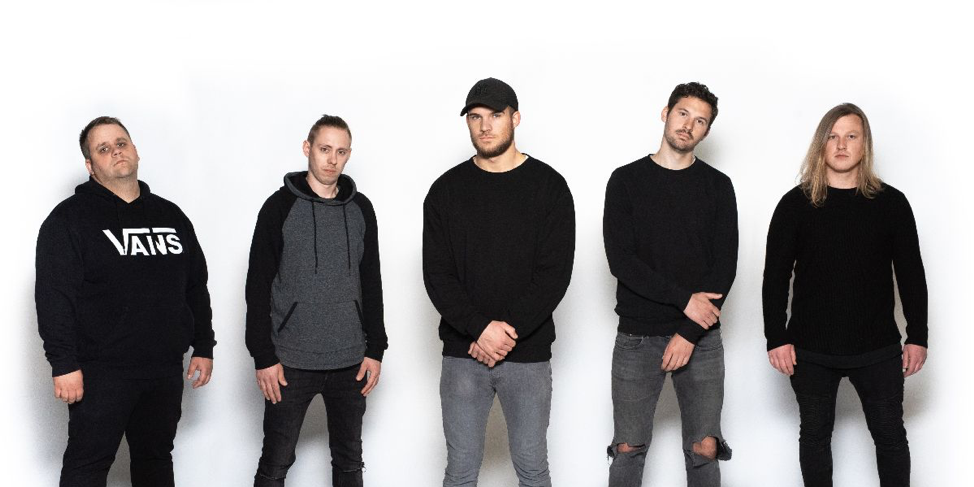 RISING INSANE have released the last single named "Last Fragments" from the upcoming album "Porcelain", which will be released on November 1st.
"Last Fragments" is how singer Aaron Steineker describes the things that stay with our memories when someone we love dies. These can be material things, like a sweater or a key ring, or the people the person has brought into our lives. Aaron fights with his grief with "Last Fragments" and the album "Porcelain". He and his family lost their sister and daughter in the fight against cancer in the summer of 2018. It's about finding a way to go on and learn to live with the loss.
"I'm holding on to what is left in my heart –
to keep myself away from falling apart."
The song is full of angry, emotional shouts and screams, but also plaintive singing. Rising Insane successfully rely on a mixture of brute hardness and fragile sensibility to bring the dissension of the lyrics to the point. The result is an absolutely authentic single with which Aaron wants to show all people a way to find support after a loss. The quintet also provides a one-shot music video that can definitely be seen – and should be seen.
The new album "Porcelain" is now available for pre-order as exclusive bundles, CD in jewel case and as download. Pre-order it
HERE
.
Rising Insane delivers their music in a dualistic manner, apart from the common post-hardcore norm; rageful outbreaks chained to a melancholic surrender are giving their songs a unique emotive touch. The sudden and surprising variety is the key to a new experience that will shackle the listener to their music.
Rising Insane is and has alway been own initiative, investing both heart and soul in the music and everything else that has to deal with being a band. Releasing their debut album "Nation" in June 2017, they definitely paved a way to move on to higher ground. Solid mixtures of crushing metalcore elements with a punk-rock-like influence are getting along with rest-in-your-head clean vocals.
Since the release, Rising Insane captivates over and over again, playing alongside bands like The Devil wears Prada, For Today and Stray from the Path. The long journey has further inspired the band, which leads to a more self revealing kind of music. With this passion, Rising Insane joined the Band Annisokay at the end of 2018 to a 14 city tour through Germany and Austria, also joined the stage at the Impericon Festival 2019.
Strengthened by the energy of this ride, they produced and recorded their second album, "Porcelain", set for a November 2019 release. Still it is all self initiative – and with it comes the most honest, inspiring and haunting music, Rising Insane has ever done.
Line Up:
Aaron Steineker – Gesang
Ulf Hedenkamp – Bass
Sven Polizuk – Gitarre
Florian Köchy – Gitarre
Robert Kühling – Schlagzeug
For More Info Visit: