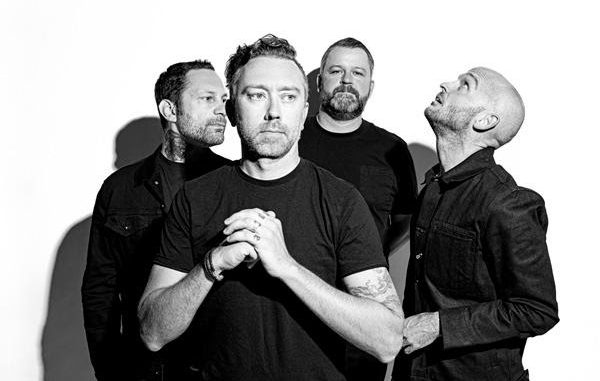 Rise Against, L-R: Joe Principe, Tim McIlrath, Brandon Barnes, Zach Blair
Photo Credit: Jason Siegel
FRIDAY, April 23, 2021 – In just its fourth week, Rise Against's new single, "Nowhere Generation," is exploding at radio and global streaming: the track is knocking on Rock Radio's Top 15 door at #16, closing in on Alternative's Top 20 at #22, its total airplay continues to multiply exponentially, and has amassed more than 3.5 million global streams, and counting. So, naturally, with that kind of heat, today the punk rockers announce a whole new spin on the track, "Nowhere Generation (Ghost Note Symphonies)," a stripped-down, reimagined take on the original that stays true to its punk spirit and blistering message. You can check out "Nowhere Generation (Ghost Note Symphonies")
HERE
.
Produced by Bill Stevenson, Andrew Berlin, and Chris Beeble, and recorded in August 2020 at The Blasting Room in Fort Collins, CO, Rise Against – Tim McIlrath/ vocals, rhythm, guitar, Joe Principe/bass, Brandon Barnes/drums, and Zach Blair/guitar – was joined by musicians on violin, viola, cello, upright bass, and piano, instruments one wouldn't expect on a Rise Against album, but that offer a fresh dynamic to the song.
This is not the first time Rise Against has transformed one of its fiery punk rock songs into a beautifully orchestrated acoustic presentation. Twenty-eighteen saw the release of Ghost Note Symphonies, Vol 1, a creative endeavor where the band reimagined their music in a way no one expected. The stripped-down orchestration was raw and revealing lyrically while powerful and compelling musically.
Said vocalist/lyricist McIlrath, "Any good song should be able to be stripped down to an acoustic guitar and played around a campfire. 'Nowhere Generation' struck us as one of those songs and we returned to the Blasting Room last year after finishing the album to track an acoustic version that we included as the B-side of a limited edition seven inch. To make it happen, we called up our Ghost Note string players and changed the feel. We gave it 'The Ghost Note Symphonies' unplugged treatment to re-create the same song but with a completely different vibe."
Over the past 20 years, Rise Against's music has been shaped by the band members' activism and sense of social justice, elements that are front and center in the upcoming new album, Nowhere Generation, set for a June 4 release (Loma Vista Recordings). Much of the album's 11 songs tackle what is one of the most important challenges in our country today: the preservation of The American Dream, the element that truly sets us apart from the rest of the world. Today we see the slow but deliberate selling-out of America's Middle Class, where the concept of "hard work and dedication," long seen as the road to achieving The American Dream, being obliterated by an elite class looking to get a "leg up" the Ladder of Success.
Pre-orders for the
Nowhere Generation
album can be placed
HERE
.
Photo Credit: Jason Siegel