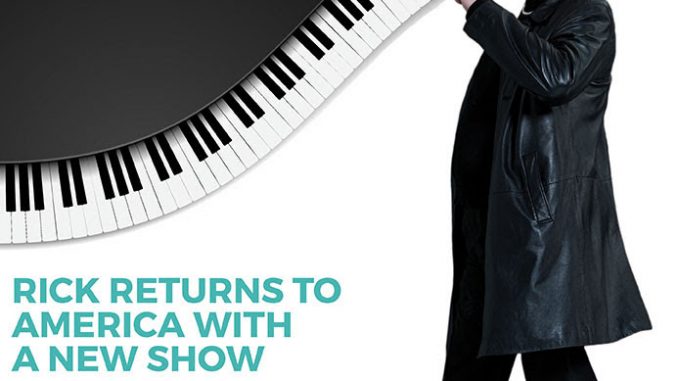 Rock Royalty
Some dates are being rescheduled into 2022
A portion of
Rick Wakeman's
upcoming
The Even Grumpier Old Rock Star Tour
of the USA are being moved into early 2022.
Ticket holders should retain their tickets and will be valid once the new dates are confirmed. An announcement of the revised dates will be made as soon as possible.
The Concert Hall at the New York Society for Ethical Culture on Saturday 23rd October has been moved to the City Winery, New York City, on Monday 25th October. Ticket holders for The Concert Hall will receive an automatic refund and should purchase their tickets to the new venue (https://www.citywinery.com/newyork/Online/default.asp).
A new show has been added to replace the concert at The Kent Stage, OH on 1st November. Rick will now be performing at the Bearsville Theater, Woodstock, NY, on Monday 1st November. Tickets are available at: https://bearsvilletheater.com/event/rick-wakeman-live-at-bearsville-theater/.
Go to Rick's web site www.RWCC.com or the theatre's sites for tickets and information.
The Even Grumpier Old Rock Star Tour 2021 (These dates are still happening)
October 13 Center for the Arts, Natick MA
14 Tupelo Music Hall, Derry NH
15 Academy of Music, Northampton MA
16 Garde Arts Center, New London CT
19 Narrows Center for the Arts, Fall River MA
22 The Paramount, Huntingdon NY
24 The Birchmere, Alexandria VA
25 City Winery, New York City NY
26 Asbury Hall, Buffalo NY
27 Wellmont Theatre, Montclair NJ
28 The Vogel @ Count Basie Center for the Arts, Red Bank NJ
29 Scottish Rite Auditorium, Collingswood NJ
30 Ridgefield Playhouse, Ridgefield CT
November 1 Bearsville Theater, Woodstock NY

Shows Moving to 2022
The Kent Stage, Kent OH
The Sheldon, St Louis MO
Copernicus Center Theater, Chicago IL
Pantages Theatre, Minneapolis MN
Celebrity Theatre, Phoenix AZ
Palace of Fine Arts Theatre, San Francisco CA
The Theatre at Ace Hotel, Los Angeles CA
Magnolia, El Cajon CA
Neptune Theatre, Seattle WA
Variety Playhouse, Atlanta GA
Broward Center for the Performing Arts, Amaturo Theater,
Fort Lauderdale FL
Nancy and David Bilheimer Capitol Theatre, Clearwater FL

Reviews from Rick Wakeman's Grumpy Old Rock Star US Tour 2019:
"A wonderfully intimate, hilarious, and jaw-dropping performance… Not a grumpy soul in the room, least of all Mr. Wakeman himself." – Parklife DC
"A dazzling display of dexterous fingerwork on the ivories." – www.vintagerock.com
Reviews from Rick Wakeman's UK solo tours:
"A hugely enjoyable night for fans and newcomers to Rick Wakeman. Genuine laughs and exquisite musicianship – what more can you ask for?" – Lancashire Telegraph
"The audience… were thoroughly entertained with masterful piano playing and wonderous stories." – Global Entertainment and Media
"No other artist could entertain a theatre full of people, playing alone, and keep them riveted for the entirety of his set. Rick is one of the warmest, wittiest, most talented musicians around." – Wolverhampton Express & Star
And from YES' 2017 induction into the Rock and Roll Hall of Fame:
"Rick Wakeman's ornate, detailed keyboard work… was just the icing on the cake… Wakeman had already brought the house down with an acceptance speech that contained a hilarious stream of dirty jokes." – Rolling Stone
Copyright © 2021 Chipster PR & Consulting, Inc., All rights reserved.
You are receiving this announcement because we want you to be among the first to know about this great news! Interviews, tickets and review copies are available upon request. Thank you for your interest in our clients, we appreciate your help in spreading the word!