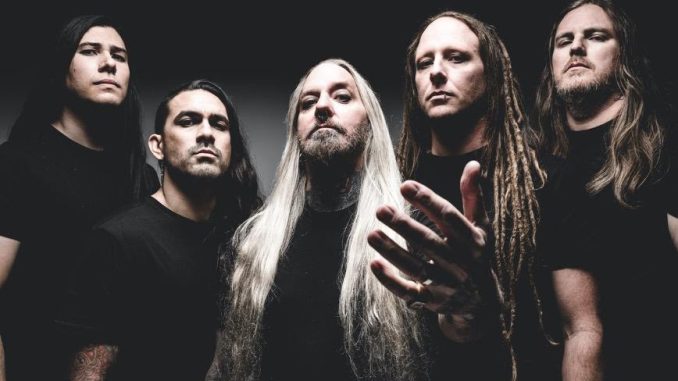 Watch HERE
New Album, 'Dealing With Demons Vol. II',
Out This Friday, May 12, 2023
via Napalm Records | Pre-Order HERE
"When it comes to the pummeling, heavy shit that fans of this band demand, 'Dealing With Demons Vol. II' is well-stocked and ready to cause damage."
– Blabbermouth, US
"This record is a beast…"
– Toilet ov Hell, US
"…even heavier and more angst-ridden than its predecessor…"
– Metal Injection, US
After much anticipation from fans, groove metal kings DEVILDRIVER will finally drop their 10th album and part two of their Dealing With Demons saga, 'Dealing With Demons Vol. II', this Friday, May 12 via Napalm Records!

Today, in celebration of this week's release, the band has revealed the album's unrelenting final pre-release single, entitled "This Relationship, Broken". The riff-laden album closer hits as one of the record's most breakneck-paced anthems – with erratic drums, aggressive riffs and a charged performance from celebrated frontman Dez Fafara.

DEVILDRIVER frontman Dez Fafara says about "This Relationship, Broken":

"'This Relationship, Broken' explores the severance that happens between two long time partners when they leave each other after years of turmoil."

Watch the Music Video for "This Relationship, Broken" HERE
As DEVILDRIVER enter their third decade with nine full-length albums, countless international tours and worldwide renown, they prove more resilient than ever. When the world was upended in 2020, iconic groove metal leaders DEVILDRIVER didn't pause, releasing the highly-acclaimed first installment of their two-part Dealing With Demons saga, 'Dealing With Demons I'. Now, as society emerges more hardened and determined than before, so does 'Dealing With Demons Vol. II'.

The new album represents celebrated frontman Dez Fafara's psyche and the final purging of his demons that have long haunted the band's music. Once again produced and engineered by Steve Evetts with additional engineering from guitarist Mike Spreitzer, 'Dealing With Demons Vol. II' is inarguably heavier and relentlessly harsher than its predecessor.

International media mainstays like Revolver, Metal Hammer, Kerrang and Consequence lauded 'Dealing With Demons I', which debuted at #4 on the US Current Hard Music Albums Chart. Blabbermouth stated, "If the second half of this mammoth endeavor matches the first, this will be remembered as a pivotal moment in the DEVILDRIVER story."

If there is any question as to whether DEVILDRIVER is slowing down any time soon, 'Dealing With Demons Vol. II' proves that 20 years into their career, even with their demons in tow – they move forward at the forefront of metal.
Track one, "I Have no Pity", instantly keeps fans guessing with its contrasting, marching rhythmic groove and Dez Fafara's icy, earworm warnings. The album's standout production immediately shines, with the track's thick riffs, haunting leads, room-filling drums and Fafara's vocal prowess leading the way.

Eerie, insistent "Mantra" drops a wave of melodic aggression on the listener, instantly inducing headbanging with its breakneck pace and occult lyricism. Dynamic tracks like "Nothing Lasts Forever" and "Summoning" cascade with alternating passages of sinister riffage and memorable chants. "Bloodbath" is as brutal as its name suggests, ominously bending and pummeling with immediate aggression, as "It's a Hard Truth" continues the onslaught, cautioning against delusion amid balanced melodic leads.

Closer anthems, "If Blood is Life" and "This Relationship, Broken", are the blood-soaked cherries atop 'Dealing With Demons Vol. II', bringing together all of the elements that make DEVILDRIVER the best at their craft.
'Dealing With Demons Vol. II' Track List:
1. I Have no Pity
2. Mantra
3. Nothing Lasts Forever
4. Summoning
6. Bloodbath
7. It's a Hard Truth
'Dealing With Demons Vol. II' will be available in the following formats:
=> CD Digipak (4 Panels)
=> CD Jewelcase (Signed) – Napalm North American mail order only, limited to 1000
=>1 LP Gatefold Purple
=> 1 LP Gatefold Inkspot Splatter Yellow/Purple/Black with Slipmat – Napalm worldwide mail order only, limited to 500
=> Music Cassette (Yellow Tape/Black Print)-Napalm worldwide mail order only, ltd to 100
=> 2x CD Digipak Dealing With Demons I & Dealing With Demons Vol. II – Napalm European mail order only
=> CD Digipak (4 Panels) + Notebook + Metal Symbol Bundle – Napalm worldwide mail order only
[1 LP Gatefold Inkspot Splatter Yellow/Purple/Black with Slipmat – Napalm mail order only, limited to 500]
DEVILDRIVER are:

Dez Fafara – Vocals

Mike Spreitzer – Guitar

Jon Miller – Bass

Alex Lee – Guitar

Davier Pérez – Drums