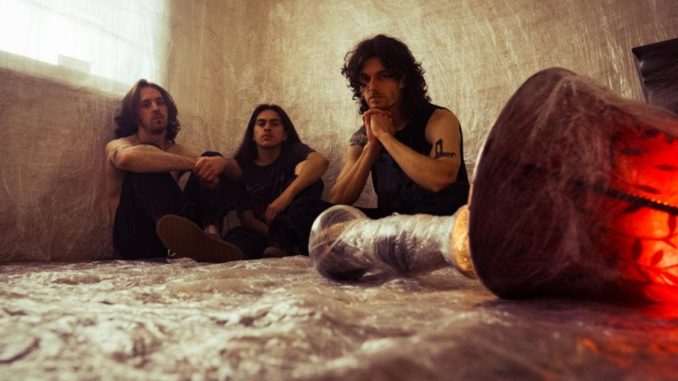 Available NOW | Listen HERE
Drop Brand New Video
"Losing Faith"
Watch HERE
Photo Credit – Matt Akana | Download HERE
Friday, July 28, 2023 – The Los Angeles-based grunge trio, Return to Dust, have today released their debut EP, "The Black Road" via Jim Kaufman Productions. Fans can listen the new release HERE.
The band are celebrating their recent TikTok success and the EP release with a brand new video for their latest single "Losing Faith". Fans can watch the brand new video, directed by Matt Akana, HERE or at the link below.
After racking up over 2 million TikTok views within a weekend, see HERE, the band's fan base has skyrocketed. The TIkTok featuring the band's single, "Belly Up" swiftly impacted the band's trajectory – 500K+ streams, 70K Spotify Monthly Listeners, and you can now catch over 70,000 fans across all socials waiting for their next glimpse of Return to Dust.
Speaking on today's single release, co-vocalist Matty Joseph shares:
"Losing Faith is the dance track on the record. Given the obvious doom and gloom we thought the EP needed a pick-me-up sonically. It's mostly about our ostracism from family as we got older and moved into the mostly lonely young-adulthood life."
Regarding their debut EP release, Matty continues:
"This EP encompasses a hugely dark era for the band; Anywhere from family death, friends turning their backs, and general doom given numerous instances of calamity and doubt. We hope this translates to people as the debut invitation into our world."
Return to Dust, who are heavily inspired by the legendary Alice In Chains, have already cultivated a reputation in the local Los Angeles music scene before the release of their debut EP, "The Black Road" produced by none other than Jim Kaufman (Everclear, Danny Worsnop, Night Riots, Helmet). With their remarkable cinematic approach, the rock trio are on track for an unforgettable year of touring and new music. Be sure to stay tuned for more Return to Dust news coming soon.
The Black Road

Return to Dust

Track Listing:

Anyway I Die
Cellophane
WHAT THE PRESS ARE SAYING:
"The band throws a new twist on 90s-sounding riffs bringing the listener back in time. The groovy guitar with dark themes in the lyrics holds over every song on the EP."
Keynote Music Collective
"""Black Road" is a killer track. Everything hits hard. The vocals are fierce yet remain melodic. The guitars ring with fire while the monstrous bass line is brazenly defiant. In addition, it was produced by the illustrious Jim Kaufman (Anti-Flag/Helmet). "Black Road" is the perfect vehicle for Return to Dust to showcase their remarkable cinematic approach. This is a band with a stupendous future."
My Amp Music
"Meet Return to Dust, a heavy rock band with songs reminiscent of the grunge era with a modern twist."
Music Scene Media
Return to Dust have taken over listeners' Spotify Release Radar's and Discover Weekly's, all ahead of the release of their debut EP. The band have also been featured on Loudwire's Weekly Wire and Spotify's All New Rock, and independent playlists such as Prelude Press' "Music That Doesn't Suck", CHARM Music Magazine's "New Music Friday", NAS 101's "New Artist Spotlight", Get Rocked's "Best New Music", and more.
Southern California fans also have the chance to see Return to Dust at their upcoming EP Release Show, taking place at the legendary Viper Room on Wednesday, August 2nd.

Support comes from Seattle alt-rock stars Alex Vile, and closing sets from grunge/goth rock quartet Urns & Argyles and Oswald – the Los Angeles based band fronted by Anwar Hadid. Return to Dust will be headlining the night, with an unforgettable set at 8:30PM sharp.

Fans can purchase tickets in advance HERE.

Don't miss your chance to celebrate with the band for their EP Release Show, and finally hear the new songs live!

PRESS TICKETS AVAILABLE

Please respond to this email or contact me at eter@cosanostrapr.com if interested in attending the release show.
ABOUT RETURN TO DUST
Los Angeles based alternative/grunge rock trio Return to Dust (Matty Joseph, Graham Stanush, Sebastian Gonzalez) has already scripted a karmic saga that traverses decades, pays homage to the past, and plants its roots firmly in the future. Listening within their sonic universe is like time-traveling to the halcyon days of the '90s grunge era. Their sound, influenced by heavyweights of the time, reverberates with the echoes of Deftones, Alice In Chains, and the soul of Nirvana — but, their brilliance doesn't stop there. The band draws inspiration from a diverse palette, blending in bits from bands like The Cure, Metallica, and Cage The Elephant, molding them into their own unique musical tapestry.
Return to Dust breathes life into a sound that feels both genuine and tailor-made to encapsulate the essence of a bygone era, leaving fans awash in nostalgia. Yet, it's not merely a mimicry of the past; instead, it's a fusion of the old and the new — an alchemy that conjures a sound distinctly their own. At the core are alluring bass lines (Stanush), gritty guitar riffs (Gonzalez, Joseph) and dual lead vocals (Joseph, Stanush) that harmonize and intertwine, weaving an ethereal soundscape that resonates with raw emotion and unyielding energy. It's a moody concoction that pays homage to an iconic era while fearlessly exploring uncharted territories. Return to Dust beckons audiences into their world, where the past and present converge, igniting a fervor that keeps the flames of grunge alive.
Return to Dust found its meteoric rise propelled by a chance encounter with none other than the illustrious producer Jim Kaufman (Helmet, Everclear, Night Riots). Under Kaufman's mentorship, the band's raw talent began to soar. During the darkest days of the pandemic, when the world stood still, Return to Dust seized the opportunity to channel their collective energy into crafting something profound. The result was their debut EP, a mesmerizing creation titled 'The Black Road.' It was a labor of love and dedication that not only transcended the barriers of personal growth, but also etched the band's name into the future of rock.
Return to Dust
Matty Joseph – Vocals & Guitar
Graham Stanush – Vocals & Bass
Sebastian Gonzalez – Guitar
Find Return to Dust Online